The Basti Library Initiative
aims to build a vibrant community library at the Sevagram Zuni Basti's Bodh Vihar (Buddhist Center). The library began functioning in January 2021, in an attempt to create a safe and joyous space for children at the heart of the Sewagram basti. We ran the pilot between January-April 2021.
Our project has been deeply influenced by a concern about how physical and social spaces inhabited by children should be shaped by their presence and engagement. While schools, homes, streets, libraries are all inhabited by children, what marks the spaces where children seem to belong, reflecting a sense of deep familiarity, ownership, fearlessness, and joy?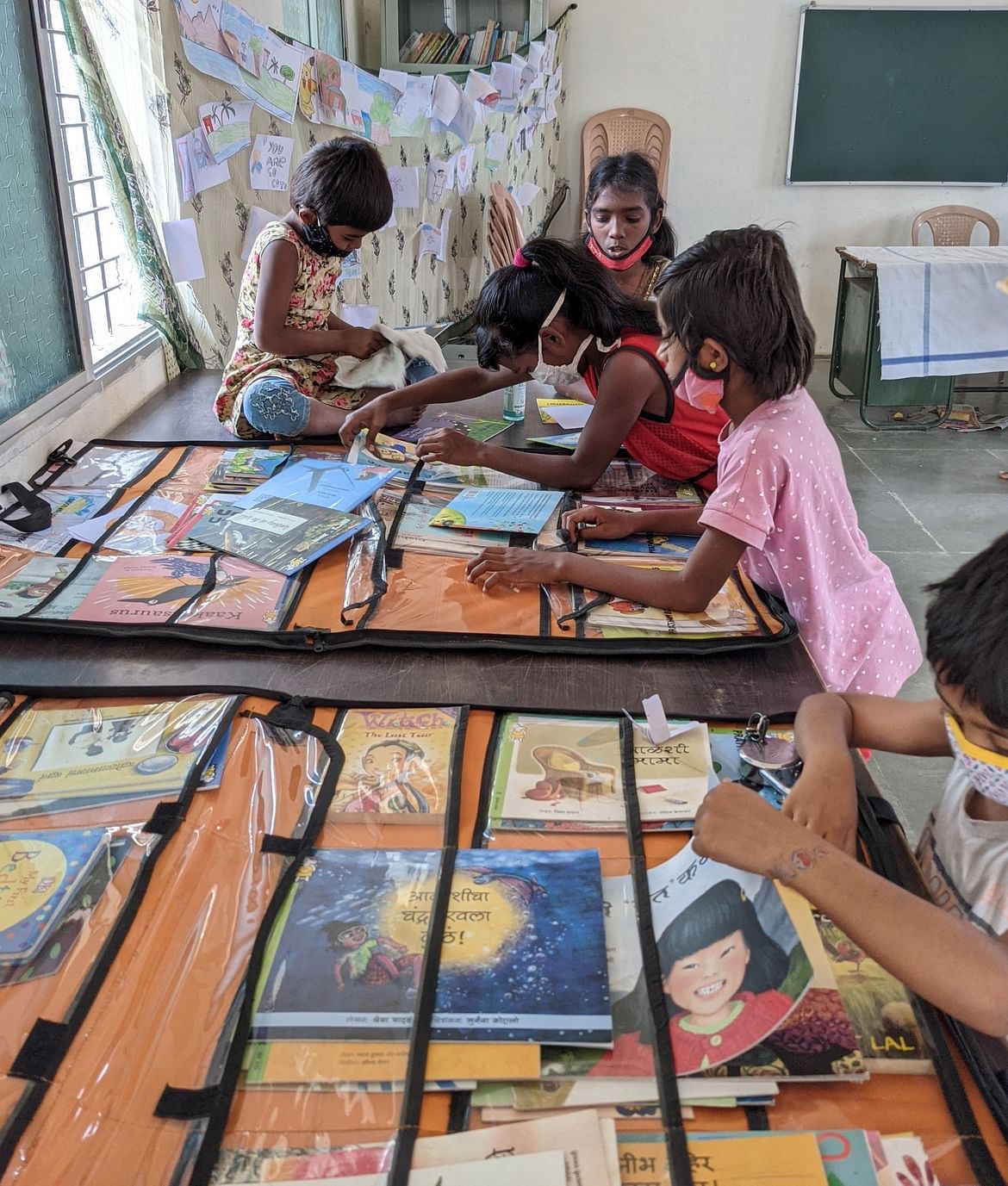 Context:
The basti predominantly consists of low income families, where the primary source of livelihood is daily wage labour. There are several complexities surrounding children's lives in the community. The situation of pandemic has caused an alienation from school spaces for over a year now. As parents leave for their work in the morning, the children mostly find themselves on their own, in the company of friends and siblings, often cooking, cleaning, fetching water, and taking care of younger siblings. An issue of addiction marks experiences of many families, wherein many young men have lost their lives to unregulated alcohol. As a result, many children come from single-mother families.
Children who come to the library have had little or no meaningful exposure to literature which often reflects in their initial indifference towards books. However, as facilitators and educators, we believe that most children can fall in love with books if introduced to it in a rich and diverse context.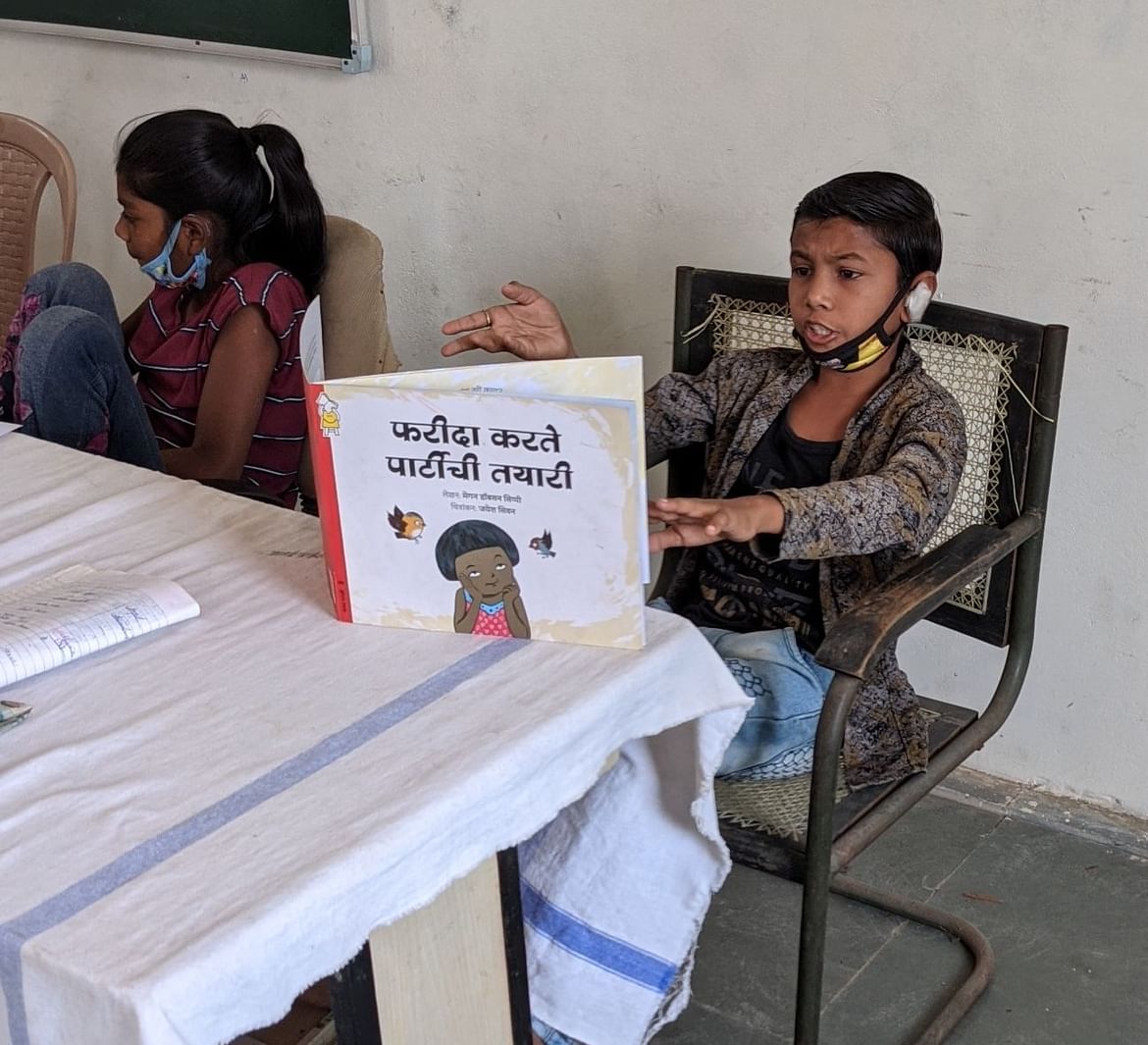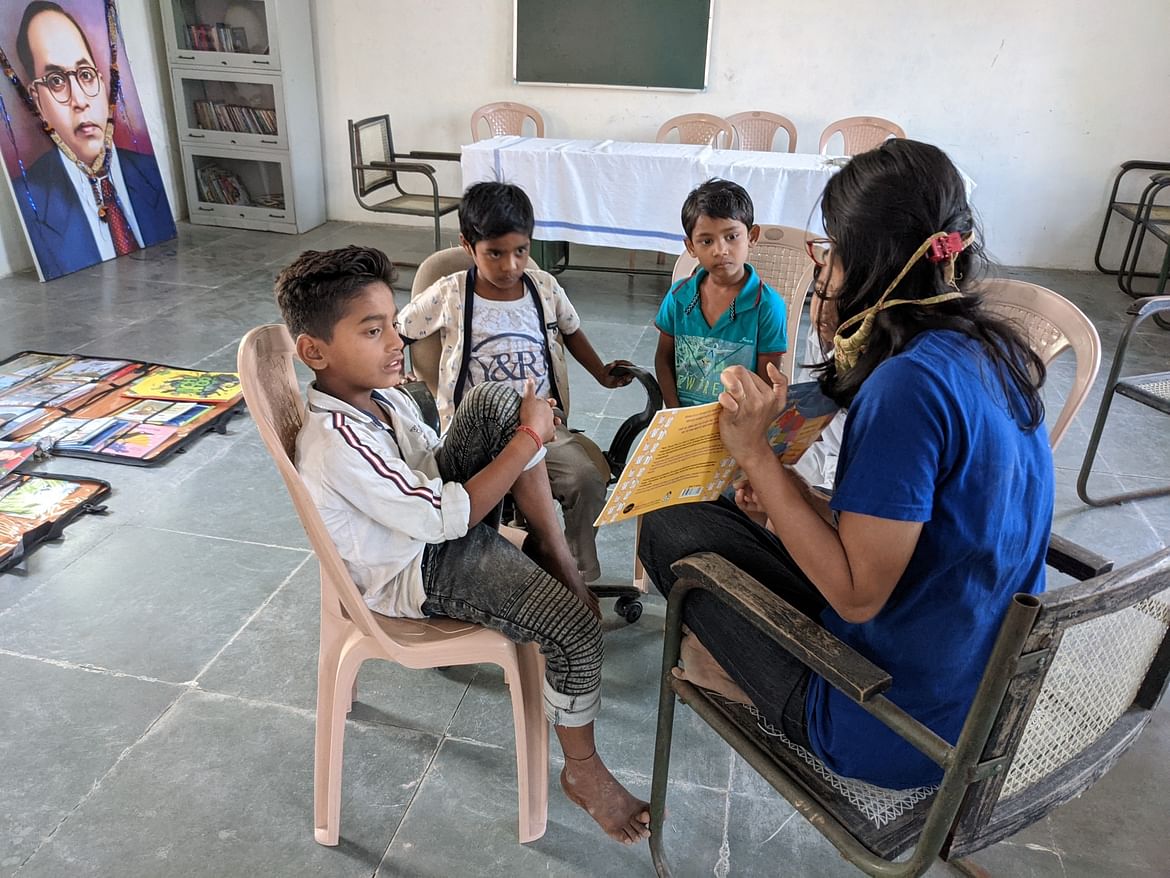 Vision:
One of our biggest learnings through the pandemic has been to witness how precarious and vulnerable the lives of children are in the basti. Thus primarily, we envision the library as a safe space towards which children can feel a sense of belonging and ownership.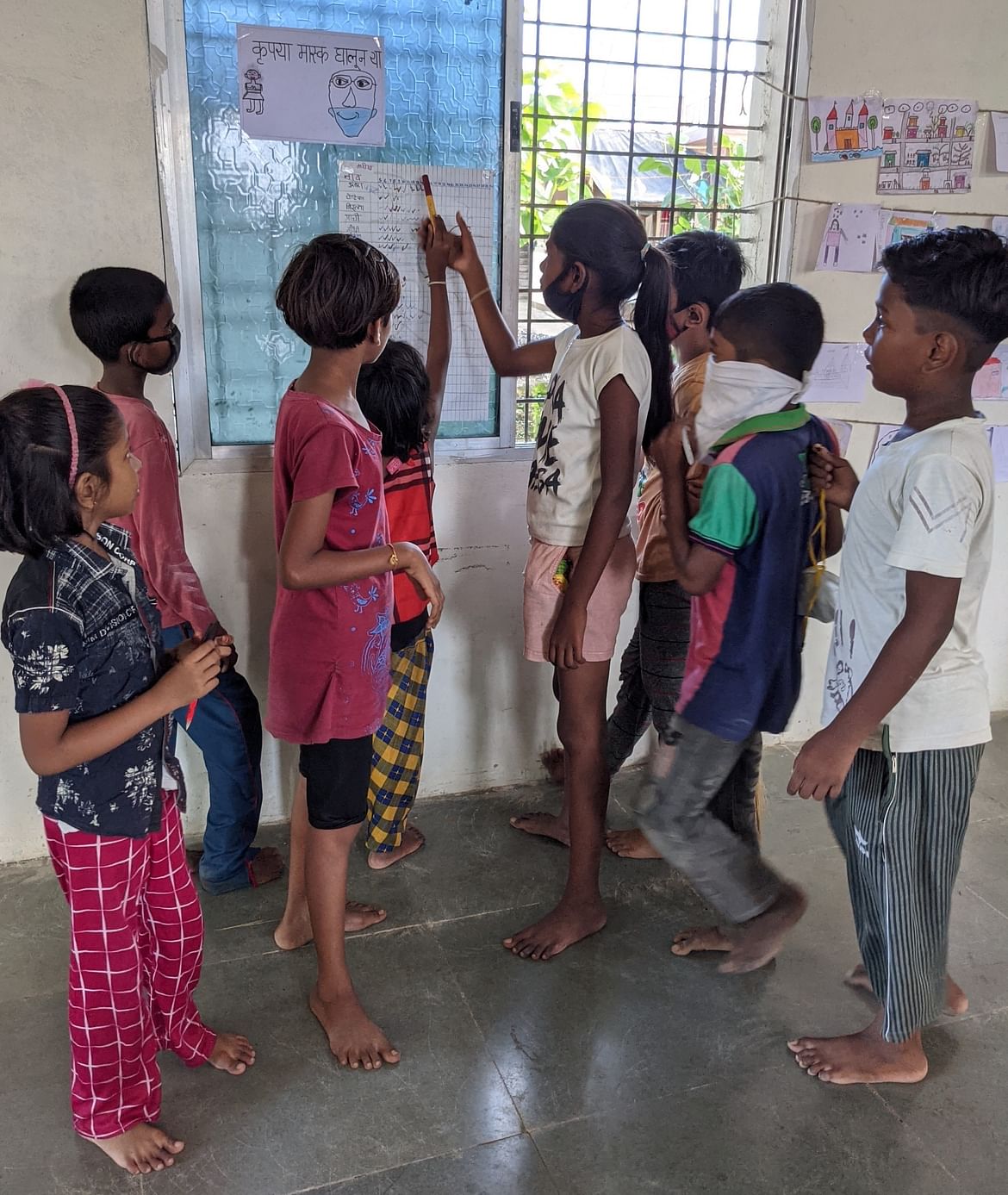 We believe that a strong culture of reading, writing, and expressing are important tools and processes for children to build strong, safe, and reciprocal relationships with the world outside as well as within them. We hope, that as they turn into interested readers and writers, they are able to foster within themselves a deep sense of curiosity, empathy, and sensitivity. More importantly, we hope in the process, they are able to find their own voices, as readers, writers, and young citizens.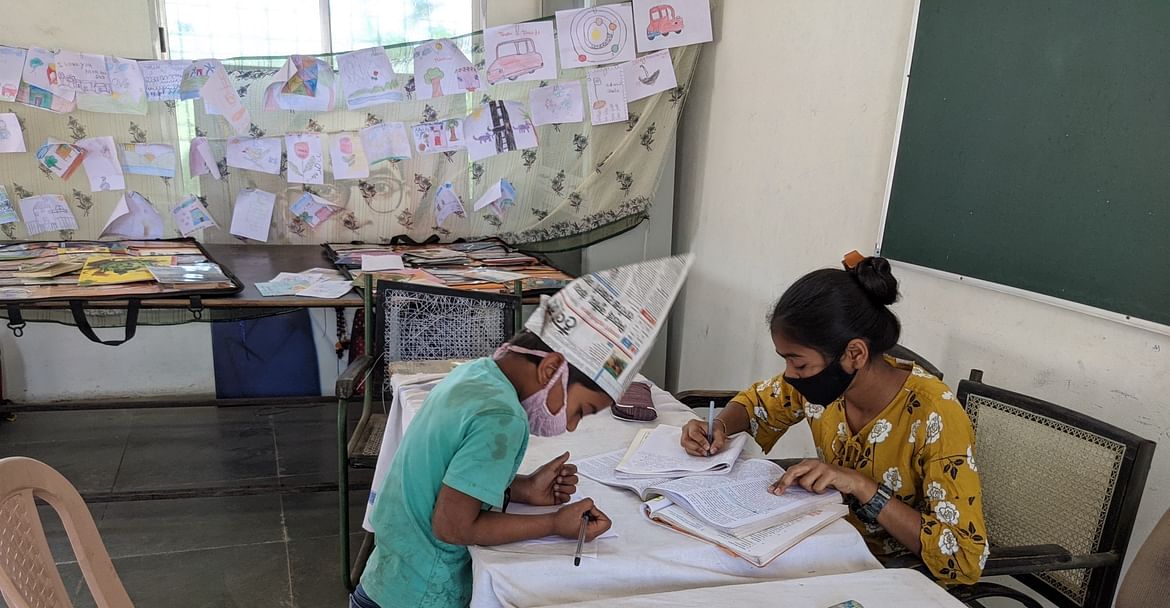 At the same time, we envision engagement in the library to expand far beyond books. It is in our work with children who bring diverse interests to the library, that we understand that an effective library must make available a diverse range of activities for children to be involved in. Thus, we hope that this library, along with fostering a rich culture for reading, also provides a variety of other engagements such as games, music, films, sessions with external facilitators, and other events. The library hopes to primarily cater to the needs of young children, but will remain open to youth, women, as well as other community members who may want to engage with books and other facilities provided there.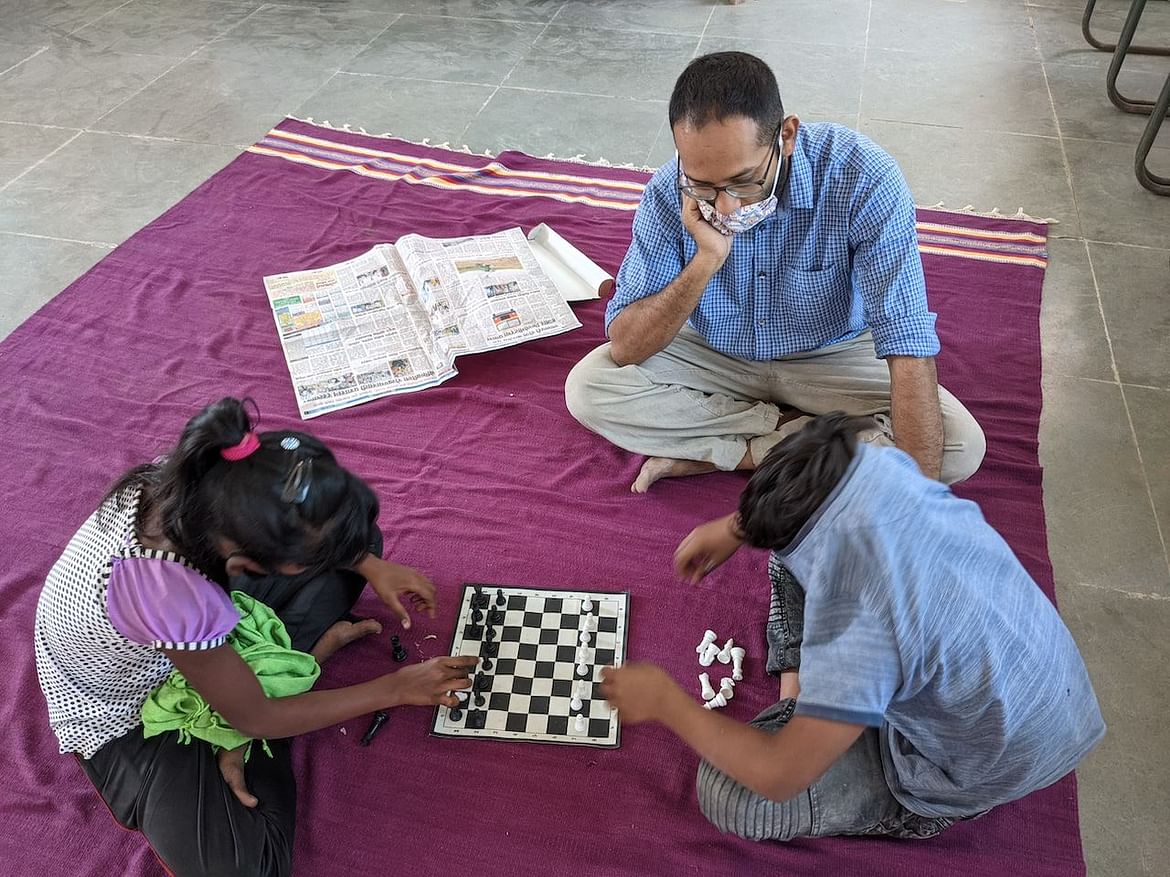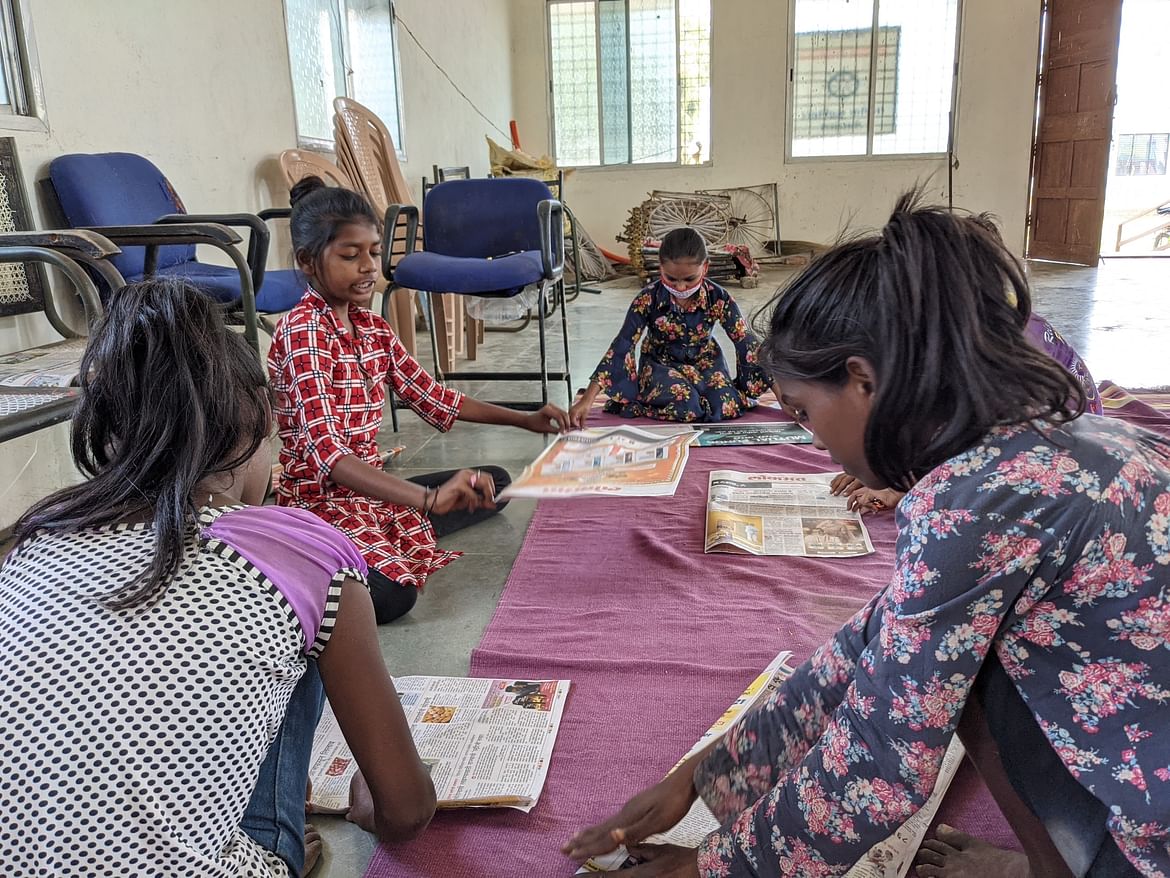 Funds:

We are raising funds so that a dedicated effort could shape the Basti Project. Part of the funds will be used to provide employment within the community for facilitation, maintenance, garden upkeep etc. Some of it will be used to pay for educational resources such as books, stationary and games. We also plan to invite resource persons and host events such as workshops and bal mela to engage the children with creative activities. The broad break-up of the project is mentioned below. We will be happy to share our detailed concept note and break up to interested well-wishers. Do drop a message for the same.
| | |
| --- | --- |
| Head | Annual Expense |
| Personnel | 1,80,000/- |
| Educational material | 18,000/- |
| Maintenance and Infrastructure | 27,000/- |
| Workshops | 24,000/- |
| Events | 20,000/- |
| Total | 2,69,000 |
We would be very happy to receive curated books, games, art and craft material. If you wish to donate them, please send us a message!