Sentiss Foundation has been established as the CSR division of Sentiss Pharma. The initiatives spearheaded by Sentiss Foundation, including SADH Care, have played a pivotal role in improving the lives of the communities in and around Sentiss' operations and the society at large. The objective and motto of the Sentiss Foundation are
"Sharing Happiness by Enhancing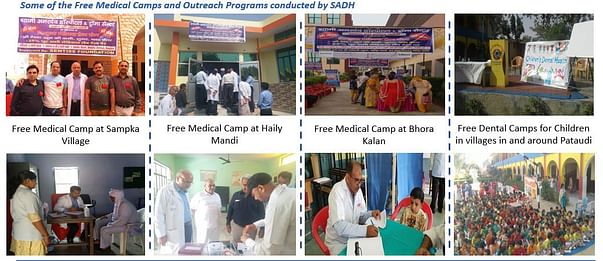 SADH Care Hospital was established in 2018 with a sole aim to serve the under-served people of Pataudi and surrounding villages, which earlier had no access to quality healthcare and had to travel to faraway cities to avail services, as basic as mother-and -child care services, at high rates.
Being a Not-for-profit hospital, SADH Care depends on benevolent donors to keep its operations functional and to reach the maximum number of people.
Pataudi having one of the
highest Rural Sex ratios within Gurgaon District, Female healthcare is one of the top priorities alongside Promoting Hygiene, Disease prevention through Outreach Camps
in the rural areas of Pataudi
Run by a dedicated team of ex-army doctors
who provide best in class services at highly subsidized rates, SADH Care Hospital has become a beacon of hope for the residents of Pataudi and adjoining area.
SADH Care Hospital has been thriving to keep the OPD functional throughout the pandemic, catering to the need to educate and aware of the surrounding citizens. The need of the hour is to primarily meet the cost of essential services at the hospital, which has exponentially increased due to the rise in the number of patients. Also,
FUNDING is of utmost importance to SADH Care to begin developmental activities
like immunization center, basic Cardiologic center, availability of multi super-specialty facilities like CT Scan, Ophthalmic Surgery, etc. which will continue to help the people of PATAUDI during and post-Pandemic.
We will be using this fundraiser for mitigating the above operational and developmental needs of SADH. The funds are wisely monitored and spent on patient's needs and safety.
While we are actively making earnest efforts to treat as many patients as we can amidst the current crisis,
YOUR SUPPORT IS CRUCIAL IN CONTINUING SADH Care OPERATIONS, MINIMISING RISKS TO PATIENTS AND CREATING A SUSTAINABLE HEALTHCARE FACILITY
PLEASE CONTRIBUTE & SHARE THE CAMPAIGN TO HELP US IN GARNERING MORE SUPPORT FROM THE SOCIETY
To know more about us, please visit us at www.sadhcare.org or write to us at info@sadhcare.org for any queries
Following is the Break up of the Funds required
| | |
| --- | --- |
| Hospital Expenses | Avg Monthly Expense |
| Doctors' Consultation at the Facility (24x7) | Rs. 13,19,000 |
| Electricity for essential Operations | Rs. 84,000 |
| Equipment and AMC | Rs. 15,78,000 |
| External Camps for Poor Patients | Rs. 19,000 |
| Advanced Life Support (ALS) Ambulance and AMC | Rs. 8,000 |
| TOTAL | Rs. 30,08,000 |
Thanks In Advance!