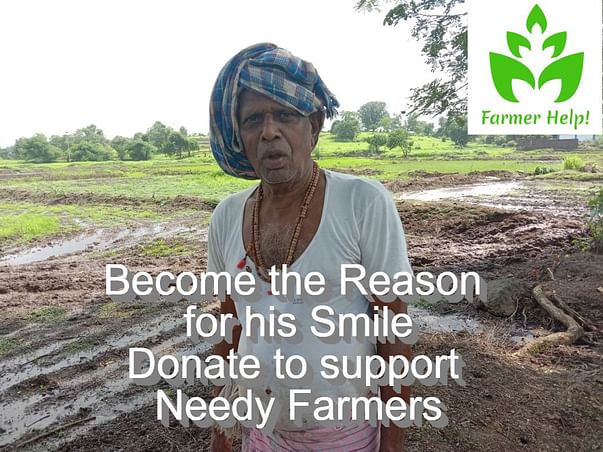 FARMER HELP!!Empowering Farmers
Growing Climate Change, The Rising Cost of Cultivation, High Rate of Interest on Loans and Scanty rainfall have all contributed to making life a living hell for most important community in our Country, Our Farmers.The need to help farmers in India is now greater than ever and you can help through small donation.
We at FARMER HELP intend to provide Seeds, Saplings, Pesticides, Pumps for irrigation, Pay Electricity Bills of farmers to assist in the farming process.By doing so FARMER HELP want to ensure farmers have a viable source of income and livelihood to support their families.We are also working on educating People about Climate Change to Save our Planet.
Utilisation of Funds - 1 Crore

Media Promotion of FARMER HELP Campaign to help Fund Raising - 600000
Seeds for 200 Farmers - 1000000
Fertilizer for 200 Farmers - 2400000
Pesticides for 200 Farmers - 1000000
Electricity Bills Payment of 200 farmers - 1000000
Free Pumps for 20 Farmers - 2000000
Climate Change Education Program - 2000000

FARMER HELP's aim is to improve livelihood of farmers in this country and make this Country Green.We want to help to put an end to FARMER SUICIDE and CHRONIC POVERTY in community that depend on Agriculture for their livelihoods.
WE WANT TO HAVE ENVIRONMENTAL AND SOCIAL IMPACT .WE ALSO WANT TO PROMOTE IRRIGATION WITHOUT EMITTING POLLUTING GREENHOUSE GASES & EDUCATE REGARDING CLIMATE CHANGE & SAVE THIS PLANET FROM CLIMATE CHANGE
Follow us on Facebook
Follow us on Youtube