1 Artist, 15+ States, 25+ Cities, 5000+ Underprivileged Kids And Lots Of Stories.
ABOUT THE ARTIST :
Hi! I'm Rupesh Sharma, a Mumbai based self taught visual and performance artist and an art teacher working for the welfare of underprivileged kids since last 2014.

Founder of An Art Amity - A3
An Art Amity (A3) works majorly in the field of training underprivileged kids, enabling them to be independent and earn a name for themselves. A3 is on a mission of taking art to the places where even survival is a struggle and to help them become more expressive, self-aware and independent at the young age. An Art Amity (A3) believes in being the opportunity.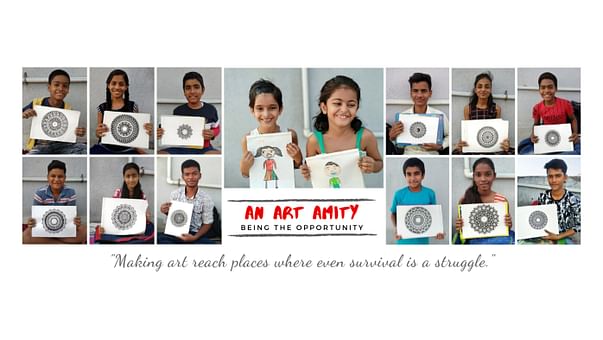 Co-founder of Aarambh - The Troupe
A band of five with an unique collaboration of Classical Music, Live Art and Theatrical Performances.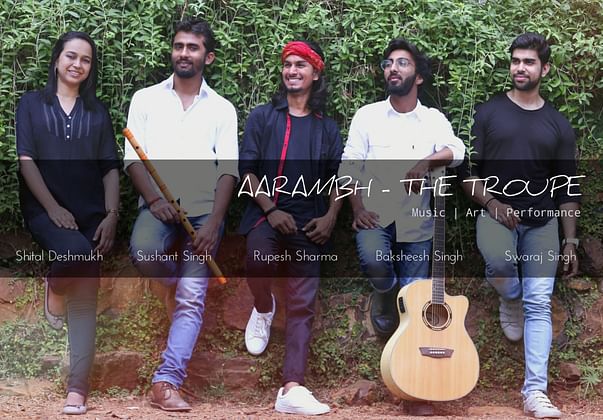 Workshops, lectures and performances
Ex-Art Teacher at CTES's Chintamani Kalabhawan, Tarapur

Provided guest lectures and workshops in IIT - Bombay, Dr. Baliram Hiray College Of Architecture, Kaivalya Education Foundation (Gandhi Fellowship) etc

Live/speed Painting performance at MAP Fest 2018, Rang De - 2019, Jashn-E-Hunar 2, Aarambh- 2019, The Lil Flea - Mahalaxmi Racecourse, The Lil Flea - BKC etc

Art stalls and exhibitions at IIT-Bombay Mood Indigo, Tata Institute of Fundamental Research, UPG Lit Fest, Edubridge International School, Kalakaa Art Fest etc

Storytelling Performance at Rajiv Gandhi Institute of Technology, Worthitt, Motojojo, Aarambh 2019 etc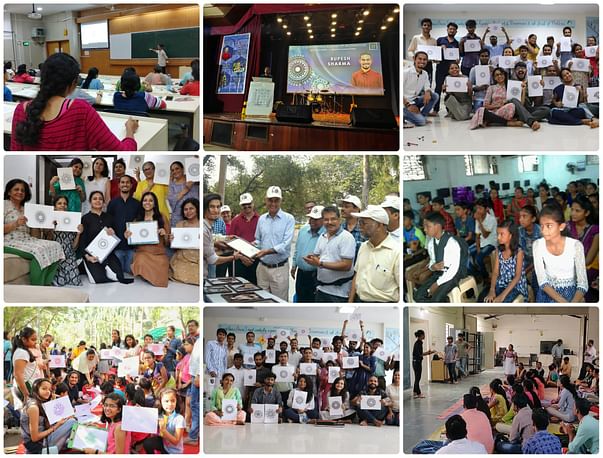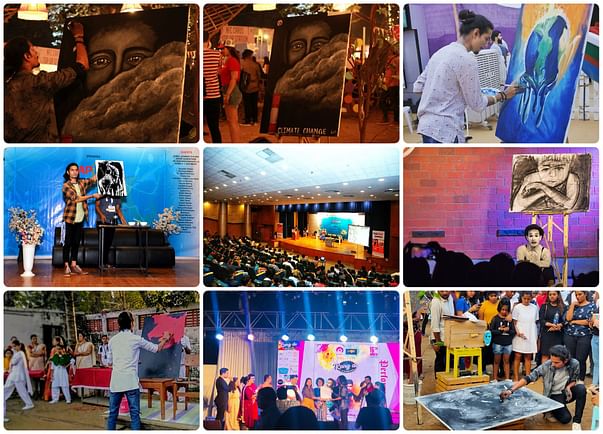 ARTIST'S STORY :
I'm Rupesh Sharma, a self-taught artist and the founder of An Art Amity (A3). I've grown up watching my mother struggle with her health issues and my father's helplessness to treat her. Seeing all this, I had decided that I'll never let anybody else face the same issues as my family did and so, dreamt of being a doctor and serve everyone, free of cost. But my dream was shattered when I realized that studying medicine requires a lot of money, something which my father's sole and meagre salary couldn't afford. I then had to give up on my dream.
To console my heart, I turned my attention towards art. It was at the same time I started teaching underprivileged kids around my locality, with a friend. By then, my art had started improving and started art and personality development lessons to the underprivileged kids. By then, the financial constrains made me quit my studies altogether.
I then joined Chintamani Kalabhavan as an art teacher, while giving drawing classes to the students of my locality. We even opened an Art Gallery for the kids, so that their art can be encouraged. I loved being around kids, watching them create masterpieces on blank canvas and narrating their stories through these images which took birth on the canvas. However, I was lured towards the glittering city of Mumbai.
I went to Andheri to become an Art Director leaving behind all the thoughts of kids. Life seemed beautiful there. I had everything, except solace. One day, I called up my student Siddhi but I found her mother on the other side. While talking to me, she was choked up with tears and she said "You'd given hope to the kids here. You'd shown them the right way. Even we had started being hopeful about our children's dream. You seem to have moved on in your life, leaving our kids behind. Siddhi will never tell you this, but I'm upset about your behavior." I couldn't sleep that night. As the sun arose that morning, I knew exactly what to do but how, that was the question. I got up in the morning and informed my colleagues that I'll be leaving the studio, and by that evening, I had picked up my bag and left from there, but couldn't immediately go back home. I'd left home with making promises to my family and I couldn't go back home, just like that.
What followed next was a month of soul-searching. I stayed hungry, slept on Marine Drive, met people, exchanged ideas, made plans and finally, after a month I reached home, with a dream which had a name – An Art Amity (A3).
After having worked for 5 years for the kids, in and around Mumbai, I've planned to take this art to as many kids as I can. And so, I've embarked on this journey called – An Artist on a Solo Trip.

An Artist on a Solo Trip is my attempt to visit 25 cities and reach about 5000+ Underprivileged students, in an attempt to teach them art and providing them with a medium to become more expressive, creative and self-aware which will help them, emotionally and mentally. I'm on my way to travel more than 15 Indian states to fill colours in the lives of children. During this journey, the fun that we are going to have with the kids, their stories and all their beautiful moments, is going to be captured in my YouTube vlog, so that if I find the solace that I'm in search for, I'll be able to share it with you.

In this project, we will also be looking for those kids who are really talented and wish to make a career in visual or performance art and in the future, we will support them and try to bring their talent in front of the world.

The drawings made by the children during this project will be brought back to Mumbai and a selected few will be exhibited in the Annual Art Exhibition and the amount generated will be sent back to the children.
PROGRAM FOR THE KIDS :
Every child has a story to tell, some of them are beautiful while others are such that they might be afraid to talk about these. My childhood hasn't been that great so I know what all a child might undergo and how s/he has stories which s/he might never share because of the hesitation and fear. These might be the stories, which really need to be shared, as every event in our life, has an impact on our future. In such a case, it is necessary that they are presented with such a medium which aids them in presenting their story indirectly.
Our project's Module 1 and Module 2 is our attempt to give them that medium. Humans imagine everything in the form of an image and then convert it into words, to share it, which are often unable to do. With our Module 1 and Module 2, we are giving them a medium by which their thoughts are directly shared with the world, in the form of characters, their movements, making it a storyboard.
Module 1 :- Paint Your Story
Age group - Class KG to 3rd
Young children don' adhere to any rules, so they are just asked to paint anything they want but it should have some story. Once the painting is done, we will ask them to share what story they have drawn.
Output:
The children will draw those things which are happening to them or in their surroundings and with the innocence which is peculiar of children only, in the process of explaining their drawing, they will be able to express themselves to their parents, teachers and their family.
Outcome:
In this playful process, they will be able to tell things which they might not be conscious about and their parents will be able to understand them better with the help of their drawings.
Module 2 :- Storytelling through colours and characters.
Age Group - Class 4th to Class 8th
We will teach them the basics of how to draw characters and give movement to the characters so that they can show what the characters are doing. Also, basic knowledge of colours will be shared (what each one does and the significance of each colour), so that they can express themselves and tell their story through their art.
Output:
Children will learn basic character building and storyboard by which they will be easily able to draw their stories and show motions in it. Along with this, they will also learn and understand colour psychology and the meaning of each colour and what does it convey.
Outcome:
Without actually saying it, the children will be able to convey their thoughts, only with the help of their drawings and the basic knowledge of colours.
With so much of competition to deal with, children are prone to anxiety and depression. At such a time, art becomes a therapy for them, providing them a much needed emotional support. Keeping this in mind, we have planned our third module.
Module 3 :- Mandala Art Workshop and Storytelling.
Age Group - Class 8th to 12th
- Introduction to Mandala Art
- Gautama Buddha's Stories/Philosophies related to it.
- A-B-C-D of any therapeutic art.
- Freehand Mandala
- Geometrically perfect Mandala
Output: Along with basics of art and freehand drawings, children will be able to learn a traditional art form 'Mandala' along with stories and philosophies associated with it.
Outcome: While practicing this artform, children will learn the control of hand and help in increasing their focus, along with qualities like meditation, stress management, self control, self awareness and mindfulness. By the stories which will be shared during this workshop, the children will be able to understand Gautam Buddha and his philosophies.
Impact:
In times when parents have a hectic schedule, where communication is bare minimum and stress level is high, art seems to be an ideal and a simple way of communication. By learning these artworks, the communication between children and parents and teachers will be better and the children will be able to express their thoughts. With the ever increasing cut throat competition which exists in the society, mental disorders like depression, anxiety, lower self-esteem is on the all-time high. In such a scenario, art is not only a medium of leisure, but it also helps in calming the minds, thereby decreasing the risk of such mental disorders.
However, in this journey, I'll need your help. The whole budget for this project is Rs. 1,800,000. The cost per student is Rs. 350. My earnest request is to come forward and help us. Even if each one of us contribute for one child, this project can be completed with the help of 5000 people. Even your smallest contribution will matter a lot to us. If nothing else, even a share of this project will be helpful for us.