Rohit Mittal (47), a jolly person and who devoted his life to family and loved ones and had two wonderful children Prasoon (14) and Anshu (15). Family was facing some financial trouble when Rohit had to shut down his small computer business due to losses.
Since then it only became difficult for the family as the only permanent income was Rohit wife's small school job, but they were getting by as Rohit took pride in taking the responsibility for home and his wife Meenu took the financial responsibility. Things were going well with togetherness and support of family.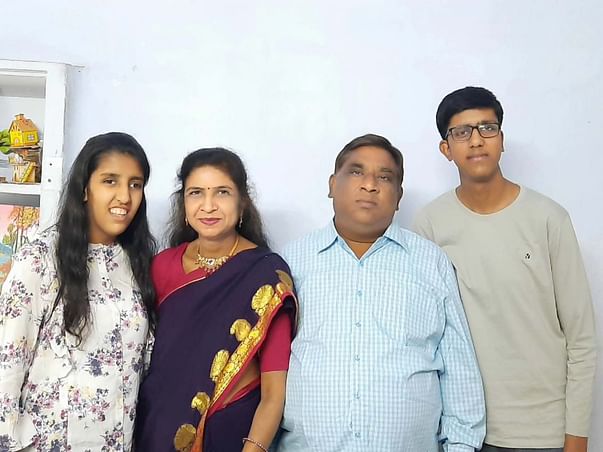 But things took a down turn when Rohit contracted Covid-19 in last week of April and things took a down turn at fast pace. What started with mild cough and fever aggravated quickly, on May 1st he was experiencing difficulty in breathing, he got tested for Covid-19 and as soon as result came he got admitted to Shelby Hospital in Jaipur.
• 1st May he was admitted to Shalby
• Till 14th May he remain on Oxygen support and things seems like that he will recover.
• But on 15th his oxygen saturation suddenly dropped and doctors had to shift him to ventilator
• On 20th May Doctors as Shalby hospital said that he is too critical and can't be treated there
• Family took a decision to shift him to Manipal hospital as they had ECMO treatment facility and though very expensive, approximately 2 lakhs rupees per day, it offered a survival chance of 52%.
• But even after 10 Days of ECMO therapy there was no improvement in lungs and family has burned through all the financial avenue.
• On 30th May with heavy heart they had to took decision to stop ECMO and shift him to the Ventilator, Rohit collapsed just one hour after that.
Family has lost a pillar and took in an enormous debt. This fund raiser is to cover medical expenses and setup a small education fund for the children, who are just about to enter the very crucial stage of their education.
Till now family have spent 32 Lakhs Rupees
• 7 Lakhs on Initial treatment in Shelby
• 25 Lakhs on ECMO
We are targeting an education fund of Rs 50 Lakhs to setup a educational and family expense fund for Kids.
Thanks
Himanshu Jain
+91-9765054039