India is currently fighting the world's worst second wave of COVID-19 with record breaking daily cases. Hospitals and healthcare providers are running out of resources in their fight against the pandemic and the situation on the ground is dire.
How can you help?
We are raising funds through crowd-funding, CSR grants and more. please contribute and spread the word!
We at Uday Care Trust are reaching you out for raising funds for the families who have lost their "Bread Earners". We have been approached by many families in and around Delhi NCR & Southern part of India who needs our support during this unprecedented times.

We at Uday Care Trust are committed to it & have come forward to sponsor these families for next 6 months. Our support shall include but not limited to Food & Grocery, Education Fees support of children below the age of 14 Years, basic medical support expenditure & other miscellaneous on need basis. We will ensure we take care of all their legitimate expense for the next 6 months till the time their life is not back on track....

We are also supporting few villages in UP, Haryana, Bihar, Karnataka, Gujarat & Tamil Nadu by providing medical aid facility to them free of cost including medical equipment's, PPE Kits, Surgical Gloves, 3 Ply Mask, N95 Mask, Oxygen Cylinders, Oxygen Concentrators.
At present we are supporting 157 families with all their legitimate expense for next 6 months. These families have unfortunately lost their sole bread winners & need our support to bring back life to normalcy.
What is the average cost of Food/Ration/Fees per house?
On an average it cost us INR 12,500 per month to support a single family who has lost their sole bread winners.
(Excluding Education Fees)
We request you to come forward and DONATE as much as you can. We won't be able to bring their loved ones back, but we can always support them in our best possible way. Your single contribution can help us provide these people at least basic necessities that every human deserves.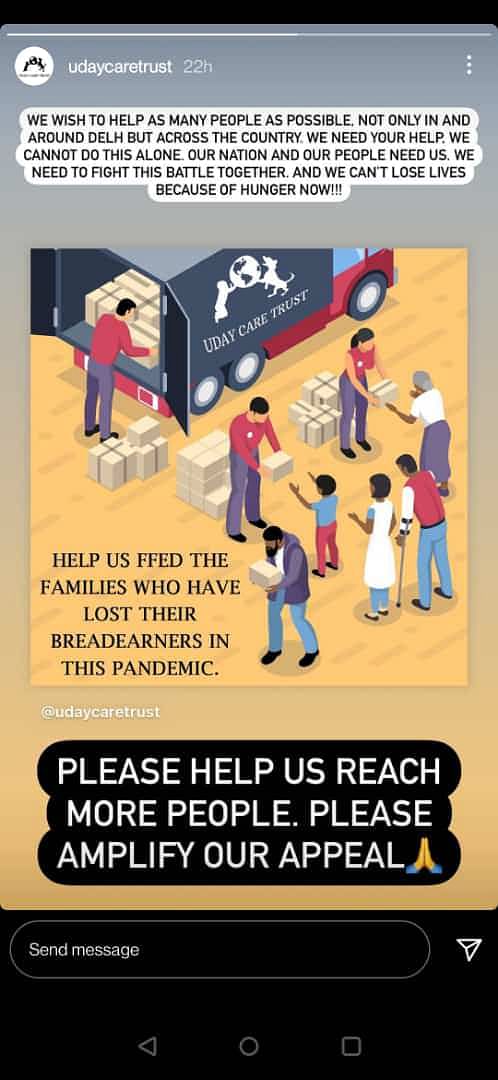 For and On Behalf of Uday Care Founders and Trustees
9911285538 (GPay/PhonePe/Whatsapp/PayTm/Mobikwick)
Frequently Asked Questions, addressed by Team Milaap

1) Are there any fees associated with the campaign?
No. Milaap is a free fundraising platform. We do not deduct any fees from your donation. You are however welcome to make a voluntary tip to cover for our expenses, while making the donation.
Sharing glimpse of our work during Covid-19