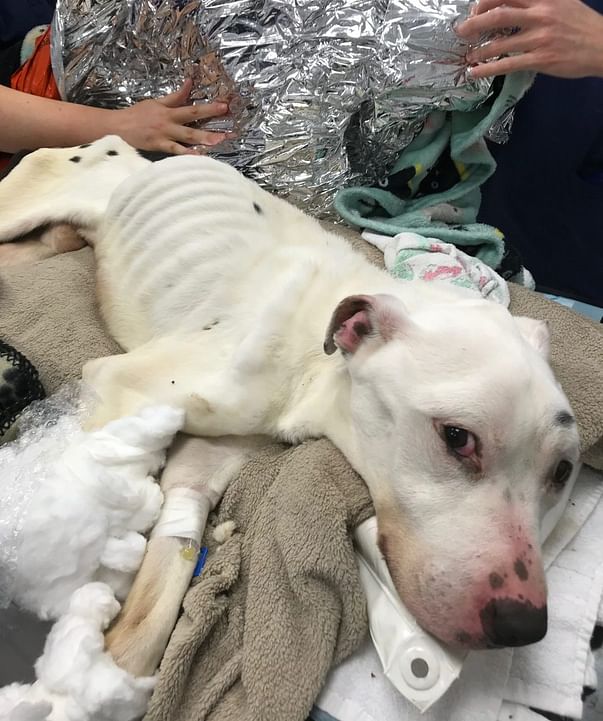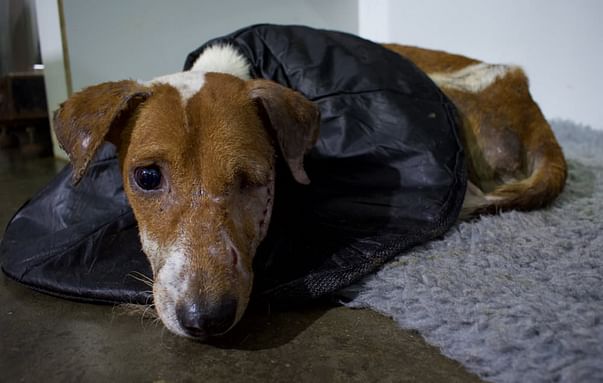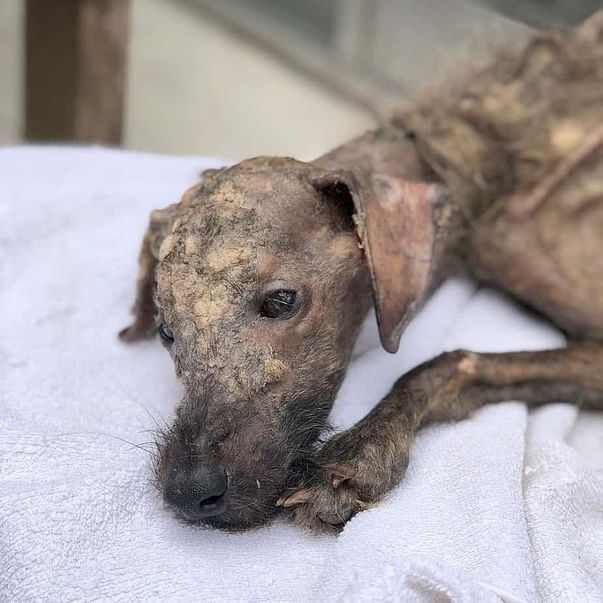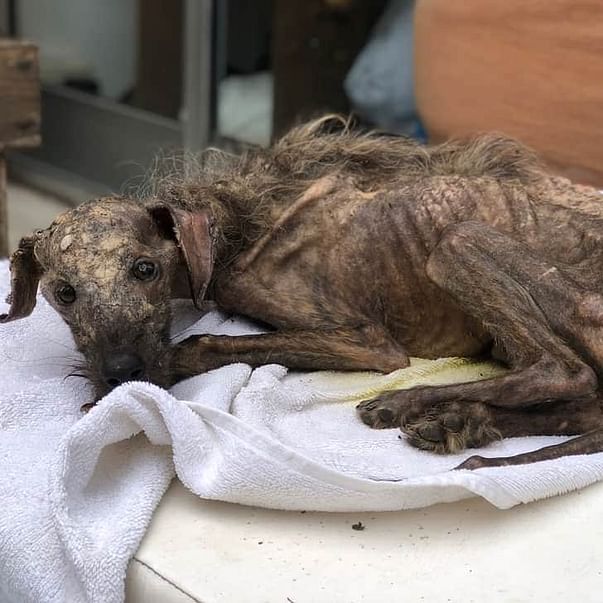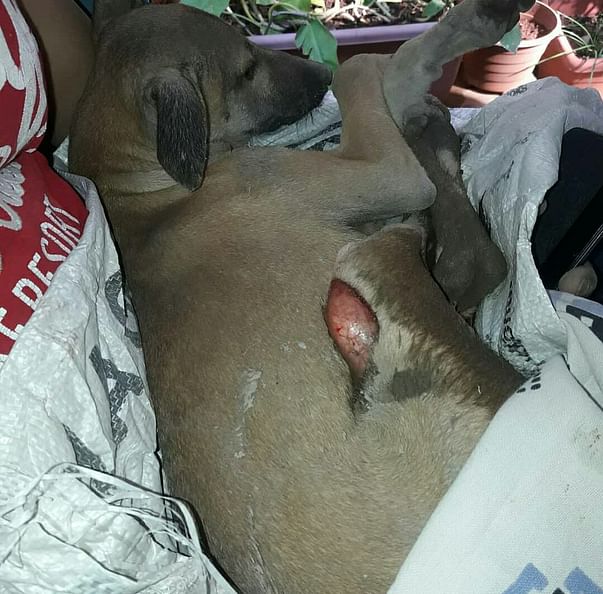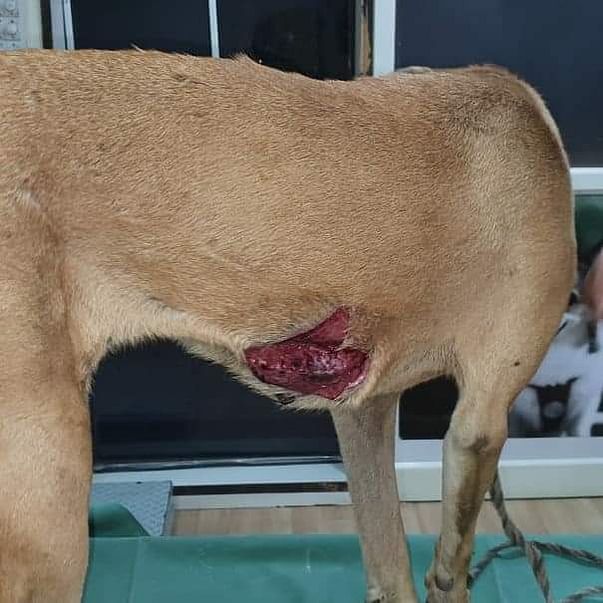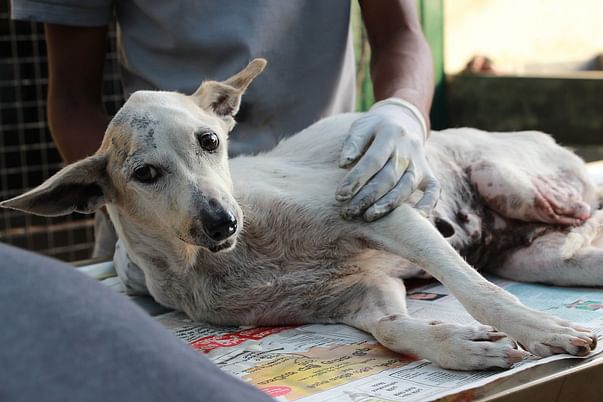 Help me get an Ambulance to treat and operate Community Stray Dogs
Someone said you have really not lived your life if you have never done something for someone who can never repay you back. And when it come to the voiceless animals it is even more satisfactory doing something for them and seeing the happiness on their faces and their wagging tails.

Imagine being alone, broke, hungry, without friends, sick, no shelter and on top of that not able to say it to anyone. That is what is the situation in the lives of the strays. Everyday is a new life with a new struggle for them. Nobody knows whether today they will be get food, contract a new disease or get hit by some incoming vehicle.

Lexi was a small 3 months old pup running, jumping and playing all around happily till one day when a careless and reckless car driver drove over him leaving her paralyzed for life.
Her internal organs are completely damaged with a broken spine, back, and both hind legs. She won't be able to run, jump or play happily ever. Her treatment is over and she now waits eagerly each day to get back normal. She now waits to survive. To live.

Taco was again a healthy and very friendly community dog playing with everyone he would meet until one day when someone thrashed him so badly that he suffered multiple fractures on her ribs and legs. He has undergone trauma treatment and is undergoing his surgeries.

Riku was a small 60 days old very playful pup when a miscreant slit open his throat with a sharp object and threw him in drainage. Luckily I found her and she got operated and is now with a foster awaiting his health to improve. She looks at your eyes everytime you meet probably asking what was my fault that you treated me like this.

And so are the conditions of almost 19 other dogs both puppies and adults, few are operated and few are awaiting their surgeries to get a new life again. To get an adopter, a family who will take care of them forever till the end of time.

Kalu was a very cute and playful 1-month-old pup till extreme Mange gripped him and he now survives by itching his body continuously all the time. Itching has left his body badly bruised with his skin coming out and regular bleeding.

Maxy, is again a 4 months old very cute pup struggling with Scabies. Earlier children used to play with her but now as she itches her all the time even her human friends are away.

Grandpa is a 12 years old old dog whom someone has abandoned and is living here in our township with skin diseases and injuries. A very friendly, calm and loving dog, Grandpa is waiting for his Eye treatment.

To say that Lexi, Taco, Maxi and Kalu are ill-fated would be an understatement. The food that they never got to eat. Their ribs were poking through their taut skin. I found them by the dumpster eating polythene bags and tears welled in my eyes seeing their impoverished state. I made arrangements for them to be brought home. I couldn't just let them remain there, hankering in pain, feeling every minuscule of it.

If I hadn't picked them up they would be lying by the sidewalk, the only home they knew, counting their final breaths sooner or later. I was overloaded with rescues but nothing could get in the way of them receiving a life they deserved.

Every animal that has been rescued from a difficult past, and has a story to tell. So many stories that never got told, so many souls that will never be missed, so many innocent lives denied a chance to live and silenced.

Same are the stories of Monu, Gopi, Raghu, Mota, Chhutki, Polly, Moti, Noki, Tiku, Bhuru, Lola, Pinki, Ronny, Sonu, Rinku and 30 - 35 other pups and dogs here in Hinjewadi and Marunji Pune around my office and home.

All these dogs and pups are born near me and I take care of their food, treatment and spaying/neutering. Recently there has been a considerable rise in skin diseases amongst most of these dogs. I've been treating them all alone from the past 8 to 9 months.

Attached are the photos and videos. Please help Lexi, Kalu, Grandpa and many other such pups and adult dogs live their life again. They can't speak for themselves. Its us who have to understand their pain and relieve them of it. They can't ask for help. They can't say how much is the pain. All they do is look in our eyes and wish to be loved. All these pups and dogs need is your support and blessings to recover. To jump, run and play joyfully so that Pinki, Chhotu, Mota, Kalu and all these dogs can live their life happily and healthily again.

I always focus on special needs rescue that emphasizes on old and dogs with all kinds of disabilities. Old and disabled dogs face a brutal and tough life on our streets. I plan to make a forever home where these voiceless can spend their life happily.

From neurological issues and spinal injuries to paralysis and mobility issues, I rescue and shelter them all. Dogs whom I rescue are evaluated by specialists and started on whatever therapy is needed, be it hydrotherapy, acupuncture or good old fashioned physical therapy to help them recover. Even the worst of the cases are given a second chance at a happy, healthy life! These dogs may be broken in body, but not in spirit and they all deserve as much chance to live a happy and abundant life as us.

Monthly expenses are huge and I only rely on my Salary from TCS and few of my trusted donors. Sometimes I'm stuck in neck deep bills, bank loans and debts. The rescues run on my salary and donations from individuals who believe in the cause. But the donations are one off and sporadic.

When you live in a country with 40 million stray dogs, you can't help but feel miserable on most days. Multiple litters, injured and weak mothers, and starved dogs - this is all a common occurrence in my sight.

I am Rana Pratap Bhattacharya, working with the Tata Consultancy Services Ltd here in Pune, India and taking care of more than 200 dogs daily for their food and treatment. I spend almost 50% of my Salary or roughly 40 Thousand Indian Rupees (600 US Dollars) every month for their food, medical requirements and surgeries of these 200 + dogs.

Last year I had operated 23 dogs with their spine or legs broken along with sterilizing 62 more dogs and for that I'm still paying the loan I took from Bank.

This year I'm going to sterilise almost 85 - 100 dogs and operate 19 others for broken spine and legs/ribs fractures.
Major cost is for transportation which is to be honest too much. Every alternate day I have to transport one or the other baby to the vet and the private animal ambulances charge a bomb. We need the service urgently and business minded people just charge slit throat prices. And hence I want to get an ambulance of my own.


Buying an all inclusive surgery ready ambulance (Tempo Traveller) with all medical and X-ray equipments would cost me around Rs. 12,00,000 /- which is around USD 16000.

Being actively involved in animal rescue for almost 10 years now, I have started looking at the world with a practical lens. And from what I have learnt from my personal experience, Spay and Neuter is the only humane way to help the constantly multiplying population of Indian Street Dogs. Feeding, surgeries and treatment is necessary. I can't say I can change all the dogs in this world but atleast for these 100+ dogs that I feed and treat I can change their world and by sheer blessings I'm changing their world slowly, gradually one by one.

I'm looking for your assistance through Milaap to help raise me this amount. Please come forward and donate for these babies to help them live a life without any pain and in a happier way. Plz come forward to buy an animal ambulance for treating these babies on time. Plz come forward to save one voiceless life at a time.

Rana Pratap Bhattacharya
Facebook - https://facebook.com/foreverranapratap
+91. 726.389.0909