Hello everyone,
I come bearing devastating news. The most recent scan showed
significant disease progression
. My mother's lung lesion has become pretty substantial causing troubled breathing. She has
two new brain lesions
and a
some liver lesions
with quite a few lymph nodes positive. I am devastated beyond belief. I thought the current treatment was helping her and the disease remained limited only to a small lung lesion.
The doctor has advised us to switch to a new targeted medicine, each cycle of which would cost upwards of 3-4Lakh. Other than that she needs targeted radiation on her brain lesions and possible palliative chest radiation for breathing relief. The
total cost of all this would be over 25 lakhs
. I don't know what to do at this point, I just recently gained a job which I am yet to start, but all my happiness at finally scoring a job was washed away on reading the scan. I beg all of you reading this to please help if you can and spread this campaign with your friends, family and colleagues and please ask them to do so as well. My mother is a
fighter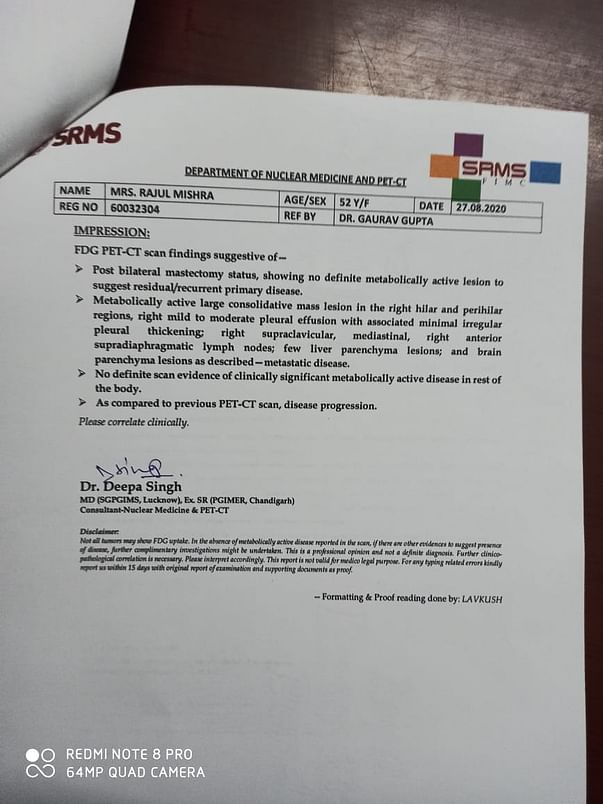 whose fought extremely bravely so far (still remains in reasonable health overall) and I don't want her to have to give up fighting simply because her son is unable to afford her treatment. She deserves a chance to live as long as possible.
PLEASE HELP
.
*Previous
Hello friends,
My mother Mrs Rajul Misra previously diagnosed with Metastatic Breast Cancer in her latest PET-Scan (26 Sep 2019)has been diagnosed with a brain lesion.
MRI Report
The doctor has advised us to get the Brain lesion removed asap via surgery with the help of a neurosurgeon, followed by radiation to the brain and to the chest wall as well. Her operation and radiation costs will be north of 5L alongwith Targeted drugs and Chemotherapy continuing alongside throughout.

The surgery needs to be done as soon as possible as my mother's cognitive ability and memory is receding day by day and its unbearable pain to watch her wither away in front of my eyes, unable to do anything. So I humbly request you all to please share this campaign and contribute if possible.
*Previous*
My mother, Rajul Misra has been diagnosed with a recurrence of her Breast Cancer which she was treated for two years ago. She is 49 years old.
She has a tumor in her right lung that is causing her lot of discomfort.
I cannot afford the cost of her targeted therapy and specialized radiation which can help her get better and hopefully cancer free.
She is undergoing treatment at Ram Manohar Lohia Institute of Medical Sciences, Lucknow,
Please help us by donating and sharing this with as many people as possible.
I will be eternally grateful for your help.