I request you to kindly take five minutes of your valuable time and go through my story.
"Poverty is not just a lack of money; it is not having the capability to realize one's full potential as a human being." Abhijit V. Banerjee, Nobel Prize in Economics 2019
The above quote made by Indian American Economist describes my situation of facing barriers that are usually linked with a disadvantaged background. Dalits are a very under privileged group in India, facing both prejudices and economic deprivation. I am fortunate to defy the odds and in a position to contribute back to society with my work for the Education Sector, doing research on public school educational reforms. This opportunity to study at a world-class university would enable me to further this work and improve public school system.
I have been offered a place on a Masters research degree in 'Educational Leadership and School Improvement' from the prestigious University of Cambridge, which would begin in Oct 2020. A lot of education reforms in India has focused on enrolment, but I believe much more can be done to improve the quality of the learning itself. Curriculum design has been focused exclusively on logical and mathematical intelligence, with no space for more rounded development of students, and producing more STEM graduates than the market could accommodate. I envision a sustainable education system driven by the needs of learners including their emotional, social and artistic development.

Growing up in a society with very little tradition of social science research, I had little opportunity to think about social problems and possible solutions. I completed a bachelor's in engineering at a state government university and followed it by working as a software engineer, but wanted to follow my passion for social reforms. I thus acquired a Master's with distinction in rural development from the Tata Institute of Social Sciences, and later worked with the rural development ministry on various developmental issues concerning the rural economy. I worked with the state education department for two years in implementing a prestigious project in all social welfare and tribal welfare schools of Andhra Pradesh: this eye opening experience acted as a vital force in dwelling on research in the area of public school education reforms.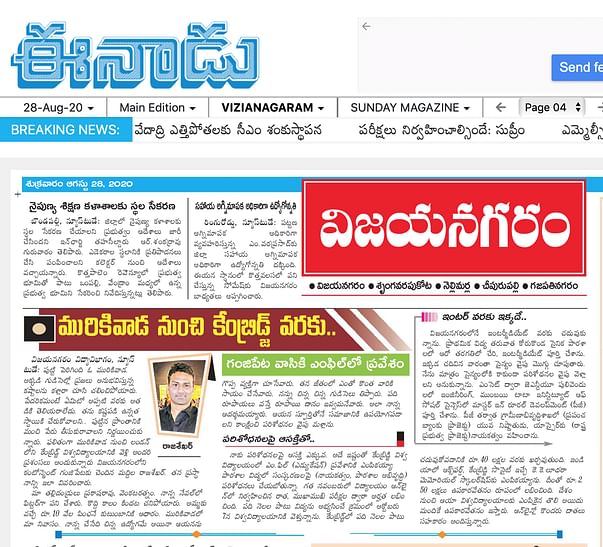 Recent News article on my journey to CAMBRIDGE UNIVERSITY published in a renowned Telugu daily newspaper 'Eenadu'.
I have grown up reading about heroes like Dr. B.R. Ambedkar and the path he took, especially in academia, has motivated me to aim for a humanities degree in the United Kingdom. For many years, the Education Department at University of Cambridge has been ranked among top five places in the world for educational research. I was fortunate enough to get an offer after many screenings and various rounds of interviews. The desire to acquire relevant knowledge and put it into practice has always spurred me to reach greater heights.
My father's death when I was 18 and just taking my first steps into the real world made me realise that life is finite. It started me on a search for purpose in life, and I have consciously made the decision to work in social development rather than in better-paid but less socially useful work.

For a social policy to be successful, it must focus on lasting behavioural change. My development work with rural communities across India showed me that this change must be rooted in an understanding of local social and cultural factors. I would like to work with various state government education departments and international organisations like UNICEF after my graduation from University of Cambridge, to continuously engage with local communities, and help the State to enhance the education system prevailing in India.

I will be immensely grateful for any contribution you can make to this appeal, and I promise that your financial assistance will be of a catalyst in the bigger schema of educational reforms in India.

Rajsekhar Maddila
Financial costs Breakup:
| | | |
| --- | --- | --- |
| Particulars | Cost in Pounds | Cost in Rupees |
| Tuition Fees (A) | £ 28383 | 2781534 |
| Living and Maintenance Cost (B) | £ 12084 | 1184232 |
| Bank Loan (C) | £7653 | 7,50,000 |
| | | |
| Scholarships Received (D) | £ 2551 | 250000 |
| | | |
| Fund Requirement (A+B-C-D) | £ 30262 | 2965766 |