Mission - Keep your family, neighbours, and colleagues safe from illnesses like the current Covid pandemic by using an application to self-report your health status with only people you trust or know.
We are a group of technology enthusiasts that are passionate about building technology to solve real world problems. As the country relaxes restrictions and people begin to move more freely, we will need to be more vigilant and careful than ever to resume our daily lives without further spreading the virus to others.
GroupGuard is a mobile application that we have developed to keep our loved ones safe and sound. GroupGuard helps us to protect the people we most care about by providing health and location status updates to the people you know or trust.
Users can create separate groups for family and friends, neighbours, or colleagues by inviting them to join a Group. Members within a group can then self-report their health symptoms and your health and location status is shared only with your group members. All personal data is stored securely. Your personal data is not shared with any government agency, authority, or any third party. We understand the value of privacy.

Using personal funds, we have developed and launched the first version of the Android and iOS mobile applications. However, to continue the upkeep of the mobile application and in order to launch an important new feature, we are looking to raise funds.The funds will be used for:
New feature implementation like alerts if you are in or near a Govt. declared containment zone
Application maintenance
Database and storage hosting
We need your support and encouragement, so we request everyone to help us in this fight to beat the COVID-19 pandemic. Your contribution will not only help us, but it will help every Indian by keeping us safe and healthy.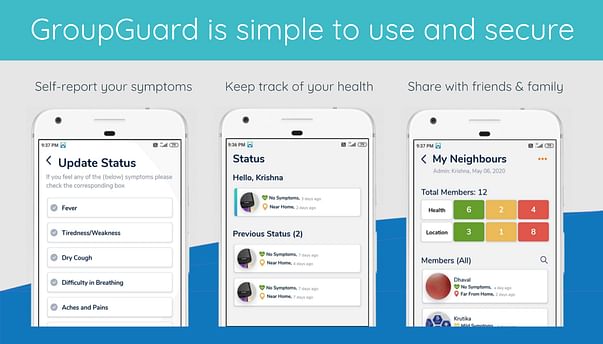 We request you to install and see the application first hand. Please use below links to download –