Purpose
I am excited to venture into a path that enables me to advance my current experience, knowledge and skills. My name is Prema Marquis, I am currently residing in Kharghar, Navi Mumbai (India) with my husband and son. I am thrilled to have received an offer from Nottingham Trent University in the United Kingdom for a Masters in Human Resource Management which is a 1-year course. The course commences from the 17th September 2021.

I will be utilizing all our personal savings and, am falling short of the funds required to sustain as well as fund my education abroad.

My Journey
I stumbled upon my career in Human Resources and as I delved deep, I was ascertained that it was indeed the one I wanted to tread along. I began my professional journey with a recruitment agency and moved to the non-governmental sector where, I worked for over a period of 7 years. My transition from Administration to Human Resources has enabled me to upgrade my knowledge as well as acquire the required skills for the role.

I have completed my Bachelor of Commerce from St. Andrew's College of Arts, Science and Commerce and a 2-year distance learning Post Graduate Diploma in Human Resource Management from Welingkar Institute of Management Development & Research.

I was working until January 2017, when I decided to take a break from my career to look after my son, who was born in the month of June 2017. My son is 3 years old and we are currently homeschooling him. I look forward to learning alongside my son even though the journey does seem daunting.

My husband being very supportive of my ambition will be leaving his current job in India to find an opportunity for us to sustain in the United Kingdom.

The Future through my Lens
I believe this Masters would assist me in making an entry post my career break of over 3years. I look forward to applying my learnings from this course by finding a good balance between what is good for the organisation and its people, assisting and motivating employees to understand oneself and work towards their desired achievements thereby maximizing engagement for the organisation.

Aiding this journey
We took a sharp hit, venturing into a business that was unsuccessful, losing all our savings. Sad but not disheartened we started picking up the pieces and putting away all that we could. Even though our reserves do not match the amount required, I am holding on this opportunity to pursue my higher studies. We will be taking a loan against our jewelry and as we dread running into large debts hence appeal to you for financial support, any sum however little would be truly appreciated. If you are unable to contribute, don't fret, you could help by means of sharing this campaign with your near and dear ones.

I assure to pay this kindness forward towards a needy cause in the future. Thanking you in advance for your kindness and support.

Actuals
Tuition Fees £ 13300 (INR 13,15,800)
Living Expenses £ 12276 (INR 12,17,500)
Visa Expense £ 5500 (INR 5,50,000)
(for a family of 3)

I need to raise INR 10,00,000 to make a payment towards my tuition fees by June 2021. Below is the conditional offer from the University.
Conditional Offer Letter
Statement of Purpose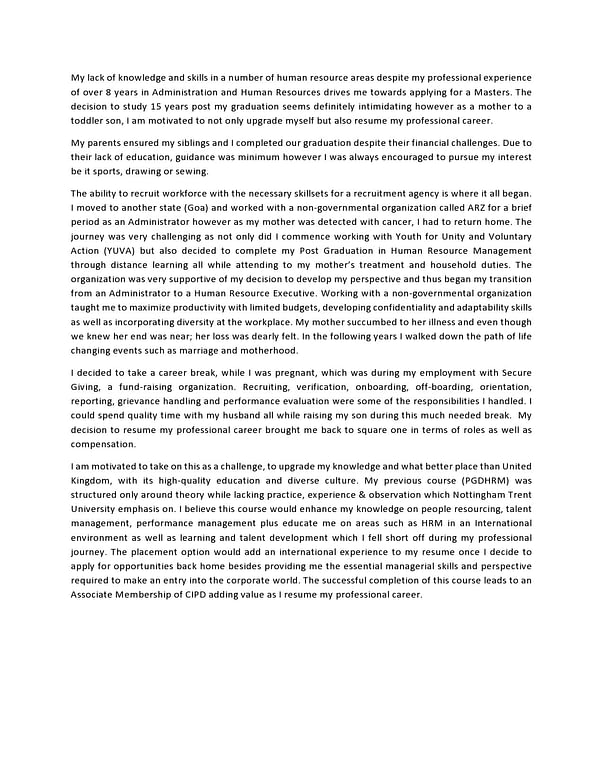 Post Graduate Diploma (Distance learning)