Current Situation: The second wave of COVID has proved to be way more disastrous than the first one, taking away lakhs of lives, leaving a serious impact on the lives of people who had not recovered from the losses of the first wave. Businesses were shut down, thousands were left jobless, daily wagers and migrant workers were left without bread on their plate, they were hopeless and the same is happening yet again but with a far greater impact.

As the country still fights COVID, we at SaveKanpur decided to be a ray of hope in the lives of people who selflessly served us.

NOW THIS IS OUR TIME TO SERVE THEM BACK!!!

What we have done so far:
With the little we could do from our side,
1.We are feeding atleast 500 people daily.
2.Till date we have given *FREE* 20,000 meals, masks and mineral water bottles to people who cannot afford.
3.Distributed more than 15,000 sanitizers
4.Disturbed Hundreds of *FREE* Isolation Kits
5.Distributed Hundreds Of Ration Kits daily (COST OF 1 RATION KIT= ₹1100)
6.Distributed more than 4,000 Sanitary Pads to the Underprivileged girls.
7.Daily distributing Hundreds of Ayurvedic Kadha , till date have distributed more than 15,000 Kadha pouches.
8.Planted 100 trees.
9.Provided *FREE* oxygen Cylinders
But now we are running out of funds and
WE NEED YOUR SUPPORT TO BE A RAY OF LIGHT TO PEOPLE IN NEED & ONCE AGAIN BRING HAPPINESS IN THEIR LIVES <3
So do join the cause, be the reason someone smiles today
Do visit our Instagram to know more about how we are helping in these challenging times: https://instagram.com/savekanpur

The funds will be used in:
Providing ration kits to the needy families ( specially to the families who have lost their earning members).
Buying mask and sanitizers so that more and more people can wear mask and stop the upcoming third wave of corona virus.
Buying hot cooked meals and water bottles for the underprivileged.
Buying fruits and other essentials for the needy.
Buying & providing medicines with Vitamin C supplements.
Buying sanitary pads for the underprivileged girls.
Buying oxygen cylinders for patients (preference will be given to the patients with oxygen level below 80).
Bank Transfer -
Name - NIDHI SHUKLA
Account Number - 918318500748
IFSC - PYTM0123456
Bank Name- Paytm Bank
Bank Name: Bandhan Bank
Name: Prashant Shukla
Account no:50190000892546
IFSC code: BDBL0001610
UPI ID –
8318500748@paytmTo know more about how we are helping in these challenging times, please do visit our
Instagram: https://instagram.com/savekanpur
Gmail- kanpursave@gmail.com

SAVEKANPUR ON NEWSPAPER: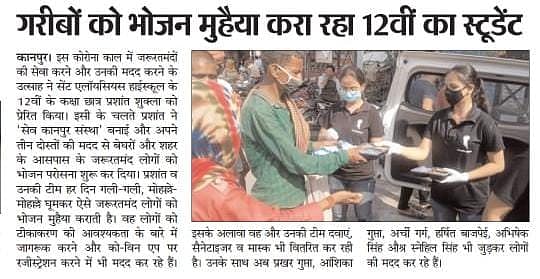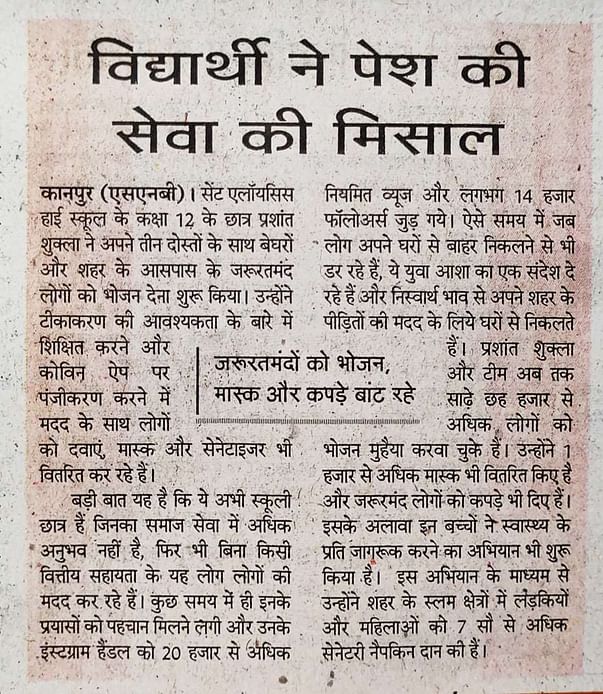 Newspaper: Rashtriya Sahara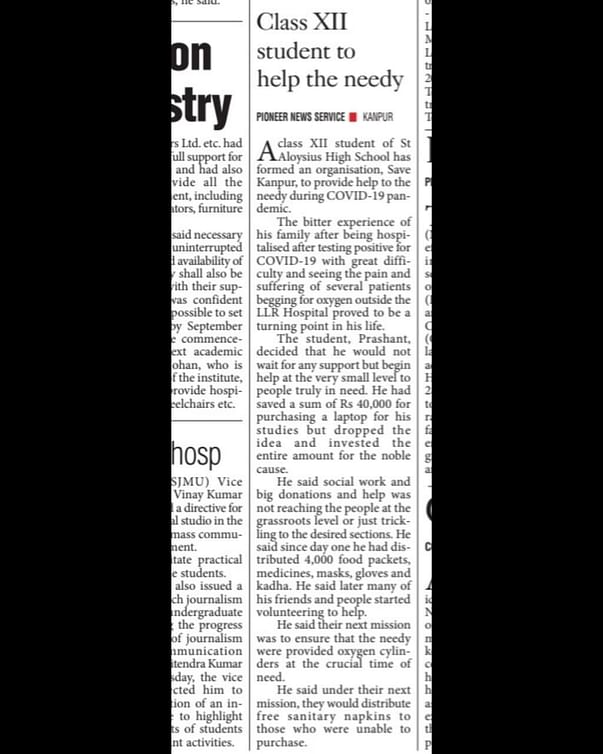 Newspaper: Dainik Jagran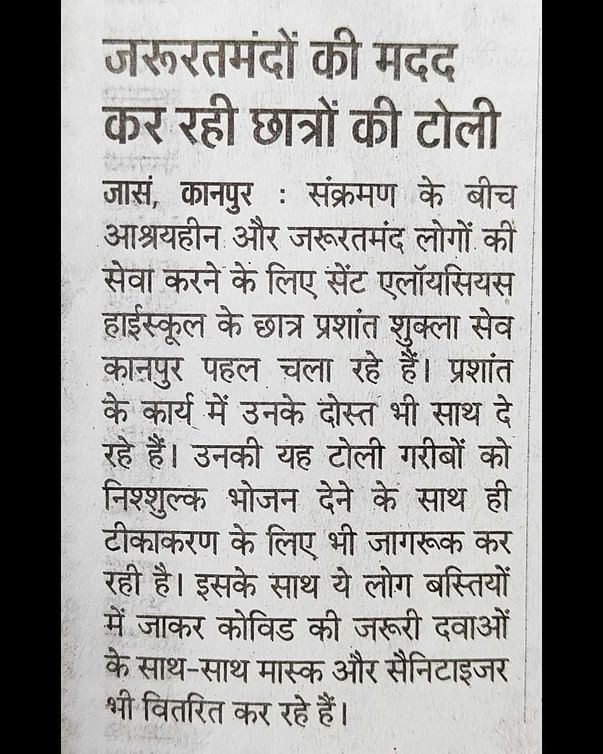 Newspaper: Dainik Jagran
SOME OF OUR SMILING ACHIEVEMENTS :