COVID-19 cases are growing fast in India. The increasing numbers mean that more and more doctors, nurses, and patients are fighting the direct and dreary consequences of Covid-19. There are reported shortages of PPE Kits all around, and we have come across this first hand, trying to help hospitals and healthcare workers, in this fight, over the last few weeks.

There is a huge shortage of Personal Protective Equipment (PPE) kits due to the increased demand, hoarding of supplies, and inefficient linkages between supply and demand. This has led to many of our doctors, nurses, and medical staff testing positive for Covid-19 and they unwittingly becoming the carriers of the virus.

Our frontline soldiers can't save us without their armor!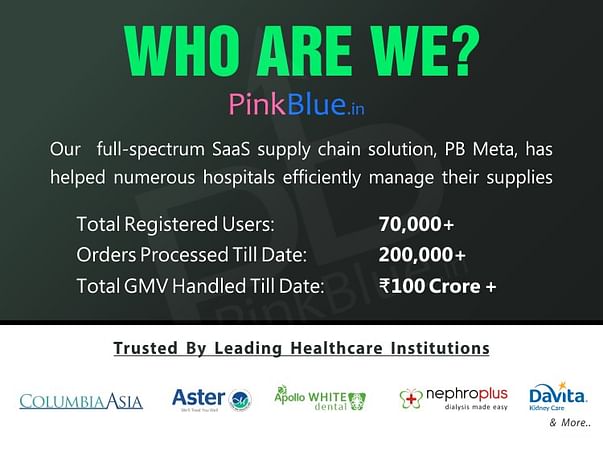 About
PinkBlue.in
PinkBlue
is an IIM/IIT start-up in the medical supplies space, working with over 30,000 clinics, and several popular hospitals including Aster DM Healthcare, Columbia Asia Hospitals, Apollo Health & Lifestyle, Nephroplus Dialysis Centers and more. We have processed over Rs 100 Crs of medical supplies till now, and our catalog carries over 100,000 medical products.
PinkBlue's vision is to build a super-efficient supply chain for medical supplies, through digitization, automation, and analytics. We bring in hundreds of manufacturers and thousands of healthcare institutions into a single e-commerce platform (
www.pinkblue.in
), thereby creating the go-to platform for reliable discovery of better quality medical products at their best prices. We also provide an intuitive supply chain management software for hospitals (www.pbmeta.com) which helps them save over 10% of their purchase costs.
Our Initiative
As always, we aim to bridge the gap between the supply and demand and do as much as possible to bridge the disparity in resources. In these tough times, we have taken various steps to help the medical/ clinical community in the fight against Covid-19:
We have partnered with a large number of verified manufacturers to improve the availability of SITRA certified PPE Kits, masks, sanitizers, IR thermometers, and more. These PPE kits have been accepted by several NGOs post quality checks, including Rotary Club & EKAM Foundation.
We have collaborated with factories to offer extremely low prices including SITRA certified PPE kits starting at Rs 650, and are continuously reducing the prices offered to hospitals. We are also attempting to deliver even smaller shipments across the country using our logistics capabilities and our shipping partners who are working currently, despite the lockdown.
Over the last two weeks, we have seen a common problem faced by most NGOs and Volunteer initiatives – how do we do more with the funds we have? This is our way of helping them do more with less. We have serviced NGO requirements across Bangalore, Hyderabad, Chennai, Delhi, Kolkata and more locations in India.
Using the funds raised here, we will subsidize all NGO and Government hospital purchases across India by 20%, to help them increase their impact. This way, we will ensure that the funds reach the places with the most critical needs and that it impacts a lot more hospitals and healthcare workers than by giving away a few PPE kits for free to a few hospitals. This also ensures a 5X impact of funds.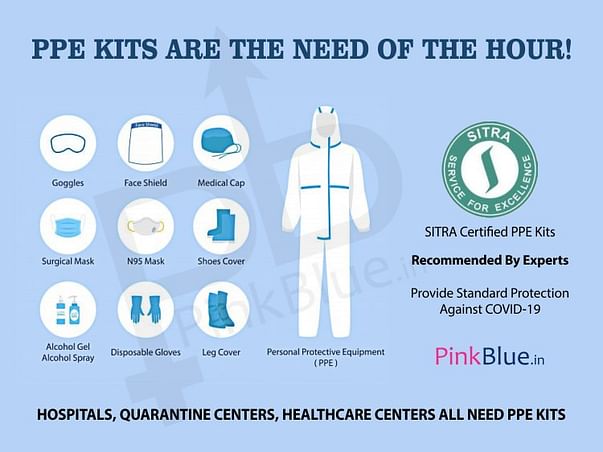 Let us all fight this crisis together to our maximum capacity! We would be grateful for each of your contribution in enhancing essential COVID-19 Supplies, to the hospitals which need them the most. Also, please refer to any NGOs you come across, which need to be subsidized PPE Kits.
PPE is the need of the hour, and we need all your support to keep the supply of PPE flowing!