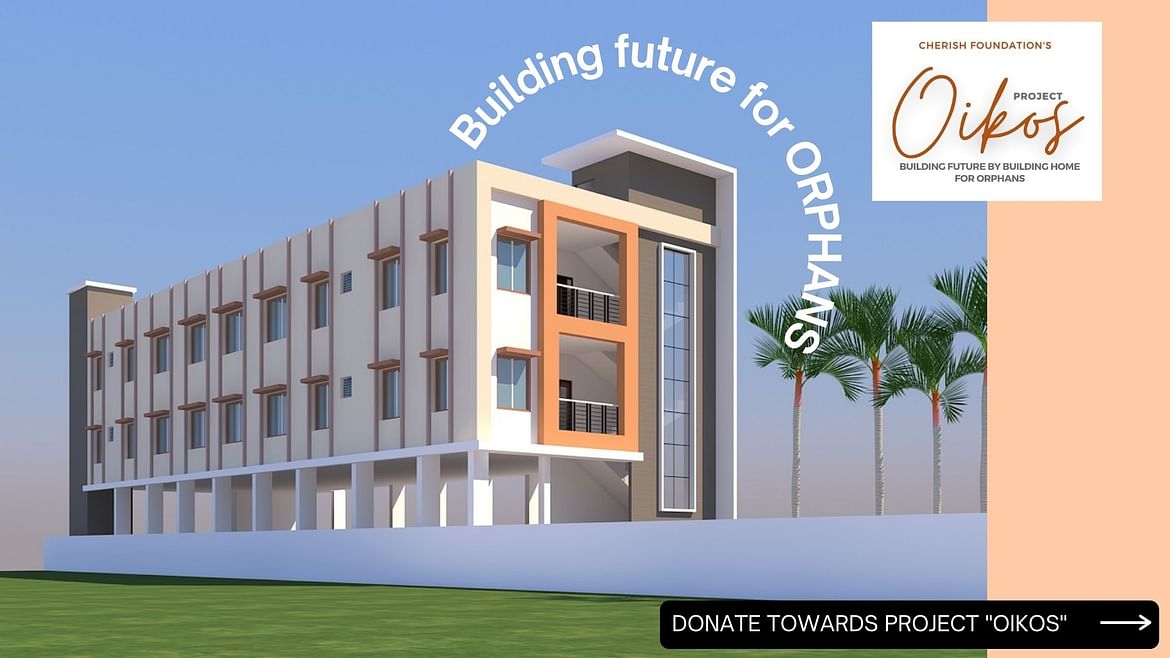 REQUESTING YOUR DONATION TOWARDS OWN PREMISES FOR CHERISH CHILDREN
"Project Oikos"
Cherish foundation started with the vision of one man and with two children in a small room. Children who have lost parents in a tragic way, either by suicide or accident, or various diseases were joined later. Now, we have grown to be a family of more than 60 Children. The days were harder initially, filled with hunger and anticipation for food.
Over a period of time, we have developed a large extended family of donors like you who now support us for our food, shelter, and clothing, etc., Your unhindered support made us to be where we are now.
A GOAL FOR EVERY CHILD...
Though we were considered and have been awarded to be one of the best orphanages in the city for a long time. We with our team learn ways to develop each and every child mentally, morally, socially & spiritually and making them realize that they are not orphans anymore, allowing them to stay at their own HOME like any other child. We aim to establish them in influential positions in various art forms, education, government, businesses, and making their life purposeful and beneficial to many
Building Lives
BUILDING FUTURE......
Cherish has never taken a step back in providing the right of every child Education. We've taken every effort in brushing up each child by placing them in top schools in the city.
BUILDING DREAMS.....
Building hope for the destitute and orphan children is no easy task. We with the help of many people like you provided world-class facilities to the child who was once considered a burden in society. Thus, allowing them to dream BIG.
Building Home
OUR STAY NOW...
The premises that we stay in now is generously given by Paul Devapriyam garu & family to us for the past 15 years without taking a rupee, extending much support in difficult times.
THE NEED FOR OWN PLACE...
Now that Children has grown to be young there is an increasing necessity to have separate premises for boys and girls, which is making it very hard to bear the expenses towards renting a campus & maintaining two.
The 3-Step Plan
ACQUIRING LAND...
Even to this hour, We can't believe that we initiated this project which has been a for fetch dream. With much encouragement from many well-wishers and donors, we are taking the bold step towards the child's future. This is impossible without your help and donation. The premises a 640 Sq, Yards and located Just beside the current stay in Medipally, Hyderabad.
CONSTRUCTING SLABS...
The plan that we have is a G+2 slab, with separate entrances for boys and girls, The ground floor is being made as a commercial space where we can conduct events for 100 pax, which will be an income generation. The first floor with kitchen and dining hall, the second floor is for girls and boys separately.
FIXTURES & AMENITIES...
After the construction of slabs, the third phase of the project begins. The construction of walls, doors, from wires to water supply. sewer lines to shower units also plumbing to painting is beyond comprehension without your kind heart and warm donation, eventually making this place our habitat.
How can you Donate...
We've categorized each square foot of the total construction into Units
A Unit = Cost of Land + Construction + Amenities of the respective square footEach Square foot/unit can be donated at Rs.5000/-and we need totally 9300 units to complete this project.
All the donations are exempted under SEC 80G of Income-tax act India.
Please donate one or more square feet.
kindly extend your support by inviting your friends & well-wishers to do the same.
Your help can give hope, change lives & build the future.
https://forms.gle/VrtpbzissMsJjUKM6
https://wa.me/p/4374568995954651/919849770988
Thanks & Regards
David Subramanyam
www.orphanage.ngo | +91 9849770988
cherish@live.in