The COVID-19 tragedy unfolding in India became intensely personal when we lost our dear friend and batchmate,
Alok Prasad Vashishth
. And yet, as we grieve our friend's loss, our thoughts immediately go to his family. We wonder if this could have been us. We wonder how our families would cope, and shudder.
We resolve to do everything we can to help his children at least get the opportunities they deserve. It is in this we ask for your help.

A bit about Alok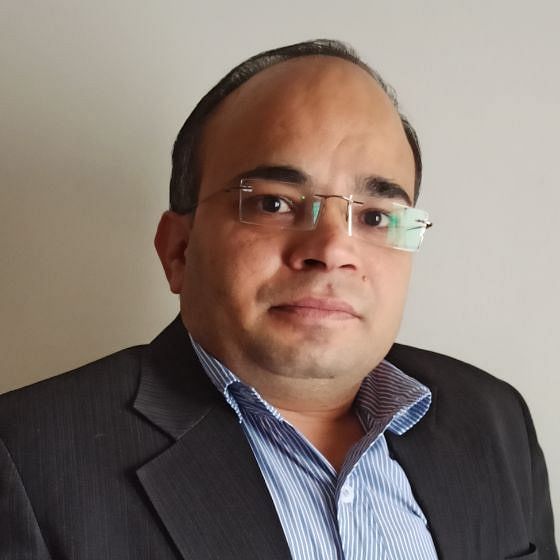 Alok was one of the brightest students among peers, and put in unparalleled hard work during his time at IIT Delhi and IIM Bangalore. He never let his personal disability come in the way of his achievement and that earned him a successful career, rising to be a VP at EXL. He will always be remembered by his friends as full of life, always enthu for new experiences and never say no attitude.

In-spite of Alok's stellar credentials, there were several challenges that have left the finances in a precarious state and his family struggling. While he was in the process of building them back, he lost the battle to COVID-19 and left us on 28th April 2021.
He was the sole bread earner of his family, leaving behind his wife Rekha and his twins, Akshat and Akshita. His mother who stays with them was also dependent on Alok. Today the family faces a severe existential crisis since Rekha is a homemaker and the family doesn't have assured sources of income to ensure the children's education.
Supporting his family in the time of need

His children deserve the better future that Alok was working hard to provide them. We as people who saw him fight his way through all his life, till the very end, have taken inspiration from him and have decided to take up the task of inviting all his esteemed friends, family and colleagues to come forward and join to support them.
We are all together raising this amount to set up a policy for his children that guarantees a monthly recurring amount that can help ensure an education that equips them to make it in their world, and give them a chance to make the future that their father would have wanted for them.
FAQ
Is this genuine?
Yes it is. You are welcome to reach out to the following people who are directly connected with this effort:
Pankaj Vermani - Founder & CEO - Clovia | LinkedIn
Arvind Bhusnurmath - Lecturer - University of Pennsylvania
Anshul Goyal - Head of Credit Risk, Lloyds Banking Group

How much should I donate?
Any contribution is welcome.

How will the funds be used?
The funds will be used to pay school tuition and school associated expenses for Alok's children. These will be maintained in a policy (created for the exclusive benefit of the family) which will ensure some form of a monthly earning for the family.

How much money are you targeting to raise?
We are targeting to raise ₹ 1.5 cr. We've come up with this based on the current funds available to the family, their current pressing loans and the expected expenses to ensure the children can get a graduate education of their choice in a professional university. We believe this is what Alok would have liked to do for his children.

Here's how his friends and colleagues remember him

From Anshul Goyal, his batchmate and friend at IIT Delhi: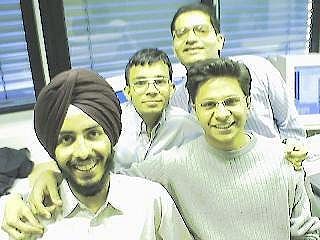 IITian & IIMian, father & husband, colleague & mate,He was so much to so many, till we were hit by fate.

Alok's happy family was hit by a bolt from the blue,
It makes you wonder that it could have been you.

Doesn't matter if you are a stranger or a friend from birth,
Let's show this bloody virus, what a special person is worth.

Please give some or give lots, no amount will be small,
Help us educate Alok's kids, it'll be the biggest gift of all.
From Saurabh Nagpal, his batchmate and friend at IIT Delhi: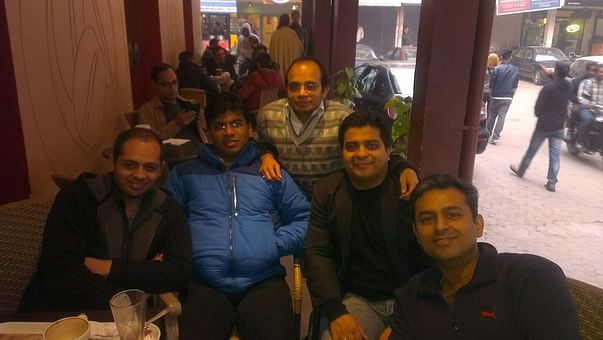 Alok's notes back at college were probably the most Xeroxed in his class. Being the most punctual with top notch handwriting, we were always begging him to help us out and he always gladly obliged. I owe half my grades back at IIT to Alok and his notes! We miss you buddy...

From Gurman Gill, his batchmate and friend at IIT Delhi:

Alok always had a smile on his face. He was focused. Focused on beating the odds stacked against him from birth. Focused on achieving his goals. Focused on embracing life. Focused on giving his best. Alok never backed off from a challenge - whether it was persevering with arduous courses at IIT Delhi or backpacking to the ice-caves in Salzburg - he was always up for it and he was always in front. He was an inspiration in hard-work and persistence for a whole lot of us. Nothing would have stopped him from moving forward and achieving greater success. But, alas, this raging pandemic did. And we are only left with memories of his grit and tenacity. Memories of him silently but determinedly going about his business. Memories of his smile… and his radiant spirit. Rest in Peace, Alok. We will miss you.

From Dinkar Gupta, his batchmate and friend at IIT Delhi:

IITians are known to be "fighters", but if there is one person who epitomized a fighter, it was Alok. From trying to keep up with his friends to make it to the 8am lectures, to imitating Akshay Kumar's Aflatoon stunts, to just slogging it out for grades, Alok was never behind. Your fighting spirit was a lesson for one and all and your departure has left a big void is our hearts. You will always be remembered.

From Rajat, his close friend & colleague at work:

We've all known and admired Alok for his determined spirit, cheerful attitude and his willingness to go the extra mile. Alok was a key member of our EXL family and the driving force behind many innovative projects and solutions for the organization. He truly loved and enjoyed his role, and often referred to EXL as his second home. We will miss him as a friend, a colleague and as an integral member of our Digital team.

How his IIM Bangalore batchmates recalled him in the yearbook

Here comes Alok, aka Tau. His room used to be one of the cleanest rooms in the I-Block till our Tau came along. Now, you can even hide a baby elephant in there… A gem of a person with superb IT skills, his biggest achievement at IIMB has been the fact that he was always there when any of his friends wanted to flush away their heavy hearts. Whatever this guy, who is loved by all, does, we know he'll always be successful in his endeavours . We wish him loads of luck and hope he can pass some of his largesse to us in the future!