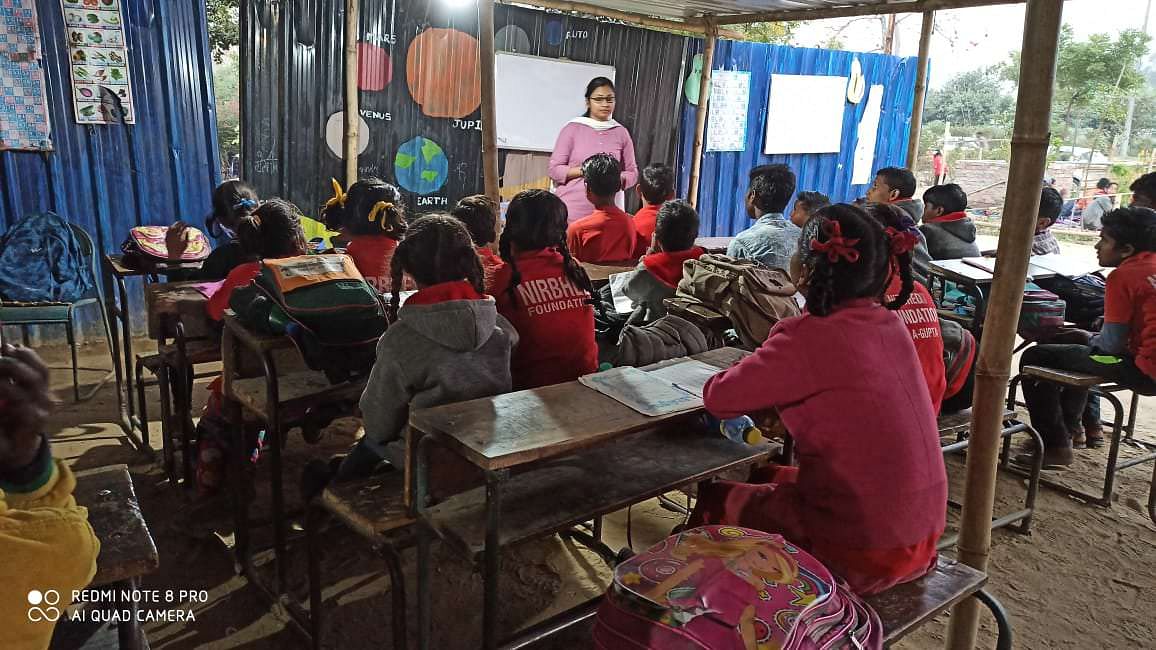 Who we are?
Nirbhed Foundation works on a strong belief that "if we make people capable and enable them with knowledge and skills, it would help them far more than providing them with materialistic resources".
We are glad to share that just prior to nationwide Covid-19 lockdown, our organisation was providing regular education to more than 3700 children in 7 cities in U.P, 2 cities in Bihar, 1 in Jharkhand spreading over 23 locations. Our help was extended to Rajasthan and Uttarakhand as well. More than 1500 meals were being served on a daily basis to 800 children and their families. Regular medical check-ups and medication were provided to thousands of children and their families including infants and mothers as well. More than 250 Aadhaar card were made with the help of Indian Postal Service, out of which 200+ children are being enrolled to schools in 2019 and more than 60 children have been enrolled for formal education in 2020.
Later in March 2020, due to nationwide COVID-19 lockdown we had to stop educating our children and had to concentrate our work only in the field of providing food and medical support to thousands of families in U.P & BIHAR. Money we have saved to buy a big study centre for accommodating kids were all utilized in feeding these families for months during lockdown and the work is still going on.
Key Challenges faced by Nirbhed Foundation during COVID-19 Pandemic
-Lack of digital resources at children's home such as internet, mobile, laptop etc
-As earlier, majority of children were taking classes together in open area which is not possible in this current scenario
-Lack of hygiene related resources at slums
-Lack of space for raw food storage/accommodating large number of students with social distancing guidelines
-Lack of space for taking classes maintaining social distancing norms
-Very few computers/laptops/mobile gadgets for teaching.
-Lack of on-field volunteers for teaching in slums.
-Expenses has been increased due to buying of precautionary products such as masks, sanitizers, soaps, gloves etc on a regular basis.
Currently, we have faced major issue that is lack of enough space to run the study centre/ classes. Hence, we require a bigger place to continue the above ongoing activities with social distancing. We have changed 2 places since covid-19 lockdown as the premises we took on rent were in residential area and people around had a big discomfort having slum kids around. So we are are managing to undertake two flats on rent at two different locations (one 4 BHK and one 2bhk)
What we will do with the funds?
We need a place where these underprivileged children and their family can be supported without any fear of the societal vulnerability. This can only be possible if we take a big building/place on lease or best is to buy a separate place for these children where they can have a healthy environment to study and learn. Therefore, We mainly require funds to have a complete separate building/premises of at least 12 room (minimum 250 square meter and above) which can be our new coaching cum counselling centre for accommodating 500 children for providing education, food & medical facilities.
It will include:
-6 rooms for running parallel classes at a time.
- 2 rooms for digital classes for at least 50 to 60 children at a time where the volunteers who are willing to teach online.
- 1 hall for continuous food preparation and distribution.
- 1 hall for Material storage.
- 1 hall Library setup
-1 big hall for little kids.
- Play area/recreational area (if possible)
Earlier with the funds received from MILAAP, we were able to:
- Distribute more than 40 lakh meals since March 2020 (cooked and raw food) till now.
-We have adopted 200 women and girl beneficiaries whom we were regularly providing sanitary pads to them(even in lockdown as well).
-After October 2020, regular cooked food were provided in slums in the evening to 800 kids & their families.
-Juices, masks, soaps, sanitizers, hand gloves were also being distributed.
-Since July 2020, with our initiative "MAI BHI HU SHIKSHAK" we were providing employment to our elder children from slums who are teaching 250 younger children at their home (slums & villages)
- We also provided direct monetary support to 38 needy families by directly transferring money (Rs.1000 to Rs.3000) in their accounts and supporting to them buying rail tickets/bus tickets/ cash to migrants and daily wagers.
-10 elder students were enrolled in private school in the year 2019 and overall study related expenses like (fees/stationary/books/uniform etc) were paid by Nirbhed Foundation.
-Uniform(T-shirts/Pants/Sweaters) have been distributed to 1000 kids twice a year in 2019 along with other necessary items such as school bags, water bottles and tiffin box.
-All the stationary material were being provided to them by Nirbhed Foundation along with books and copies etc.
It was all going well until lockdown, but now due to govt. guidelines these children are unable to continue their healthy study routine. Therefore, we now need more help in bringing their study routine back.