[CAMPAIGN RESTARTED APRIL 2023: Due to unexpected and, hence, unplanned month-long hospitalization of my father (16 March-14 April, 2023), I am restarting this fundraising campaign in order to reach out to 700+ contributors who had helped in 2021-22 save for his main surgeries with a hope to ensure my father gets the required treatment, with their support and contribution, in spite of almost 85% of my savings being wiped out due to his recent hospitalization
.
I am reachable via hridyapal25@gmail.com
for further clarifications but do keep an eye on the Updates section here as I will be, like before, using it to keep you all updated on the progress.
]
My father, a doctor, has been marred by a series of never-ending illnesses since July 2020 (see detail below) and even contracted COVID-19 in Jan 2022. I am in a desperate need to raise funds for his further treatment which includes a colostomy closure surgery, treatment of parastomal hernia followed by nursing and palliative care at home and speech therapy from a dysphagia specialist and then removal of his tracheostomy tube which has been in his windpipe (due to which he cannot speak) since Sep 2020. I have had to spend an upward of Rs 1.3 lakhs every month ever since his home nursing care began after Mar 2021 and the cost is definitely beyond my reach as I am the only earning member of the family who also have to afford the higher education expenses of my younger brother besides the regular household expenses. The goal amount of this fundraiser has been revised to include the expenses I am expected to incur by the time he is fully fit to resume his practice of a homoeopathic doctor.

Do refer to the 'Updates' section of the fundraiser in order to get the current status, bills, treatment updates and records of my father's treatment.

Updates, bills and other documents are also available on the Facebook page:
https://www.facebook.com/HelpADoctorInHisOwnTreatment
.
Hi,
We often equate doctors to the almighty, for they provide us with the second life. My father, being a Homoeopathic doctor (Reg. No. HD/1231/BHS) , has successfully cured many of his patients in the past through his dedicated practice of more than 35+ years.
In July 2020, my father was diagnosed with an
acute prostatomegaly (prostate enlargement), along with a large right-sided inguinoscrotal hernia
. He reported severe stomach and body ache, followed by decreased urination and bowel dysfunction. At the same time, he was already suffering from
pneumonia, chronic asthma, and bronchitis
. He was admitted to BL Kapoor Super Specialty Hospital, Rajendra Place, New Delhi for the treatment. It was also observed that the expansion of the hernia had damaged his intestine and caused a large hole. Doctors did a successful surgery, although post-surgical complications became life-threatening with each passing day, his life was saved thanks to the entire hospital management at BLK Hospital. We were discharged from BLK in the second week of August, only to land up at Lotus Hospital (nearby our home) due to his low blood saturation levels. We spent another couple of weeks over there before we arrived at our home after an agonizing period of 40 days in multiple hospitals. At home, his pCO2 levels flared up to almost three times and he lost consciousness. He was again rushed to BLK Hospital on 3rd September 2020, as his blood saturation levels fell alarmingly to about 55%. He was immediately admitted to the ICU with ventilator support. Doctors then conducted a tracheostomy, where a tube was inserted from the outside to the windpipe via an incision. While being in ICU on ventilator support, he remained extremely critical for around three weeks in September 2020.
The comprehensive cost of almost 120 days of hospitalization along with the home nursing expenses, medication and other equipment purchased at home, till date, has gone beyond ₹ 1 Crore.
As he is still undergoing his treatment (with a couple of surgeries pending - see estimate below as of 25th July 2022) and will probably take at least six months to recover, hence the goal amount would continue to be estimated further. I had exhausted my medical claims from the office worth ₹ 4.00 Lakhs each in 2020 and 2021 and in 2023 (post his Tracheo-oesophageal fistula surgery) and almost other savings as well by Sep 2020 which is when my brother (Anmol Bhogal) started our first
fundraiser on Ketto
(which helped us with over 30 lakhs of funds to take care of his hospitalization expenses and our daily set of expenses at home for his nursing). I, the sole earning member of our family, am already under a burden of personal loan taken (from ICICI bank - currently ₹ 12 lakhs pending) in 2020 for his treatment so it won't be possible to borrow again from the bank and neither can I afford one considering my fixed monthly salary (which is half of our current monthly expense of ₹ 1.3 lakhs). Loan EMIs, nursing care charges at home, medication and other health supplements cost already clock more than ₹ 1.3 lakhs/month. The amount is huge and is beyond my capacity to afford without an external help. Therefore, I request you to kindly contribute towards the treatment and help me give my father a new lease of life. Your every financial contribution is important and I would be extremely thankful for the same. Due to extreme fund crunch, my mother had also started a separate fundraising campaign on
Ketto
(now closed) to keep the family afloat as donations dried up post April 2022. The fundraising target (₹ 85 lakhs) has been split up across the 2 fundraisers as we have already spent close to ₹ 1 Crore till date (April 2023) with an approx surgery expenditure of around ₹ 8-9 lakhs still pending.
I will definitely keep you updated on his progress - please do keep an eye on the Updates section of this page or watch out for the email notification informing you about his health if you have contributed to our fundraiser. Do keep him in your precious prayers and thoughts. Please be generous while raising funds for the above mentioned medical cause (there is no 'minimum' amount of funds which you need to donate - it can be as low as Re 1) and help me raise this amount by clicking on the donate button and sharing this page with your friends and family.

In case of any further clarification related to his medical ailment, treatment, and other associated costs, please feel free to reach out to me at hridyapal25@gmail.com.
ESTIMATED COST OF PENDING SURGERIES (letter as of 25 July 2022 and estimate as of 29 April 2023)
We met my father's treating surgeon Dr Mohit Jain at BLK-Max Hospital on 25th July 2022 in order to get the latest surgery estimate - the same is appended below (for both single and double-sharing rooms) for a 10-day hospitalization. Also attached is the official letter signed by Dr Mohit Jain confirming the current status of my father's treatment as well the future course of surgeries.
KEY EVENTS (

see 'Updates' section on the next tab for the latest update on his medical condition

)
May 2021
**We are keeping our fingers crossed...**
Thank you so much for your messages in the last few weeks checking about my father's and my health. My father is physically improving with a slight increase in body weight. His body tests are due but we are waiting for the situation outside to calm down a little...it's still very risky outside in Delhi and hospitals aren't yet empty.
Clinically, he still is similar to what he was in Sep 2020 with a colostomy bag attached to his stomach and a tracheostomy tube in his windpipe. Colostomy implant removal will require a surgery once his protein levels are better and situation outside is calmer. However, tracheostomy tube removal seems very tough at the moment as it has been there for more than 8 months now and he is dependent on it for his regular breathing. Weaning him off and asking him to breathe via his nose/mouth will take a lot of his own effort, patience and time! The nursing staff at home is taking good care of his tracheostomy tube and its daily upkeep, though. The tube was recently replaced at home by the nursing staff under clinically-controlled circumstances and with an oxygen concentrator on standby in case any breathing issues developed while the tube was being replaced.
I am doing fine...thankfully, the COVID symptoms are no longer there. There was a sinus scare recently but that was done away with by regular steam and rest.
Please do keep supporting us so that we plan and save for his current treatment and future surgeries. As of now, the monthly expenses are more than double my salary so we are really dependent upon your support and contribution via this Fundraiser.
I will keep my fingers crossed...
---------------------------------------
April 2021
**Pray for us and for the families currently in distress**
As Delhi passes through a catastrophic phase of COVID infections and deaths, we keep our fingers crossed. I am trying my best to keep my father away from any virus-related infections considering his current health and high susceptibility to cold-related infections.
A few weeks ago, even I developed COVID-like symptoms and isolated myself to my room. Due to the labs in our vicinity running full with tests and pending reports, they were not willing to come for home collection of samples so I couldn't get myself tested. Thanks to homoeopathic medicines, good diet and rest, I am much better now.
Please keep us and those who are struggling to get their dear ones some air or a bed in the hospital in your prayers as we fight through times never imagined before.
Kindly share and contribute to our fundraiser also so that we can keep up to the daily expenses surrounding my father's upkeep.
-------------------------------------------
April 2021
**GENERAL UPDATE**
After about 15 days of my father's discharge from the hospital with tracheostomy tube re-inserted, we went for some routine tests - CBC, KFT and LFT - so that we can get an idea of where his general parameters stand at. His Total Protein levels have increased to 6.3 from 5.5 tested last at the hospital. Hemoglobin also increased from about 10 in the hospital to 12.4. He continues to be under critical nursing care because of his tracheostomy tube.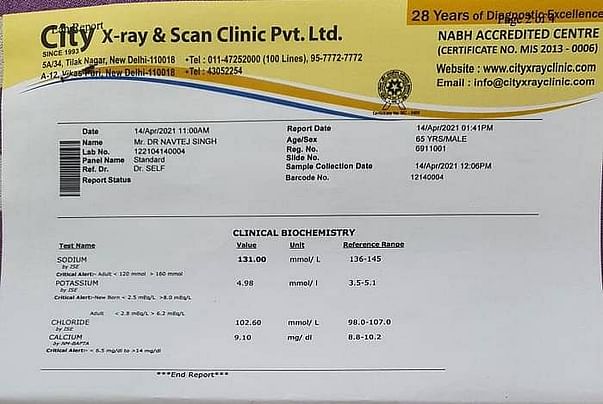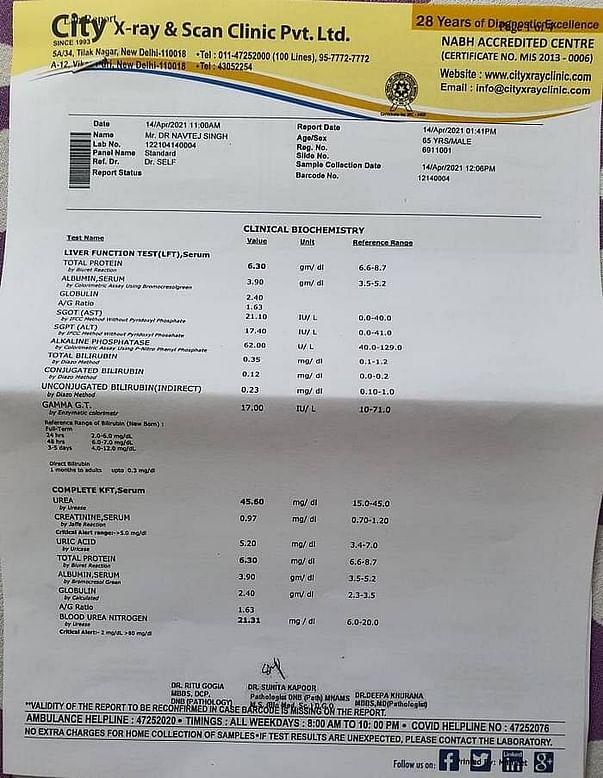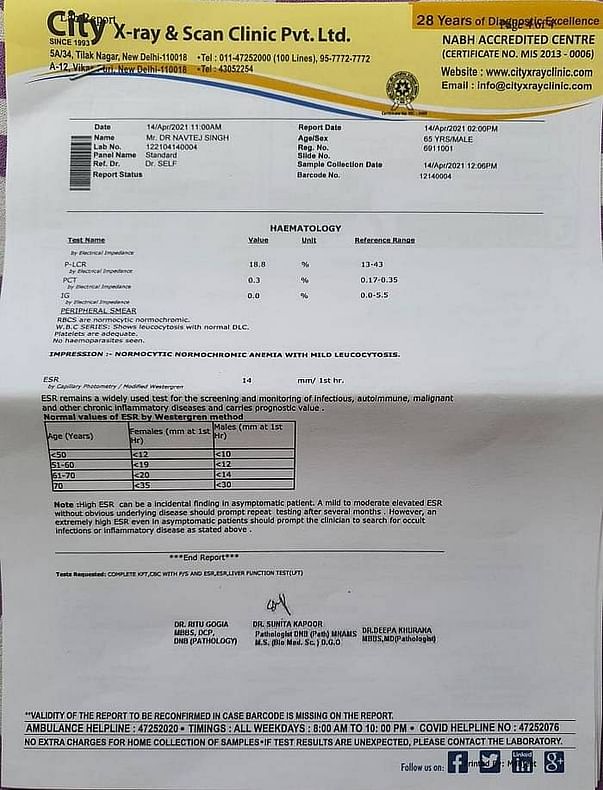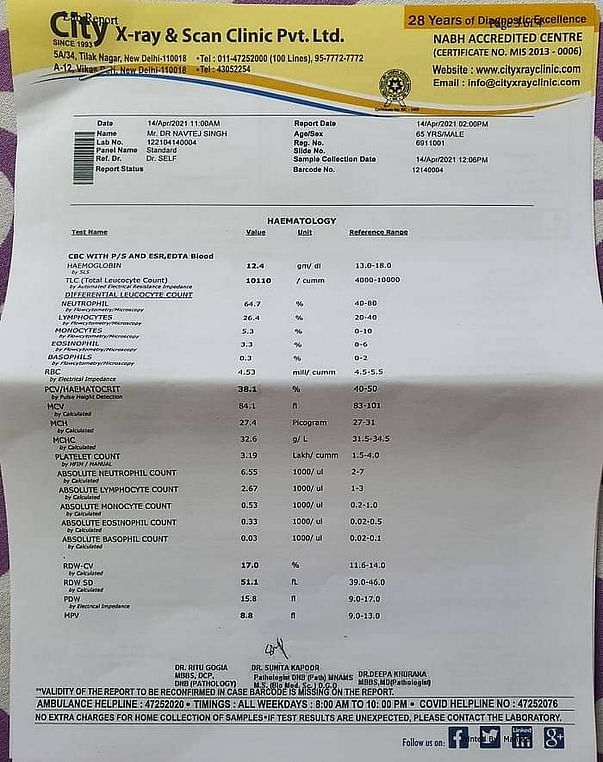 Keeping in mind the worsening COVID situation in Delhi, we have purchased a couple of oxygen cylinders and an oxygen concentrator so that we are covered in case any emergency occurs (as hospital beds too are running out fast here). The above expenditure is of almost about Rs 40,000 (Concentrator: 36,000, cylinders: 3600, lab test: 1700) [Bills available upon request].
We look forward to your support, both morally and financially, as we Delhites enter a period of extreme uncertainty and grim circumstances. All treatment-related updates of my father are also posted on our Facebook page:
http://www.facebook.com/HelpADoctorInHisOwnTreatment
-------------------------------------------------------------
March 2021
Unfortunate and depressing turnaround of events!

An unfortunate turnaround of events beginning last Sunday has brought my father's health to what was several months ago. As you know, his tracheostomy tube was removed earlier this month and he regained the ability to speak after 6 months. But around 18th March, he started having breathing issues and required minor external oxygen support. His condition worsened last Sunday as his saturation levels started dipping and he became unconscious. He was rushed to the hospital and was straightaway admitted to the ICU and put on ventilator support as he was diagnosed with CO2 Narcosis (excess CO2 in the blood).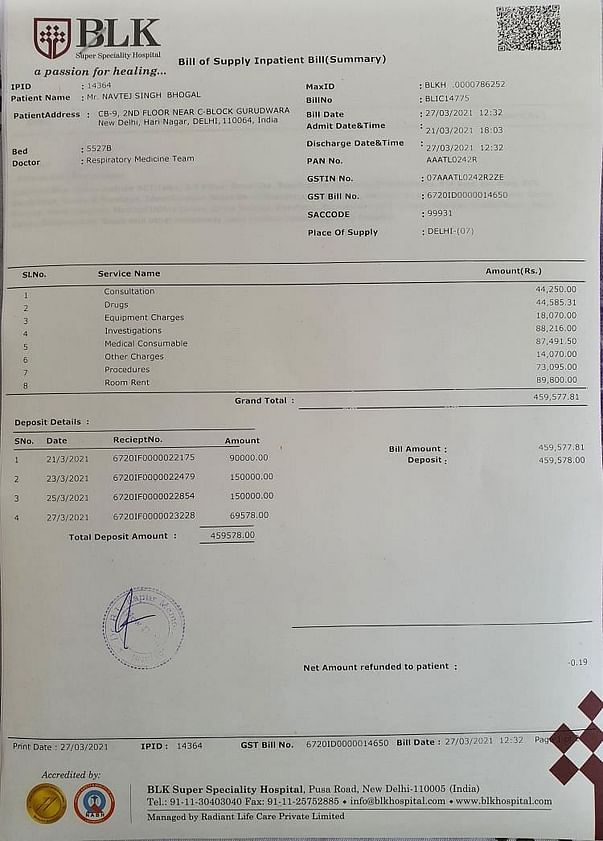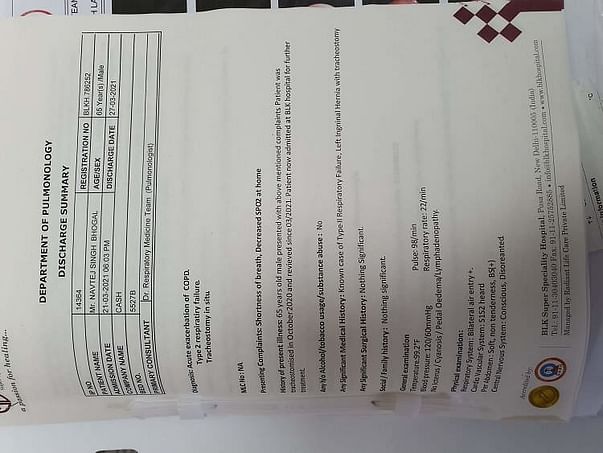 Please share and donate to our Fundraiser and help us out of this never-ending cycle of suffering and increasing costs since July 2020. Follow all updates including the bills and discharge papers on the Facebook page at:
https://www.facebook.com/HelpADoctorInHisOwnTreatment/
.
We are thankful to your support thus far...