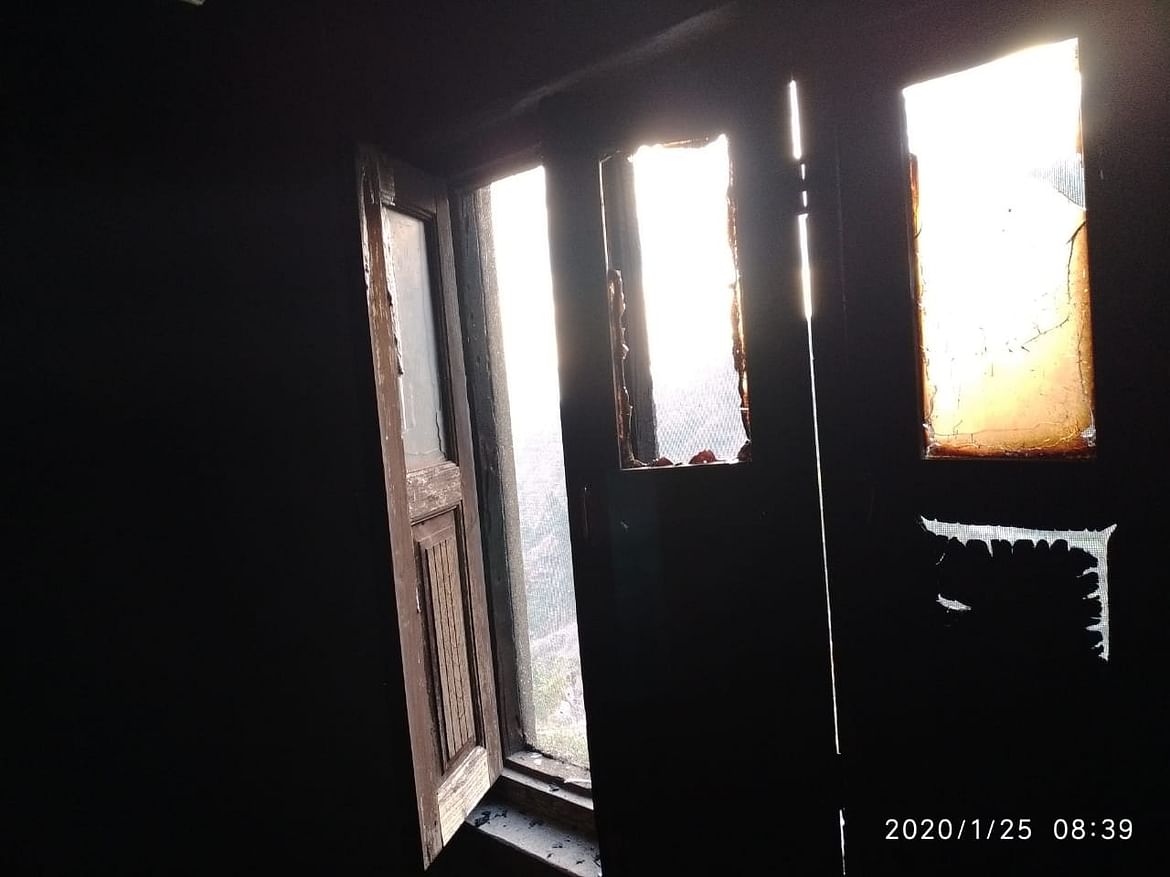 TRUE TRAGIC STORY2/3 yrs ago Nandlal,s brother built a single storey brick house in village pryab Chalauni I district Solan of Himachal Pradesh. Our housemaid Poonam,s husband Nandlal, with their 20 yrs savings, built their cherished house on first floor.On 24 January this yr a five yr old boy living in the adjoining kacha straw house set fire to a pile of grass in his house. The fire quickly engulfed Nandlal,s house. Luckily the ground floor of his brother,s house was mostly unaffected but unfortunately first floor owned Nandlal was completely burned as roof beams were of wood. All doors, windows furniture, beds and household goods were also destroyed by fire.
After setting fire to his house little boy was frightened and told his sister to runaway with him to a safer place. When she refused he said; "don't come and die in the fire", I am going." He alone ranaway and perched on a higher ground to watch the fire. His parents could see him sitting there alone.
When fire was brought under control, frightened boy came back stealthily went to sleep ( to evade rebuke from his parents) on the floor of the brick outdoor room near his burnt house. When he woke up, he saw police, Poonam and her whole family crying with tears dripping from their eyes. He said why r police here? He then said; "don't worry. When I grow up I will build two new and better fireproof houses, one for my daddy and one for auntie Poonam." Poonam smiled and hugged him lovingly. What a kind thoughtful gesture by a 5 yr old child!!!
Even Poonam,s three children ( Kalpana, Prince, Jatin) these days keep on consoling her whenever they see her in sad depressed mood. They too tell her the same that she should stop worrying and they'll build even a nicer house when they get employment after completing their education.
Nandlal and Poonam are devastated, heartbroken and presently in intermittent state of depression. We living in the same house also feel sad seeing them in this sorry state of affairs
It is estimated that to rebuild the first floor with R C C fireproof roof, new doors and windows would cost about 10-12 lakh rupees for materials only.
Many residents, including the father of the 5 yr old boy who started the fire, have very kindly offered to help with manual labour.
Nandlal and Poonam have been very dedicated, honest, loyal and faithful hardworking helpers who take care of our house whether we r in India or in UK. They r expert chefs providing us and guests with delicious and nutritious home cooked food
My state pension and financial resources r already overstretched as Jit is funding Poonam,s three children's expensive private schools education since their eyes kindergarten/nursery classes. I therefore on my own am virtually helpless to contribute entire amount RS 25 lakh for rebuilding destroyed first floor of Nandlal,s house.
After brooding over this dilemma for a week and lot of heart searching I have very reluctantly decided to seek donations for this humanitarian Noble cause. No doubt we will also contribute as much as our finances will allow.
We would be extremely grateful for whatever help our family/friends can give to alleviate the unfortunate suffering of Nandlal/Poonam,s and their families and bring back normalcy and happiness in their lives
Thanking you profusely in anticipation of favourable outcome 💖