"We all have sometime managed with the torn shoes !
We all have sometime fixed our shoes with stitching or fevi-glue !
but luckily we had shoes...When we were kids !
Those white PT shoes for Saturday and the passion of keeping them the whitest...
Those everyday black shoes polishing before leaving to school to look the most brightest....

But then those who do not have any color shoe ? and walk bare foot everyday burning their toes...

Give them a hand and see their smile, gift them some shoes to save their toes for a while !"

- Vinay Singh
Video link: https://youtu.be/vwmHG-Z8eqM
SHINING SHOES, RISING MOVES !
Imagine yourself walking in the jungle in the hot summer at 12 p.m. barefooted all alone in the jungle; crossing millions of stones, hot as lava roads and thorny bushes just pricking in your feet and you have everything but shoes.Now these are the scenarios an adivasi kid goes through daily and you can't even hear a sound of pain from them. These kids do this daily in the jungle of Gadchiroli where numerous venomous snakes, millions of others species like crabs, scorpions and the roads heated up by scorching sunlight of summer. Unaware of these harms these kids daily go to school with a grin on their cute, beautiful faces. The whole scene is witnessed by me every day whenever I visit schools with Cluster Resource Coordinator. The kids are being raised without it that's why they aren't even aware of the infections and worms they can get infected by without use of any footwear.
As a Gandhi Fellow I have observed these kids and went into nostalgia when my mom used to clean my shoes and as I grew up I myself cleaned them and it was like a competition where I got self satisfied if my shoes were whitest or when they were all black without any dirt mark. But these kids aren't being told about this aspect of personality and missing one of the main aspects of impressive personality.
As shoes tells a lot about a person's personality so why these kids are not getting that advantage. So I felt the need to make these kids available with this right of having complete uniform as school uniform can't be completed until it has shoes. I approached many local authorities like Gram Panchayat, Gram Sevak of a village but as an individual I was unable to make it a matter of public concern. So one I got an idea that to make children available with their complete uniform it is not only an issue that should reach a local village only but it should be reached from North to South of India so that the kids we see in full dress in convent school could be seen in Government schools too. So I raised the issue on a site called MILAAP to not only get donations from the willing people but also to make the issue in notice of everyone who are resting in their homes just unaware of this part of India and also every part of India and every kid of govt schools.
Just I
magine your childhood without school uniform or shoes! Yes it is difficult to imagine a student without school dress and shoes. when I look back and think of my school days I find my mom tying my shoe and combing my hair while I am sitting on a chair and enjoying my chai -Paratha breakfast.
Those small but shiny shoes were my everyday confidence and passion to reach school. But now after 18 years when I try to see myself in a school going child it makes me realize that my sole source of confidence and passion, a pair of sparkling shoes are missing from their feet.
Hello, everyone!
I would like to share my one-year observation of government school children in
Gadchiroli District of Maharashtra
. I have been working here as a Gandhi fellow to bring some positive changes in the system of primary and upper primary education. I have noticed this many times that students are coming to school without shoes but more heartbreaking is when these students participate in awareness rallies and walk on the roads or rocky path barefooted.
I just wish that I could install a few Shoe racks in schools and provide decent shoes to around 300 children here in Gadchiroli.
It is not just about providing shoes to these children but I want to make these children passionate about education and sports. These tribal children need our support to reach school and continue it until they become what they dream about.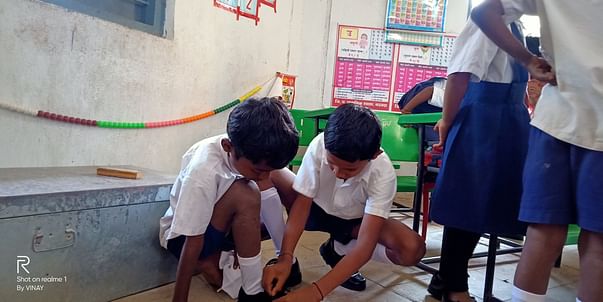 So kick start their journey by buying them a pair of shoes, as these tribal children once drop out of school never again are they able to join back!

Vinay Singh
Gandhi Fellow @Gadchiroli, Maharashtra
Contact - 7017787806