If you're in a position in life where you could spare a little bit of money to financially support Mr. Dilip's family... his wife, his 13 year old son and his old mother would be eternally grateful 🙏
You'd be supporting a family that has lost its sole earning member and all its savings to the pandemic. While we can't bring him back or take away the grief of his family, we can support them by easing their financial burden and ensuring that his son receives a good education.
Mr. Dilip was a resident of Silvassa, India and his wife, mother and son live in Panagarh, a small town in West Bengal. He had a happy and fulfilling life until the deadly second wave of Covid-19 swept through the country and he became one of the unfortunate victims. He battled the virus for over a month which depleted his family's finacial resources, but sadly he could not be saved and his family and friends were left to mourn the loss of their loved one.
Every rupee contributed will go directly to Mr. Dilip's wife's account.
Please contribute if you can.
Even a little bit goes a long way.
To assure you of the legitimacy of this campaign and that your money will be used for a noble cause, we're attaching the death certificate of late Mr. Dilip Mandal below.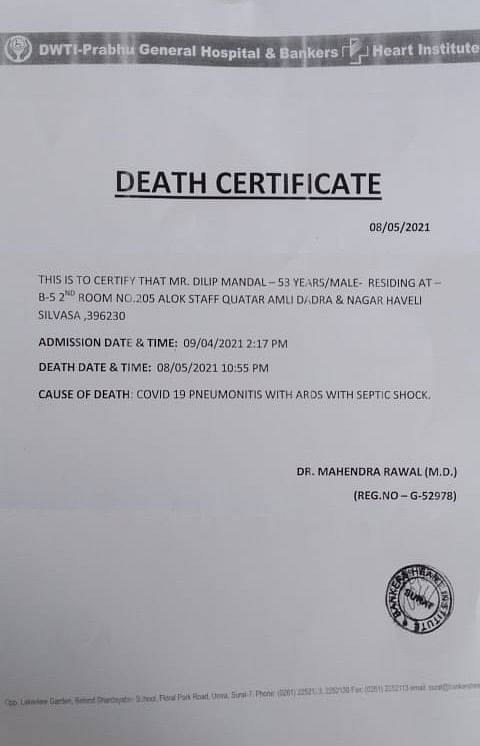 Please feel free to contact Mr. Bikram Basu (+919824431599) or Mr. Pradip Mandal, Mr. Dilip's Brother (+918250959730) for more details.