Because of not having money for treatment, Laxmi told her mother to kill her. It's a painful situation for Savitri who is the mother of Laxmi, living in Tehri Garhwal Uttarakhand. Laxmi who is 18 years old, can't eat any food normally as she is diagnosed with
"Grade II, oesophagitis distal oesophageal stricture ( post corrosive ingestion) adjustment disorder"
. As per the old discharge summary.
The doctors have placed a feeding plastic tube on her. This tube completely bypasses the mouth and throat and allows for food, fluids, to be given without swallowing.
Her mother Savitri giving her liquid food daily by using this feeding tube so she can survive. As per Doctors she can be fully treated but the treatment cost is 10 Lakh INR.
Laxmi's father does Labour work and whatever money was with them, they have used it for the initial treatment of Laxmi. We have attached medical documents for your reference. Let's help and support her by contributing whatever amount is possible from your side.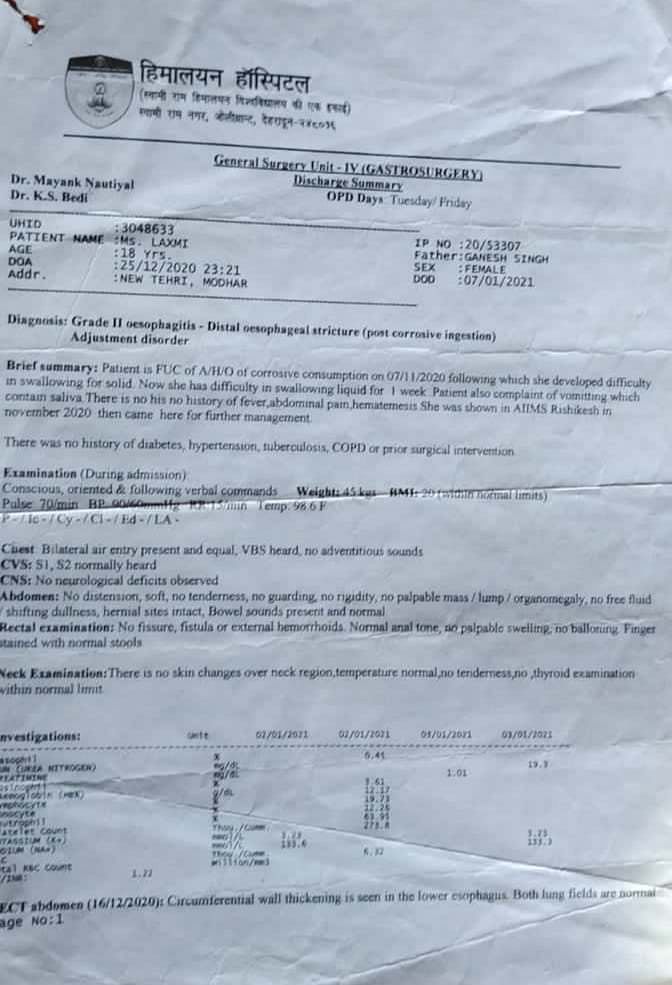 Please share this as much as possible. we hope Laxmi will eat normally like before and will live for long life.
Thanks & Regards
SOCH Organization
Social Organization for Connecting Happiness