Update: Sam is a 7+ border collie (we think, we initially thought he was a german shepherd but he seems closer to a collie) who was abandoned in my neighbourhood. He came to us with a maggot wound which we treated but has now developed an enlargement in his prostate making it difficult for him to eat or poop. He is not neutered and we think that is a big contributing factor towards the condition. He needs surgery to remove the balls and ease some of the hormonal load on his system. His appetite is poor and levels have dropped and hence, he needs care towards the same. We need your help in being able to raise the funds for the boy. Enclosed is details of how we found him, his treatment over the past month and what we need going ahead. Do help out if you can or please spread the word.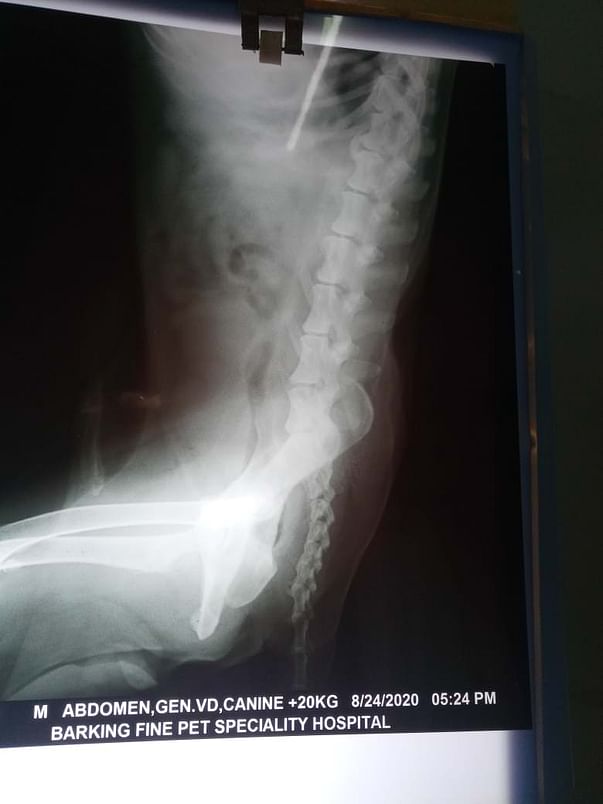 ----------------------------------------------
Sam is a rescued 7-year-old German Shepherd who needs your help with being supported as he gets healthier and prepares to find a new family who can care for him till the end of his days.
He is partially blind in both eyes due to a developing cataract and has two maggot wounds on his back. He was abandoned in my neighbourhood and the experience has caused him severe separation anxiety, something we are working doubly hard to try and fix. We have sent his blood for tests to see if he has any other internal issues that we need to fix.
He is an absolutely lovable dog that like scores of others did not deserve to end up on the road, especially being the furry German Shepherd that he is.

Why we need your help with funding
My family feeds six neighbourhood dogs and is also fostering four puppies through their vaccination and adoption phase. Sam gets along well with the pups but does not get along with our rescue lab (9-year old male and not neutered). Due to COVID-19 and resulting changes in pay structures across industries, I am struggling to manage funds for all these animals, to ensure their regular meals and the medical expenses that arise here and there. Sam needs uninterrupted care now so we can ready him and find him a family, which is why we are considering foster care. He has a constant quiver in his legs and are prepping to deal with an arthritis diagnosis. We are raising funds to fund his foster. Adoptions are tricky with senior dogs and we are mentally preparing to put him in foster care for at least two months, during which we hope to finalize an adoption on priority basis. Please contribute towards helping this gorgeous happy boy. Even contributions of Rs.100 go a long way for us.
Do share this fundraiser appeal with your contacts and help us help Sam.

Money required:
We are raising funds for Rs.30,000 as the goal. His foster chargers with a welfare organisation which will also work towards his adoption comes up to 15,000 a month. Having done the adoption rigmarole several times in the past, I am well aware of the delays and roadblocks that come with adoption procedures, hence we are prepping for boarding for two months. His foster care needs to be paid for in advance, to help them have finances should any medical needs come up for the boy. Do share the fundraiser and help us out.