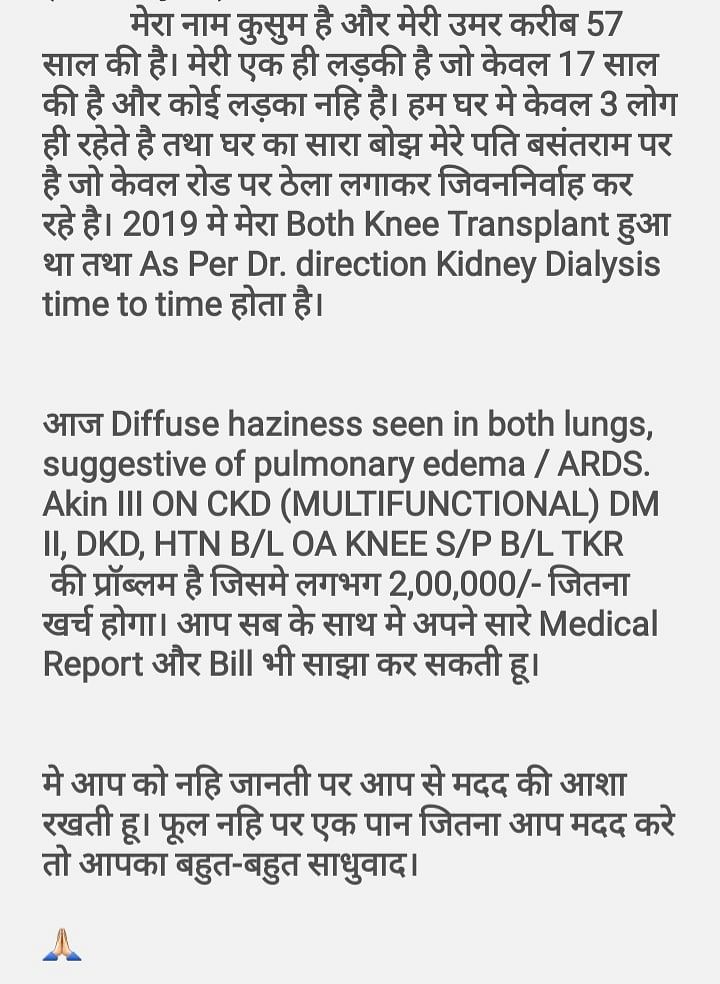 🙏🏻
I'm 58 years old Kusum Surat Gujarat Resident. God gave a daughter at the age of 40 who is only 17 years old today and no boy child. We 3 people live in the house and all the burden of the house is on my husband who works on the roadside Handcart. Dialysis is done as per doctor's instructions.
*Today on 9th September 2021 I have Diffuse haziness seen in both lungs, suggestive of pulmonary edema / ARDS. Akin III ON CKD (MULTIFUNCTIONAL) DM II, DKD, HTN B/L OA KNEE S/P B/L is a disease of TKR which cost approx Rs 2,00,000/-.*
I am undergoing treatment at Kiran Multispecialist Hospital in Surat in this pandemic situation of Corona, where I am admitted in ICU.
Your small help can bring happiness to my entire family. Created a page through Milaap Platform, which you can help by clicking on the link below. Required documents and all detailed information is in the page on Milaap Platform
https://milaap.org/fundraisers/support-kusum-basantram-gupta?utm_source=whatsapp&utm_medium=fundraisers-footer&mlp_referrer_id=6326865
Further quarry You can also call on *7984292771* this number.