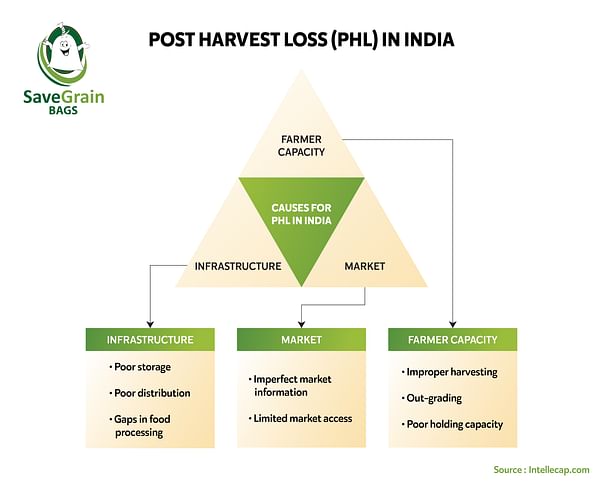 Help Save Grain Bags to preserve grains and protect the investment of 5000 farmers.
In an attempt to flatten the COVID-19 curve, India entered into a lock down. This standstill created a massive void in the daily functioning of our economy, thus affecting the livelihood of millions within our nation.
Unfortunately, in the midst of this crisis, social distancing practices, the closed markets & the lack of buyers among other problems has left farmers helplessly waiting and watching from the sidelines as their grains (worth millions) were left to spoil.
Grain trade has come to a screeching halt. This has left farmers with little means to protect their investment and prevent losses.
Hunger and desperation has become increasingly prevalent, so we decided to put our foot down and are attempting to stop this devolving scenario one farmer at a time.

Who will we help and how?
Save Grain Bags
has tied up with
Krushi Vikas
(an NGO on a mission to achieve sustainable agriculture and rural development) to
help over
5000 farmers in Maharashtra & Madhya Pradesh
.
Through our combined network and resources, we aim to aid these men and women in a bid to protect their crops and educate them on the use of reliable, organic post-harvest methods for their produce.
Funds will be used to:

Provide food grain and seed storage kits such as metal cans, woven sacks, tarpaulin sheds and hermetic bags.
Assist farmers in arranging warehouses in the same vicinity.

Provide grain dryers, portable moisture analyzers, etc

This is a 100% not for profit campaign.
For every 1000 rupees raised, we will be able to save approximately 900 KGs of grains.
Our volunteers and NGO partner will be ensuring responsible distribution of all resources while adhering to the Social Distancing guidelines put in place.
80G Tax exemption can be issued for all donations made to this campaign.
Why is this the need of the hour?
For the longest time, our nation's farmers have been relegated to the sidelines.
Tormented by unexpected rains and, quite recently, locusts that damaged lakhs worth of crops, by closed markets and social distancing resulting from the pandemic, farmers have had to deal with increased losses (more so than the norm).
Their losses impact not only their families, but also us, the numerous citizens of India who ultimately rely on a farmer's efforts to procure the food we eat.
As responsible men and women, we are obligated to unite and help those who have contributed so much to the meals that constitute our staple diet.

How can you help?

We understand that these are trying times for everyone, which is why there is no minimum donation amount. We are more than happy to accept any form of monetary aid that you are able to offer.
With your help, we hope to reach out to as many farmers as possible and equip them with the means necessary to survive better in these harsh times.
The success of this initiative will ultimately save 46 Lakh KGs of grain and have positive implications on multiple industries such as those that fall under the food & beverage bracket.
Follow us on Social Media for updates:
https://www.instagram.com/savegrainbags/
https://twitter.com/savegrainbags
https://www.facebook.com/SaveGrainBags

Who are we?

Save Grain Bags began as a CSR initiative and has gradually transformed into an independent company that aims to help farmers and businesses alike store grains through natural, organic means. Experts in the field of Polymer Sciences & Advanced Chemical Synthesis, we have created a series of products which incorporate the EVOH polymer to store grains without the use of even a single drop of pesticides. This has allowed grains to be stored in their natural state, preserving aroma and freshness, for up to 2 years.