This is an act of Kindness, Love and Compassion. Please continue reading. We have to be the change that we want to see. And with every kindness we shower to fellow beings, many folds will come back to us as blessings. Please continue to read to know more about our organisation, what we have achieved and what we can achieve together with your valuable support. Together with your contributions and prayers we can help thousands of people and be proud of that achievement going forward.
Karunyahastham charitable society is founded by Elizabeth who's the President and its members include Suresh Kumar Vise President, Shaikjan Secretary, Shameer Joint Secretary, Babitha Treasurer, Aju George Executive Member, Sibi Kunjumon Executive Member and Joshy Kokkad Executive Member. We also have many supporters like you who have helped us in our work with their time and money on many events.
Elizabeth started this charity drive out of passion in a small scale with extra money she get from her son who is working in Singapore. She used to give food in charitable societies, street dwellers, adivasi colonies old age homes etc. But as we got deeper into the social problems, the urge to create better living conditions and a permanent solution to their problem became more evident and urgent that she started creating communities joining hands with like minded kind people and has progressed substantially in providing some reliefs.
For the past 5 years, we were able to support in food donations and multiple projects such as below
1. Attathodu tribal colony 55 families rice, vegetables, education materials, clothes as temperory relief for 10 days for 6 times so far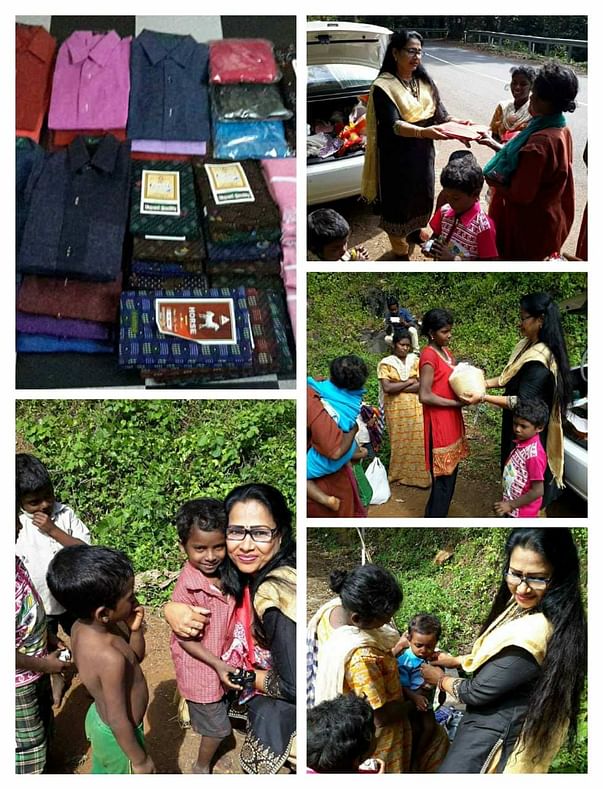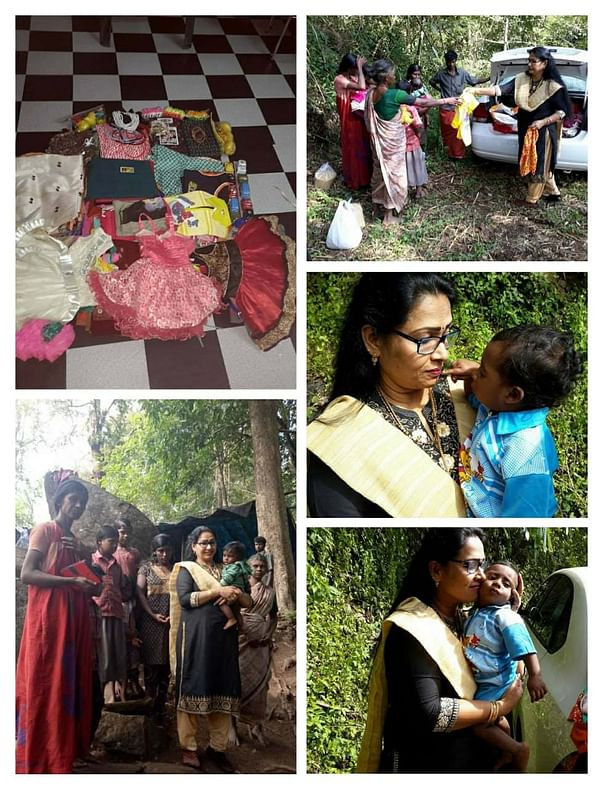 2. Kilimanoor upper primary school we provided books, eating utensils for 105 students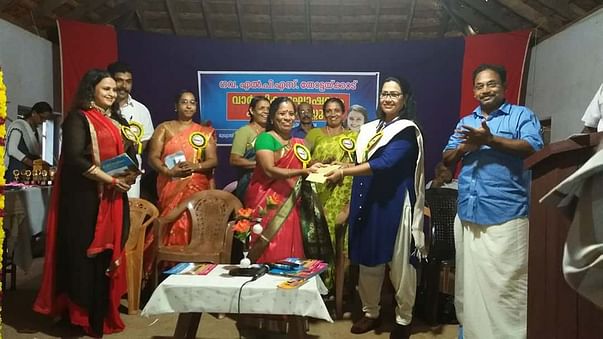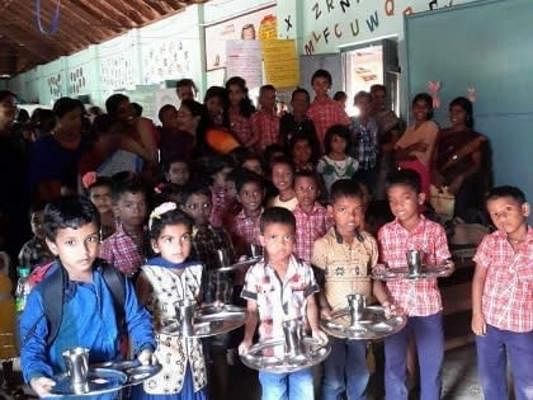 3. Kannanthura Trivandrum fishermen family are being provided food kit on a monthly basis for 55 families.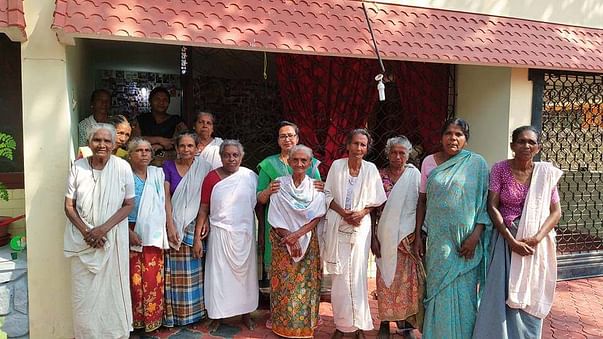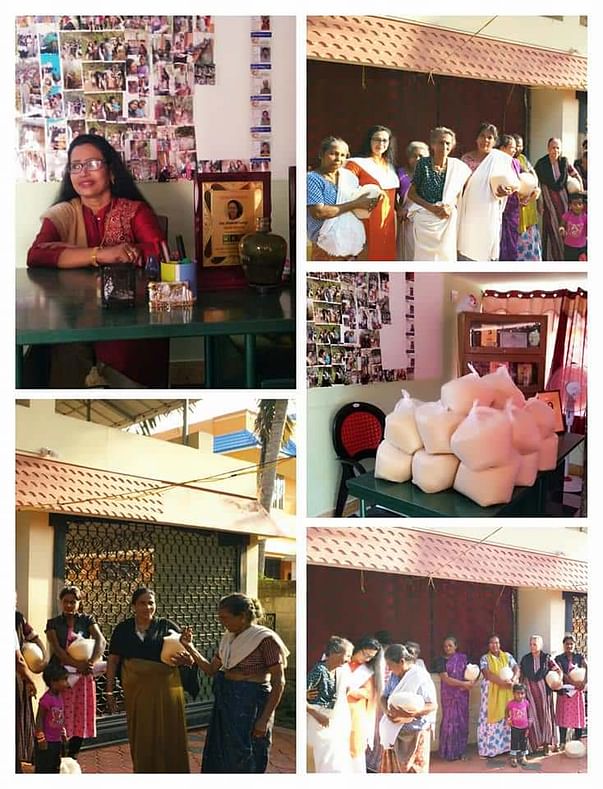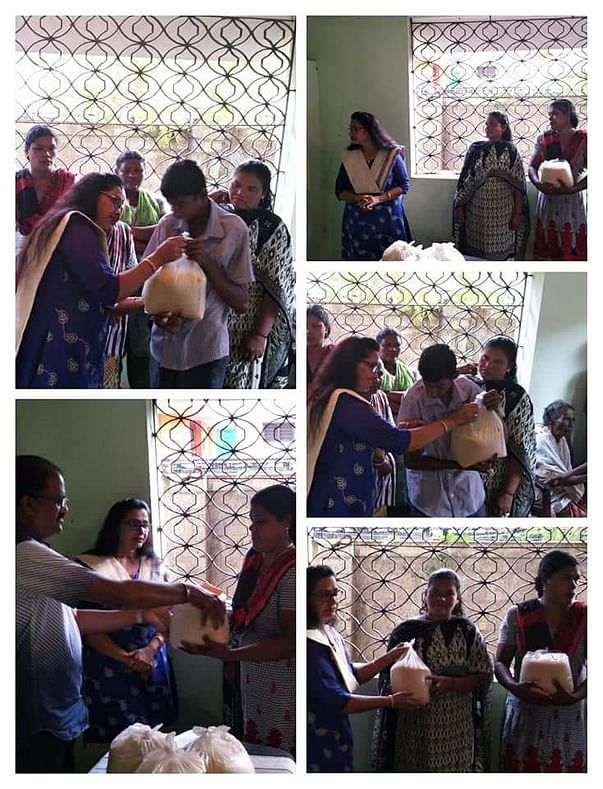 4. For Ockhi cyclone disaster, we provided 200 kg rice, 100kg onions , 50kg sugar in shelters and 3000 rs mixed vegetables
5. Helped in leg surgery for a lonely old woman with no family that costed 3 lakhs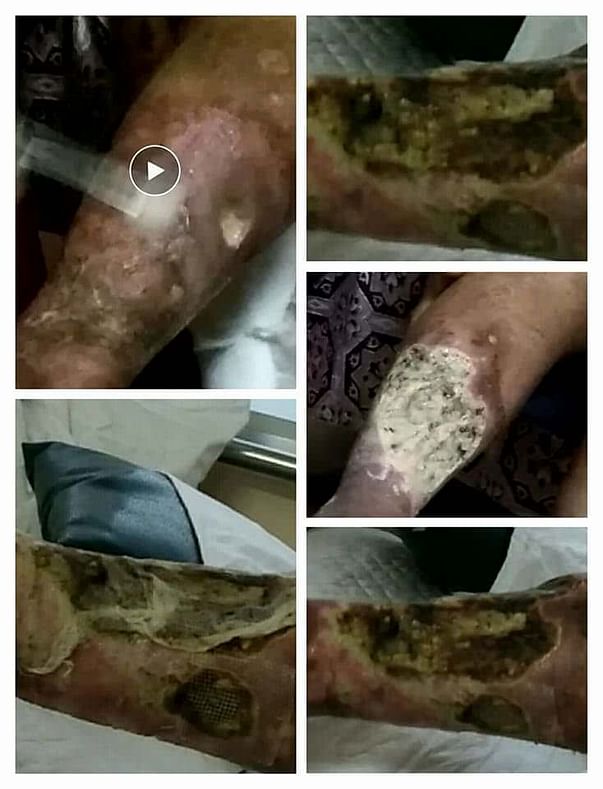 6. We support old age homes like Santa Maria, akashaparava, paalod snehatheeram, poor home, Karunalayam on multiple occasions on festive times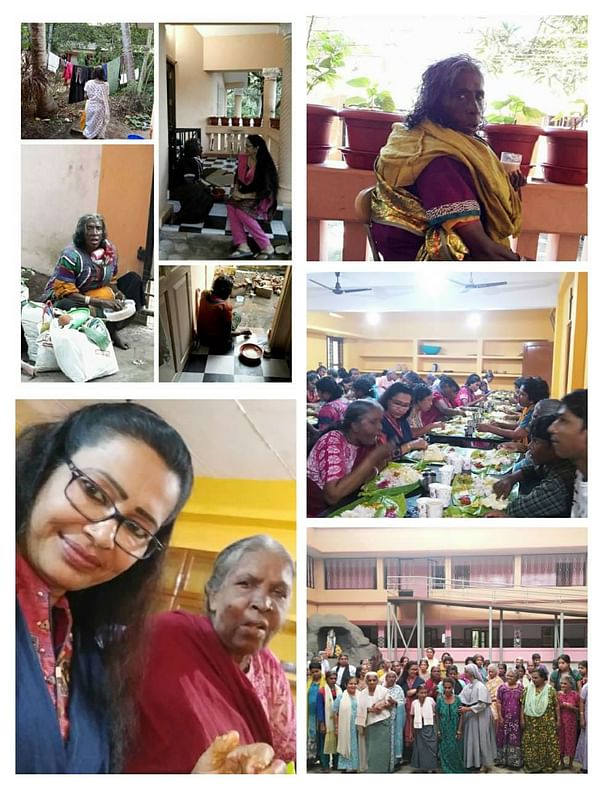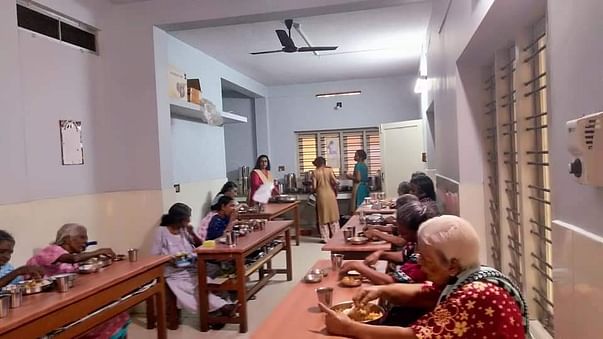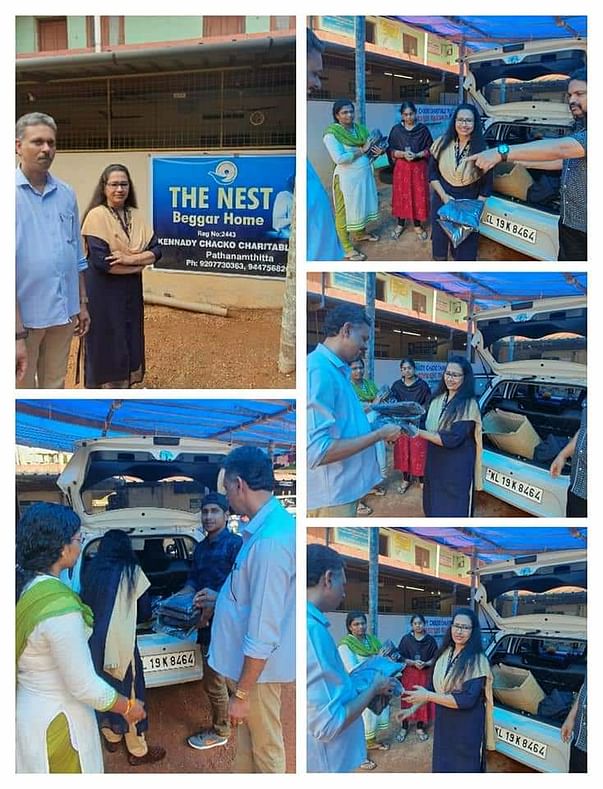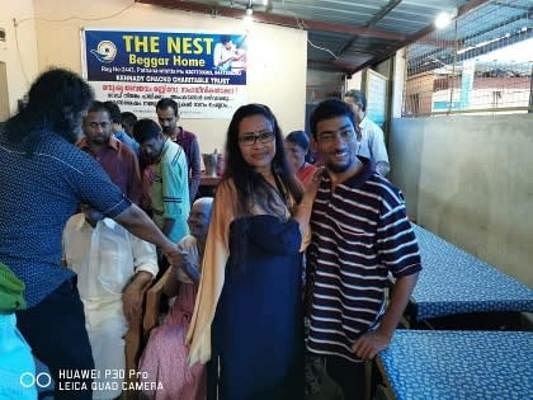 7. Attapadi in palakhad tribal community for 100 families were provided 300kg rice, study materials for children and clothes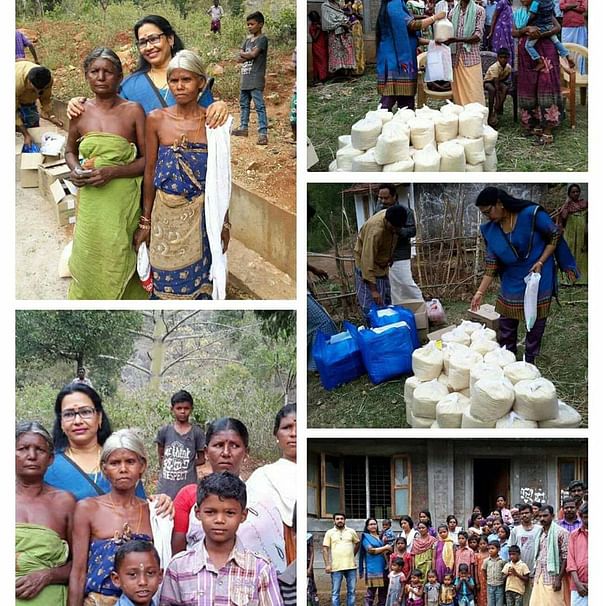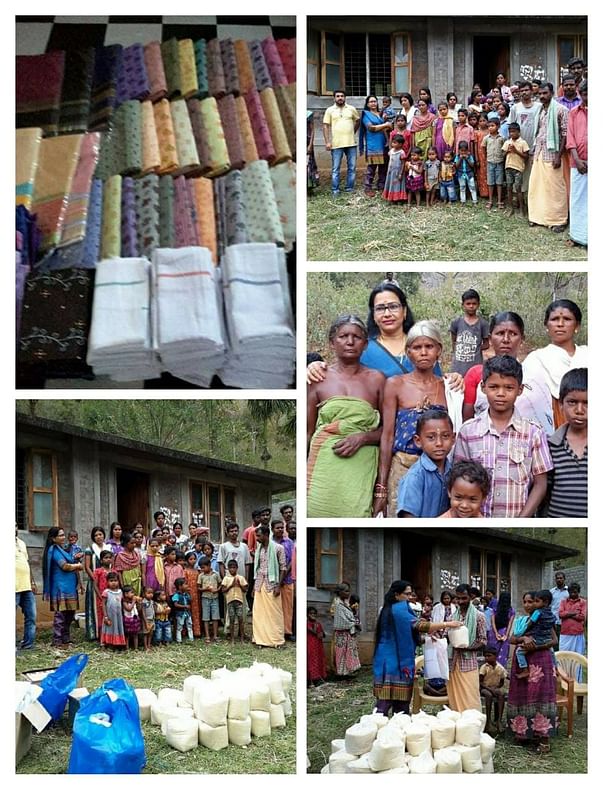 8. Accommodated cancer patients with food for 2 patients 4 months each in our home
9. Gandhi bhavan charitable Trust was provided clothes for 100 people
10. Perumathura yatim khana we provided 100kg rice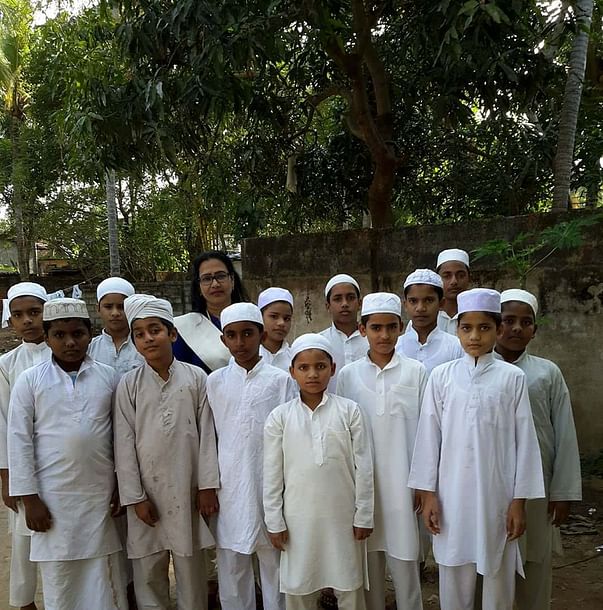 11. Thrissur deaf school we provided food for 150 students
12. Nanma charity in Adoor we provided financial assistance

As Covid hit the country, more people need temperory help and the support is more urgent and we are unable to meet or sustain the support we provided to those in need as way too many are unable to go to work or pay for basic food needs.

We want to provide a permanent solution to those old people who are unable to work due to age, disabilities and no family ended up in streets begging for food.

The dream project of Karunyahastham is to build an old age shelter for the poor and orphans with disabilities that will be known as '' Rakshabhavan''. We need land & space along with some medical staff and nurses that we are unable to use personal funds of members to support such a big project. Brochure for project is as below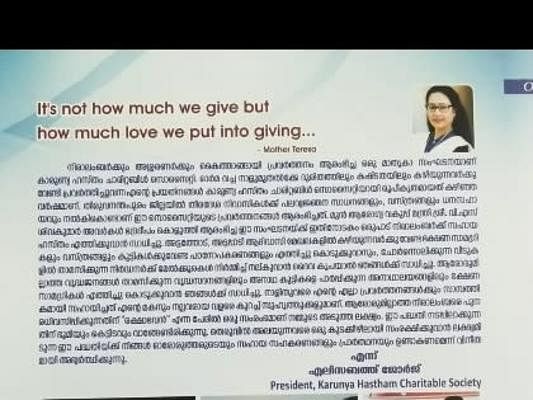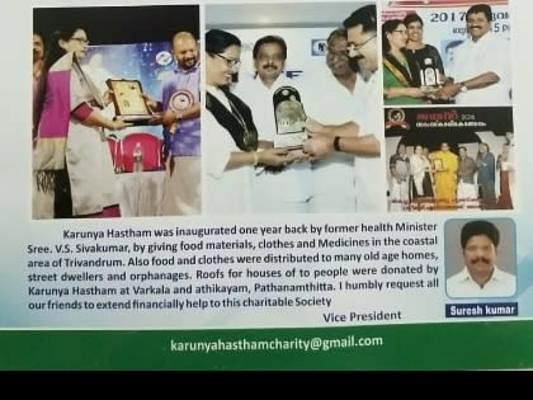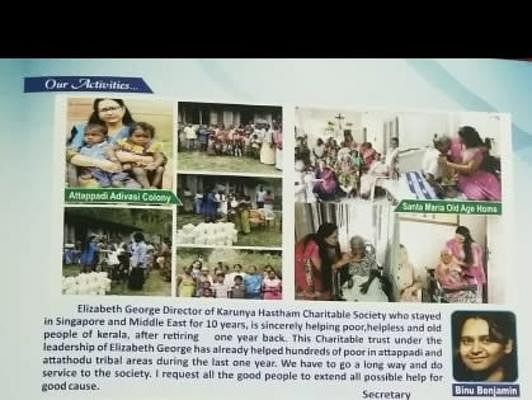 Our prime mission is to protect disabled old people who are living in the streets who need long term care and medical needs.
Our secondary mission is to provide temperory relief to those in need, especially women in desperate needs who are unable to work by providing temperory assistance to find job, medical care and also providing education of technical skills like tailoring etc enabling them to fend for themselves in the long term.
Everyday we have so many sick and needy approaching us in need of help and we are overwhelmed due to financial constraints and no available space to house them. Our supports are low cost and efficient as we don't waste money on salaries and staffing. Everyone who joined hands with us are on volunteer basis supporting our cause out of love and passion which keeps our projects costs at minimum expenses largely spending on materials needed to support the needy.
We will be providing all expenses details to our donors so this will be a transperant process. We also are a registered charitable society with auditing every year. Please visit our facebook page to know more details on supports that we have provided and some recognitions we have received for our work. Kindly share this to more friends and family and ask for their support too. Thank you wholeheartedly with lots of love and prayers for your time and contributions f
rom our team in Karunyahastham Charitable Society 🙏🙏🙏
https://www.facebook.com/karunyahastam/
നന്മ ചെയ്യാൻ ആഗ്രഹമുണ്ടെങ്കിൽ സാദ്ധ്യതകൾ അനേകമാണ്.
പ്രിയ സുഹൃത്തുക്കളെ,
2016 - ൽ ഞങ്ങൾ 8 പേരുടെ ആശയത്തിൽ നിന്നും രൂപം കൊണ്ട ഒരു മാതൃക സംഘടനയാണ് കാരുണ്യഹസ്തം ചാരിറ്റബിൾ സൊസൈറ്റി ' തിരുവന്തപുരം ജില്ലയിലെ കണ്ണാംന്തുറ
തീരദേശ നിവാസികൾക്ക് ധാന്യ കിറ്റ്, വസ്ത്രം, ധനസഹായം ഇവ നൽകി കൊണ്ടാണ് പ്രവർത്തനങ്ങൾ ആരംഭിച്ചത്.
മുൻ ആരോഗ്യ മന്ത്രി വി.എസ് ശിവകുമാർ അവർകൾ ഭദ്രദീപം കൊളുത്തി ആരംഭിച്ച ഈ പ്രസ്ഥാനം, ഇതിനോടകം ഒരുപാട് നിരാംലബർക്ക് സഹായഹസ്തം എത്തിക്കുവാൻ സാധിച്ചു. അട്ടത്തോട്, അട്ടപ്പാടി എന്നീ ആദിവാസി ഊരുകളിൽ ധാന്യ കിറ്റുകളും വസ്ത്രങ്ങളും, പഠനോപകരണങ്ങളും എത്തിച്ചു കൊടുക്കുവാനും, അത്തിക്കയം/വർക്കല മുതലായ സ്ഥലങ്ങളിൽ ചൊർന്നൊലിക്കുന്ന വീടുകൾക്കു മേൽകൂര നിർമ്മിച്ചു കൊടുക്കുവാനും സാധിച്ചു. ഓഖി ദുരന്തത്തിൽ പെട്ടവർക്ക് ധാന്യങ്ങൾ എത്തിക്കുവാൻ സാധിച്ചു. വീൽ ചെയറുകൾ, വിവാഹ ധനസഹായങ്ങൾ,തയ്യൽ മിഷ്യനുകൾ മുതലായവ ആവശ്യക്കാർക്ക് കൊടുക്കുവാൻ സാധിച്ചു.
ആരോരുമില്ലാത്തവരെയും വൃദ്ധരെയും കുട്ടികളേയും പാർപ്പിച്ചിരിക്കുന്ന ഇടങ്ങളിൽ ഭക്ഷണങ്ങൾ എത്തിക്കുവാൻ ദൈവകൃപയാൽ ഞങ്ങൾക്കു സാധിച്ചു. ഇതിനോടകം തന്നെ 103 വർഷം പഴക്കമുള്ള അപ്പർ പ്രൈമറി സ്ക്കൂളിൽ കുട്ടികൾക്ക് ആവശ്യമായ പ്ളേറ്റുകൾ ,ഗ്ലാസ് കൾ, ബുക്സ് ,ഐഡൻറ്റിറ്റി കാർഡുകൾ ,മുതലായ എത്തിക്കാൻ സാധിച്ചതിൽ ഞങ്ങൾക്ക് സന്തോഷവും അഭിമാനവും ഉണ്ട്. നിരവധി അനാഥാലയങ്ങളിൽ സന്ദർശിച്ച് കഴിവ് പോലെ സഹായിച്ച് ഒരു ഭാഗമാകാൻ കഴിഞ്ഞതിൽ ചാരിദാർത്യം ഉണ്ട്.
അടുത്ത ഞങ്ങളുടെ ലക്ഷ്യം :- തെരുവിൽ അലയുന്നതും, വീട്ടുകാരാൽ ഉപേക്ഷിക്കപ്പെട്ടതുമായ അശരണർക്കും നിരാലംബർക്കും ഒരാശ്രയമായി കൈതാങ്ങായി ഒരു കുടക്കീഴിൽ ചേർത്തു നിർത്തി. അവരുടെ ശിഷ്ടകാലം ധന്യമാക്കുവാനും കുടുംബക്കാരാൽ നിഷേധിക്കപ്പെട്ട സ്നേഹവാത്സല്യങ്ങൾ നൽകി ശേഷിക്കുന്ന കാലം സന്തോഷ ജീവിതം നയിക്കുവാനായി ഞങ്ങൾ അവർക്കായി ഒരു രക്ഷാ ഭവൻ നിർമ്മിക്കാൻ ആഗ്രഹിക്കുന്നു. നമ്മുടെ കൂടെപിറപ്പുകളായി കരുതി നമ്മളോടൊപ്പം നിങ്ങളും കൈകോർത്തു ഈ പദ്ധതിയുടെ വിജയത്തിനായി. നിങ്ങളാൽ കഴിയുന്നത്, ഒരു 100 രൂപയെങ്കിലും നൽകി. ഈ സംഭരoഭത്തെ വിജയപ്പിക്കണമെന്ന് അഭ്യർത്ഥിക്കുന്നു അപേക്ഷിക്കുന്നു. എന്ന് സ്നേഹപൂർവ്വം,
ഭാരവാഹികൾ:-
1.എലിസബത്ത് ജോർജ്ജ് :- പ്രസിഡൻ്റു,
2. സുരേഷ് കുമാർ :- വൈസ് പ്രസിഡൻ്റ്,
3. ഷെയ്ക്ക്ജാൻ:- സെക്രട്ടറി,
4 ഷമീർ.ട :- ജോയിൻ സെക്രട്ടി :-
5 ബബിത :- ട്രെഷറർ
6. അജു ജോർജ്ജു :- എക്സിക്യൂട്ടിവ് മെമ്പർ
7. സിബികുഞ്ഞുമോൻ:- എക്സിക്യൂട്ടിവ് മെമ്പർ.
8. ജോഷി കൊക്കാട് :- എക്സിക്യൂട്ടീവ് മെമ്പർ.