Update: Thank you all for the heartfelt support till now! With your help, Gowshala has been sustained for three months - you have provided ample food to Gowmatas and also helped us rescue 120 Gowmatas from slaughter. It would not have been possible without you all! Our hands are bowed in gratitude. However, Gowshala is running out of funds again - the donations till now has helped Gowshala sustain itself, but we are now forced to cut cattle feed from the Gowmatas' diet, and reduce the upkeep expenses down to 13.5 Lakh per month. We are nearing towards a dearth again, and request your help in ensuring uninterrupted care to Gowmatas.
Videos of the daily activities of gowmatas at Kamaghenu Gowshala, are updated on our social media handles mentioned below:
Website:
kamadhenugowshala.com
Kamadhenu Gowshala & Foundation was a privately run Gowshala for desi cows (Bos Indicus), with about 450+ cows and calves.

Gowshala was established in September 2018, with an intention to maintain from their own internal financial resources. Founding family established the Gowshala out of pure devotion to Gowmata and spent about 4.5cr for establishing and maintaining the Gowshala.

because of bad business and Covid, the family's finances suffered badly. As they were affluent business family, belonging to Aryavysya business community, they had substantial quantities of gold and silver - all of which was sold to sustain the Gowshala operations. The finances deteriorated to an extent that from April 2021, Gowshala standards deteriorated fast, and went from being the best maintained Gowshala to poorly maintained Gowshala. Having no other choice, the family decided to turn the Gowshala into a charitable trust.

With the help of well wishers, the Gowshala has been converted to a state registered trust, being audited, and planned to be run as a not for profit venture. Section 80(G) and 12A application processes have been approved recently.
With the public support that the Gowshala has got over the last 4 months, Gowshala has since regained it standards and can again claim to be the best maintained Gowshala.
The Gowshala is spread over 3.5 acre land leased for 10 years, and is located at
https://goo.gl/maps/P2UnU7i72Uf3o7Q2A
in Mokila, outskirts of Hyderabad, Telangana. Registration ID is 5/BK-IV/2021 of Telangana State.
BJP leader Shri Kapil Mishra Ji of Hindu Ecosystem visited the Gowshala on 15th August 2021 and appreciated and extended his support.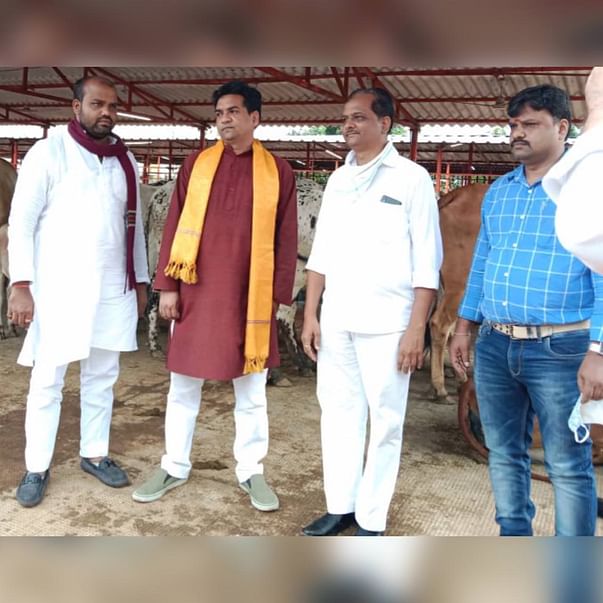 About half of the cows are old cows purchased from market, that would have inevitably gone to slaughter and the other half are non-milk yielding(meaning that the milk produced was sufficient for only its calves), rescued from going to illegal slaughter. We can claim with confidence, this is the best maintained Gowshala, where Gowmatas are looked after as goddesses they are.
Please check the videos have a glimpse of the daily activities, posted on our social media handles. Some of the videos are attached here for your perusal.

After all the troubles, the founding family has realised,
Krishna loves those people, who love cows, MORE, than, the people who Love Krishna,
and they unintentionally came in between Gowmata and her devotees previously,
instead of encouraging people to take part in Gowseva by their contributions, they strictly did not allow anyone to donate and take part in the Gowseva in the Gowshala, which is against Hindu dharma.

Below are some must read links, from our epics, Vedas and Shastras, about the prominence of Gowmata:

a) Conversation between Sri Krishna and Yudhishtra
in Ashvamedhadika parva of Mahabharatha, compiled by maharshi Vedavyasa,
GoSavitri Stotram:
Breakup of daily maintenance cost:
6 tons of green grass / day @ 4000/ton = ₹ 24,000
One tractor load of dry grass / day = ₹ 9,000
Average daily cost of staff salaries, medicines, doctor consultation, electricity, and other misc. expenses = ₹ 12,000
Total adds up to
₹ 45,000 per day
or
₹ 13,50,000 per month
Additionally, our next course of action for utilising the funds from this campaign comprises of the following:
- Construct an 18000 sqft shed, @600 rupees per sft, to accommodate 300 additional desi cows, at the cost of
₹108 lakh
- Maintaining Kamadhenu Gowshala
₹ 72 lakh
- Rescuing by purchasing old desi cows from cattle markets, that would inevitably go to slaughter at a budget of
45 lakh
We shall be happy to provide any other details as required.
We request you to make a video call to Rajesh Yadav (manager of the Gowshala) on +91-8688763230, and check the Gowshala