Support the most vulnerable communities
The impact of COVID-19 (Coronavirus) is severely being felt in India and across the world. While every section of society has been affected, the hardest hit has been vulnerable communities in the unorganised sector, where most of the employment is contractual.
In India, the crisis has snatched away the primary source of livelihood and income of 400 million contractual and daily wage workers
.
Through this fundraiser, our target is to support 50,000 families of migrant workers across seven states of India. Together, let us ensure the safety of those who provide us unstinting support in our day-to-day activities. Even a contribution of Rs. 500 can provide a week's supply of food for a migrant worker's family.
Funds collected through this campaign will be utilized in implementing the following activities in cities and rural areas:
Providing essential safety materials (such as masks, sanitisers & soap)

Providing daily utilities & essentials (such as food grains & food packages)

Providing emergency financial protection

Providing accurate information regarding basic hygiene and safety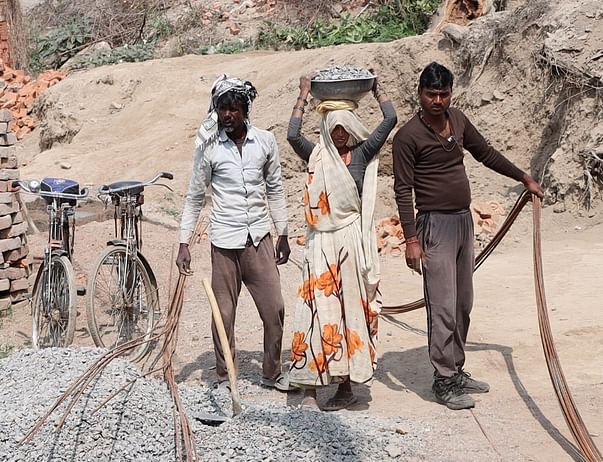 Currently, we are providing assistance and necessary information to these families through the Jan Sahas Helpline Number (18002000211), and gathering data of people who need help or emergency support.
Know more about seasonal migrants and understand why this crisis has hit them the hardest:
A staggering 77% of India's workforce (3 out 4 workers) falls under the category of vulnerable employment (World Bank, 2019). Most of these people are seasonal migrants who are now forced to return to their hometowns, due to lack of financial support. Major migration corridors are linked to the cities which are currently most affected by the COVID-19 pandemic.

Seasonal migrants are landless or small/marginal farmers who have no livelihood opportunities available post the kharif crop harvest in their source area. Seasonal migration is often a response strategy to this crisis of lack of job opportunities and the need to earn basic income for subsistence. These migrants are more likely to be socially deprived and poor while having obtained little to no education, with minimal or no assets.

As we have teams working regularly with marginalised communities in backward region of Delhi (NCR), Madhya Pradesh, Uttar Pradesh, Maharashtra, Rajasthan, Chhattisgarh and Bihar. We intend to actively operate in the following districts:
Delhi (NCR):
New Delhi
North Delhi
North West Delhi
West Delhi
South West Delhi
South Delhi
South East Delhi
Central Delhi
North East Delhi
East Delhi
Madhya Pradesh:
Dewas
Indore
Jhabua
Alirajpur
Dhar
Neemuch
Ujjain
Khargone
Khandwa
Sagar
Tikamgarh
Damoh
Panna
Chhatarpur
Uttar Pradesh:
Noida
Ghaziabad
Banda
Lalitpur
Chitrakoot
Mahoba
Jhansi
Maharashtra:
Mumbai
Thane
Palghar
Jalgaon
Dhule
Rajasthan:Chhattisgarh:Bihar:
For more details:
email id: info@jansahasindia.org
website: www.jansahasindia.org