Brief About GSVS:
Grameen evam Samaji Vikas Sanstha (GSVS- https://ngogsvs.org/) is a Rajasthan based non-profit, non-political and non-governmental organization established in 2001 and got registered under Rajasthan society's act 1958. GSVS is the manifestation of turbulence within the heart of seven acquaintances that internalized the pain of people leading their life in drudgery and crises. Since its inception, organization has been striving for generating awareness among downtrodden section of the society about their rights and for providing them an appropriate stand in the society.
Vision:
Our Vision is to Work towards the self-reliance of the rural poor by promoting social justice and economic growth.
Mission:
Our mission is to transform the rural poor, consists of women, children, migrants, youth by educating inspiring and mobilizing to create a real change.
Focus Theme and Outreach:
We are presently working in Ajmer, Bhilwara, Rajsamanad, Pali, Churu, Hanumangarh and Dhulpur districts of Rajasthan. Our major focus areas are Labor Welfare, Women empowerment, Equine Welfare, Child development, Betterment of the Aanganwadi, Nutrition and Skills Development. We have reached more than 50,000 families through various projects. We have on board funding partners like Hindustan Zinc Limited, Tata Trusts, Brooke India, various Government departments like ICDS, Labor Department, etc. Paul Humlyn Foundation (PHF), Child line 1098, and many more. You can visit our website for more information. (https://ngogsvs.org/our-partners.php)
The Proposal:
Corona virus disease (COVID-19) is an infectious disease caused by a newly discovered corona virus. Most people infected with the COVID-19 virus will experience mild to moderate respiratory illness and recover without requiring special treatment. Older people and those with underlying medical problems like cardiovascular disease, diabetes, chronic respiratory disease, and cancer are more likely to develop serious illness.
India has taken early action to limit the spread of COVID-19. Government has ordered nationwide lockdown in various phases. Lock down 3.0 is extended till 17th May, 2020. The novel corona virus has spread widely in india relatively recently compared to other countries, and the number of reported infections are increasing fast, with 33514 active cases, 14182 Cured/Discharged, 1694 deaths and 1 migrated as of May, 06 (https://www.mohfw.gov.in/).
In Rajasthan, the numbers of COVID-19 are increasing day by day, with 3158 active cases, 89 deaths and 1525 cured/discharged as of May, 06 (https://www.mohfw.gov.in/). In Ajmer, total 179 positive cases have been reported till date. This number may increase in cases the test number increased. Ajmer has highest migration rate compare to nearby districts of the Ajmer. Government has announced several relief packages for district wise. CSR and Ngos are also contributing in this pandemic situation.
Grameen Evam Samajik Vikas Sanstha (GSVS) is implementing "Khushi" project. The goal of this project is to strengthen the efficiency of Government's Integrated Child Development Services (ICDS) Scheme to improve health and well-being of children in the 0-6 years age group. GSVS with the support of Hindustan Zinc Limited
(HZL) and Department of Women and Child Development (DWCD), Government of Rajasthan are implementing "Khushi" project in 190 Aanganwadi's of Ajmer. We have identified 250 malnourished children, 100 pregnant women and 150 from vulnerable families from slums areas. As an intermediary intervention GSVS plans to meet immediate survival needs such as food and basic sanitation materials of these families. At the same time awareness generation on the precautionary measures needed to prevent the spread of COVID-19 and how and when to access government health services for diagnosis and treatment. As a future intervention strategy, GSVS is planning to upgrade the skills of the youth from their families through skill building program so that they can have better livelihood options.
Proposed Activities:
Food Supplies: During this period of lock-down the malnourished children, pregnant women and vulnerable families are facing severe crisis. Government is providing 3 kilogram wheat, 1 kilogram Daal for pregnant women, 3 kilogram wheat for malnourished children. Nutrition diets are required in both of the categories and governments haven't announced any nutrition diets packets for both the categories. So we will provide additional nutrition food packets for these families. Most vulnerable families from slums area will also be supported by dry rations. GSVS plans to provide dry ration kits to 300 such worker's families, 250 kits to malnourished children and 250 kits to pregnant women in the coverage area to meet their immediate food and nutrition needs. One kit will cost approximately 750 rupees.
Distribution of Sanitation Kits: Sanitation kit is very important to avoid COVID-19 infection. Most of the slums people do not us it and even they don't know about it. GSVS plans to provide sanitation kits to 500 families to ensure availability of basic hand wash materials and masks to improve their practices.
Training and Capacity: In this critical situation it is highly essentials to build capacity of the Frontline workers, ANM workers, ASHA Workers and our khushi shakhi who daily visits Aanganwadi's and community and volunteer from the communities. We will develop blended learning content which covers all the aspect of the prevention of COVID-19. First of all we will plan an orientation training program for all of these health workers. After this we will organize training and capacity building program once in a quarter. We will cover approx 500 health workers and community people.
Awareness and IEC: In this Pandemic situation we should all have to aware most affected, slums and rural families on COVID-19. GSVS will develop IEC materials such as posters, pamphlets, publish local magazine, audio and video clips in local language and disseminate in communities with the support of support staff and volunteer.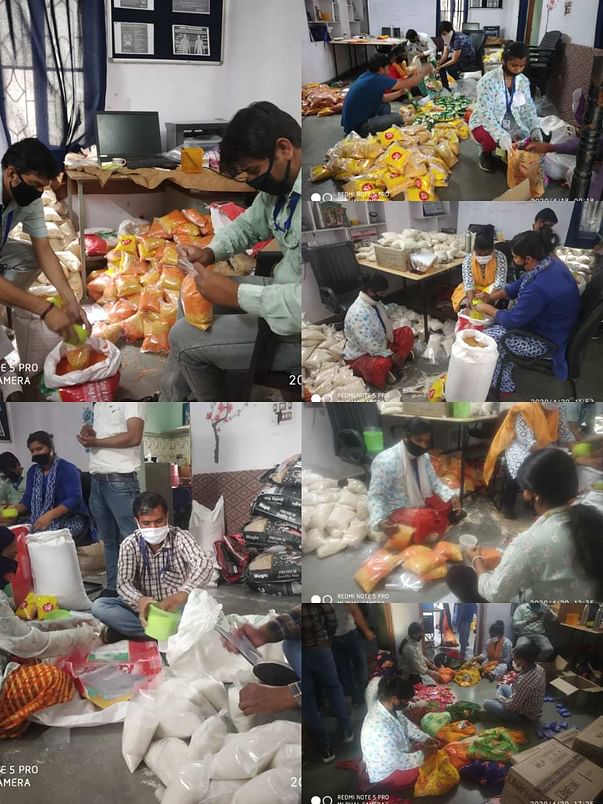 Beneficiaries:
Primary
Malnourished children, Pregnant women, Vulnerable families
Informal Workers- Construction workers, daily farm wagers, vendors, etc.
Secondary
Health professionals, Community Volunteer including Youths, Children, etc.
Target:
Food Supplies:
Malnourished Children- 250
Pregnant women- 250
Vulnerable Families- 300
Training and Capacity Building: 500 Health Professionals and Volunteer from the community.
Proposed Impact:
To provide food supplies support to malnourished children, pregnant women and vulnerable families.
To reduce the risk of COVID-19 infection in high- risk vulnerable populations by providing trainings and awareness camps.
To provide livelihood support to informal workers.