Due to the corona virus pandemic, Artists world over are suffering. Theatres are closed, arts venues are closed, educational institutes are closed and every place where artists share their art is closed. The worlds biggest broadway show Hamilton will not have enough funds to support their massive cast and crew in sometime. Now imagine if such world renowned companies are struggling then what about upcoming and young freelance artists, tribal artists, village artists or even street artists, who live for those recurring opportunities every week or every month. We live in India and In India some folk artists have already stopped practising their art and have taken up labour jobs to support their livelihood. Many are struggling with depression because they arent able to see a clear future for themselves. But why is Art so essential and why must we the visitors of Earth save art in one of the most difficult times the Earth has faced.
Because Art gives you purpose. Imagine a day where you can't see color where you can't hear or sing a song let alone dance to it, where you can't enjoy a monologue or play with words and have a fun conversation. Where the idea of film or tv does not exist, where you just have no artistic creation. You see there is no Earth then, cause Earth itself is a creation. Thats why it is rightly said Earth without Art - EH!
We play music when we want our children to be happy. We are singing to forget our worries. Doctors & police, are dancing to relieve stress. We aren't feeling that time has slowed down cause artists are constantly entertaining you, laughing with you, crying with you and staying with you. So art is Essential. Art is probably the reason we need to win from covid-19 . So when covid-19 is over we can celebrate and live through the arts.
We need the arts and hence we need the artists to survive. In these testing times we do know some of few are saving up and some of you are generous enough for donating to the welfare of the patients of covid-19. We thank you for that. But if you think you have some more to spare then please donate to save the arts.
We are going to start online Paid Concert with Playtoome Live Streaming for raise Funds . After Deduction Of Administrative Expenses 50% All of the funds collected shall be utilized to help any and all artists with basic necessities , who are struggling to survive this pandemic. We can use this fund only for upcoming artists in India although Please share this message to all those who may have some funds to donate in this Campaign for the support of Artist , any other way possible. Every drop counts and we will must fill up the ocean of artists again.
If you are an Music Lover or Artist then please book the Online Concert Donation Card @Rs.200/- and we can try to help you with this fund collected. Please share this message with donors and artists in need both. Please Book
Your Ticket in Blue Link and Support Artist .
https://www.playtoome.com/shows/program/Kathak-Dance-Hindoli--Niogi/4772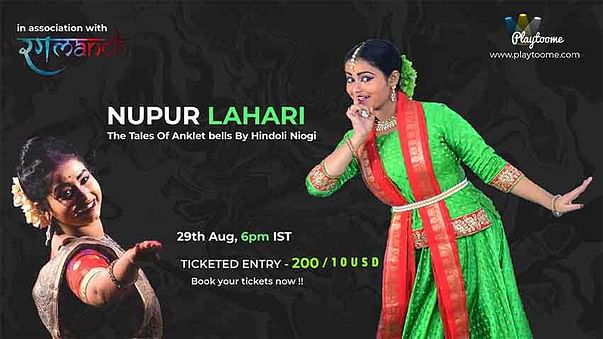 Book your tickets now only for Rs 200.
Show on 29th August 2021 at 6:00pm. Only on Playtoome.com
How to buy tickets :
1. Visit www.playtoome.com and type artist name HINDOLI NIOGI in artist search box.
2. Register as a new user using your *Full name, Mobile no and Email id via OTP (email is optional but for international audiences email registration is mandatory)
3. Select your desired show and click on show banner
4. Click - BUY TICKETS option and pay via Payment gateway through your debit card/credit card/net banking/ UPI
5. After successful transaction, you will receive a confirmation.
6. Enjoy the show
Note : New account registration email is mandatory for new user
Thank you!