Hi everyone my name is Srinivasa Gopal and I am from Chennai, Tamilnadu. I am here to raise the funds of Rs 10.00,000 for semi orphaned children living in Sri Ramakrishna Sevalaya, Chitamur 100 kms from Chennai. who need food, medicines, and education, Sri Ramakrishna Sevalaya is an orphanage which is home to 26 semi orphaned children. The orphanage provides food, dormitory-style accommodation, regular medical checkups, enrolment in schools, regular pick up and drop off facilities for thest children.
The below table shows the expenditure incurred by the orphanage every month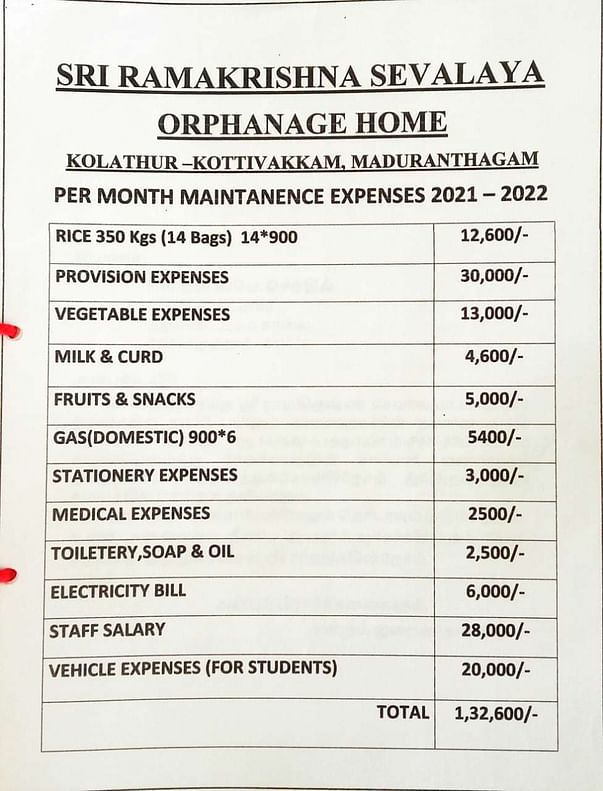 This works out to Rs 5,000 per child per month and Rs 170 per day for meeting the needs of each innocent soul which is growing up in the orphanage. Due to the pandemic and repeated shutdowns, our volunteers are unable to go and meet with donors to raise the money required to run the orphanage. As a result, we are in debt and need to pay back suppliers such as grocery sellers to the tune of Rs 2 lakhs.
We hereby hence request all people to generously donate to Sri Ramakrishna Sevalaya, so that they may be able to run the orphanage and may be able to meet the expenditure needs.