"My little dog- a heartbeat at my feet", Haris shares...

He raises his voice asking "To Rescue. Shelter. Protect. Re-home the innocent ones."
Giving the gift of food is a special way to help these rescued doggies.
Sponsoring a meal is a great way to help, sponsoring helps to cover the on-going cost of caring for the animal. If you would like to sponsor a dog, it is easy!
Celebrate a birthday, anniversary, group volunteer day, or other special occasion by giving the gift of food to those dogs coping with illness. Your name, company name, and/or the name of anyone you choose to honor will be posted on our Sarvoham Facebook page at the month end. If desired, we will send a card to your honoree, notifying them of your gift and letting them know what meal was served – a wonderful way to remember someone or to make a memorial tribute. You can also volunteer to prepare or feed the meals you sponsor to our rescued doggies at the shelter!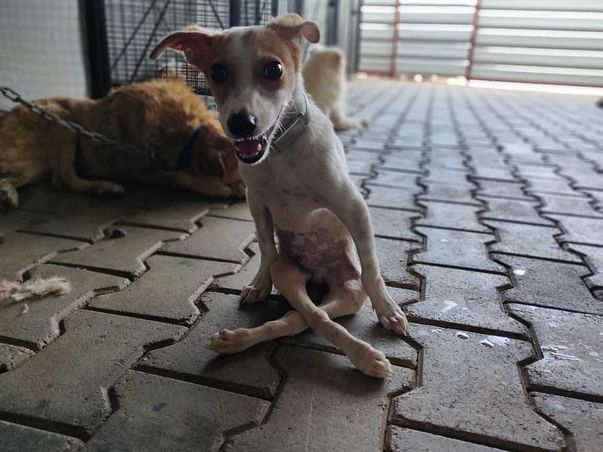 A day's (Morning & Evening) worth of meals can be sponsored for Rs.2,000
One time meal worth of meals can be sponsored for Rs.1000
Boiled eggs or curd rice worth of meals can be sponsored for Rs.500
Biscuits can be sponsored worth of Rs.100

A special day in your life can be a special day for dogs living with life-threatening illnesses.

About Sarvoham
Sarvoham was established in April 2017 by Haris Ali in Bangalore, an avid animal lover, with 3.5 years of journey, the dream to end the animal homelessness is racing with constant fight and struggle.

Haris Ali is dedicated towards the protection of stray animals, by providing shelter to abused, abandoned, sick & injured stray dogs at his shelter Sarvoham.
The team rescue the street animals most in need and offer them safety and treatment at the rehabilitation center until they can be re-homed or released back to the same place.

Being a rescue home, the animals come with their critical need to have medical attention, every minute of their life is counted preciously and to aid them with immediate help we need to have in-house medical facilities, despite of the challenges to handle the daily needs.

We need your helping hand to sustain the shelter and to rescue more animals who are in distress conditions.
"A little help from you all can change the lives of many. With folded hands we would request you to share, support and donate to our campaign. Help us give another chance to our babies who encourage us to not give-up every day!"
For more info, please WhatsApp to 96062 52285.
Thank you!
Sarvoham Team