How has COVID-19 impacted women and girls?

India has ~355 million menstruating women and girls. But did you know...
...only 42 % of young women in the country use sanitary napkins?
...COVID-19 has amplified the accessibility problem due to lockdown restrictions, lack of privacy, and affordability?
...lack of appropriate sanitary products has long-term implications in terms of reproductive tract illnesses and health concerns?
The compounded impact of economic, physical, and societal restrictions due to the COVID-19 pandemic has further amplified this problem and made it difficult for women to access basic sanitation products with dignity.
The specific needs of women have been ignored yet again and it is time for us to take action!

What can be done?
Jeevan Rath (a platform of NGOs convened by UNICEF, Maharashtra) and Global Shapers Navi Mumbai have partnered to address these barriers to menstrual products by: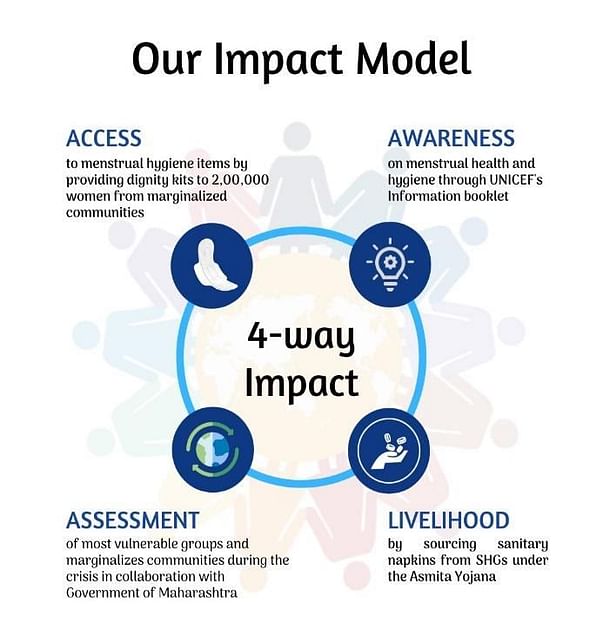 1. Providing women with essentials during the pandemic to ensure their dignity and equity
We will be distributing Dignity Kits to women and girls and are committed to supporting 2,00,000 women from marginalized communities. Our intervention is focused on providing complete menstrual health and hygiene needs of a woman for one month.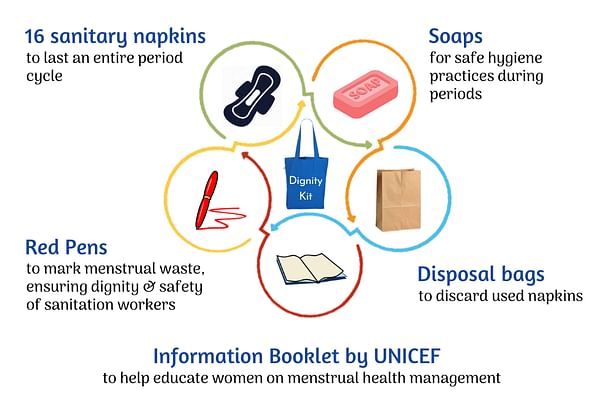 2. Empowering women with livelihood opportunities
We recognize that women have been the first to lose their jobs during the pandemic, making them more vulnerable to the economic slowdown, and hence are also aiming to foster livelihood opportunities for women. We strive to source components of the Dignity Kits from women-led enterprises and Self Help Groups (SHGs) and will be sourcing sanitary napkins from SHGs under the Asmita Yojana in collaboration with the Maharashtra State Rural Livelihoods Mission.
3. Reaching the most vulnerable during the crisis
We are working directly with the Government of Maharashtra to source the most updated data to identify vulnerable groups, map their requirements and provide support. Our program aims to find the most marginalized and neglected groups in Maharashtra during the crisis, including women in containment zones, migrant and daily wage labourers, urban slum dwellers, commercial sex workers, tribal and Adivasi women, and COVID-19 patients in hospitals.
How can you help?

In our previous efforts, we have collectively distributed over 8,00,000 pads, enabling more than 75,000 women and girls to access safe menstrual health.
Your contribution can help our three-fold vision of empowering women through credible information, enabling access to sanitary products with dignity, and fostering livelihood opportunities.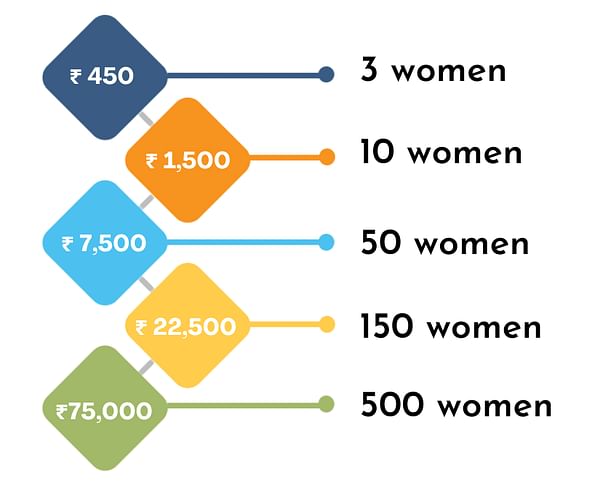 Please consider contributing to help us fight period poverty, educate women on safe Menstrual Health Management, and empower women entrepreneurs in marginalized communities. For further information, please reach out to us at
globalshapersnavimumbai@gmail.com