Please donate for our COVID-19 survival kits for 3155 families in rural Rajasthan.
One survival kit costs Rs 5000 per family for 2 months
(You may donate any amount you want to but we recommend multiples of Rs 2500 as that takes care of one month of survival for a family)
(
A note on tip charged by Milaap: Please read this important note!
Milaap does not charge us (FED/Doosra Dashak team)any fee for running this campaign. To cover their expenses, Milaap requests a TIP from donors like you at the payment check out page.
By default, this TIP is 15% of your donation. But, you can click the drop down arrow and CHANGE THIS to any % you want. You can also TYPE zero for a tip (No tip))
.
Who are we?
We are Foundation for Education and Development (FED) based in Jaipur, Rajasthan and through our Doosra Dashak project we work for the education and empowerment of adolescents. In 2020, during the first wave of COVID-19 we served 29483 food packets, 66835 ration kits across 393 villages of Rajasthan.
To address the distress caused by the ongoing second wave of COVID-19 we are preparing survival kits.
This Survival Kit provides for distribution of rations (provision) and preventive kits to be procured and distributed locally by Doosra Dashak field staff to 3,155 families and households in distress in 206 villages.
Supplementary provisions have been made for children in 3-8 years age group and 2,839 pregnant and lactating women.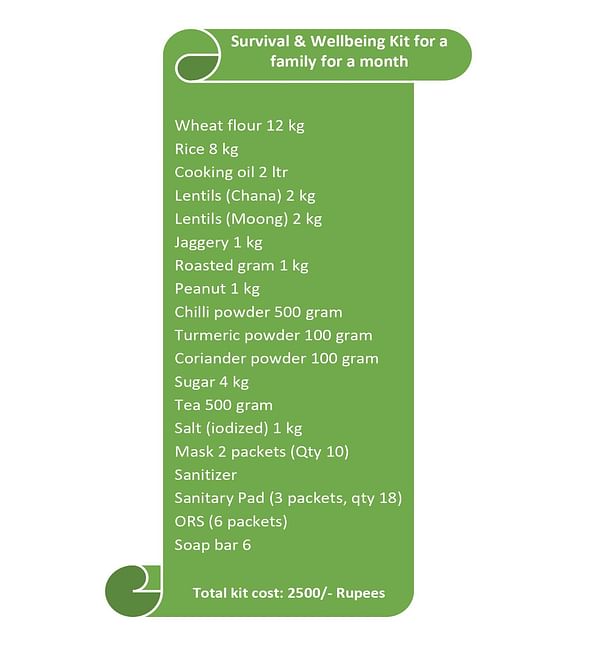 If you know any Organizations/Corporates that wish to contribute through CSR funds, please reach out to the team (Emails below) or tweet/DM us:
Twitter:
@DoosraDashakFED
Facebook:
https://www.facebook.com/Doosra-Dashak-149947670795
The Team behind this campaign:
Abhimanyu Singh
- Chair Person of FED. He is also an IAS officer (Retd), former Education Secretary (Govt. of Rajasthan) and Joint Secretary, MHRD New Delhi. He has served UNESCO as Director, Education for All (EFA) at its headquarters in Paris and as Country Director of Nigeria. His last assignment was with UNESCO Beijing as the Director and Representative for East Asia covering China, Japan, Mongolia, South Korea and North Korea.
.
Srini Swaminathan - Alumnus BITS Pilani/LSE/TeachForIndia and Educator based in Chennai.
.
Mohd Anas Iqbal - M&E Director, FED, Doosra Dashak
Mohd Jaish - ITE In charge, FED, Doosra Dashak
Rest of the team at FED in Rajasthan
Long form of our 2021 Survival kit Appeal:
(if you would like to read the long story)
COVID-19 has caused widespread economic distress and disruption across rural Rajasthan since the national lockdown in March 2020. It has resulted in massive urban-rural migration, job loss, unemployment and closure of schools and colleges. Poverty, hunger and fear now stalk many backward villages in inaccessible areas.
A recent survey by the prestigious Azim Premji University (APU) indicates that as many as 2.3 million people in India have been pushed into poverty during the first six months (March-October 2020) of the COVID pandemic. There has been a staggering 77% increase in the number of poor households during this period.
While the government, donors and media are focused on supply of oxygen, large parts of the country, especially poorer rural households are grappling with a growing humanitarian crisis and are in urgent need of basic necessities like food. Hitherto marginalised populations face severe vulnerabilities.
The second wave has exacerbated the problem as primary breadwinners succumb to the disease that is making rapid inroads into rural areas. The need of the hour is to prevent hunger in the most deprived households.
In this hour of need, the Foundation for Education & Development (FED) a non-profit trust established in 2000 by the well-known educationist and social activist late Anil Bordia, stands ready to help.
Through its Doosra Dashak project for education and empowerment of adolescents, FED has touched the lives of nearly 100,000 underprivileged persons in approximately 1,000 villages in Rajasthan. We have earned the respect and trust of the community and local governments through the quality of our services, our transparency and integrity.
During the first wave of COVID-19, we voluntarily jumped into the fray at short notice to provide humanitarian assistance and relief to economically distressed communities in our project area spread across seven districts and nine Blocks. The highlights include the raising of financial resources from a number of donors for distribution of 29,483 food packets; 66,835 ration kits and 2,456 special nutrition packs for pregnant women and lactating mothers in 393 villages. Another 2,907 families were linked to the public distribution system (PDS).
In response to ground level realities, Doosra Dashak took the initiative to provide 10,517 sanitary pads to migrant girls and women who were quarantined. In addition, 12 portable oxygen concentrators were procured with funding from a local donor and installed at public health facilities in remote rural pockets.

With our record of performance, insights from experience, intimate knowledge and deep understanding of poor households in project villages, Doosra Dashak has devised a Survival and Well-being Kit for preventing hunger, providing nutrition and protection from COVID for the worst affected families. The aim is to provide immediate succour and build resilience to tide over 3-6 difficult months ahead.
The Survival Kit provides for distribution of rations and preventive kits to be procured and distributed locally by DD field staff to 3,155 families and households in distress in 206 villages. Supplementary provisions have been made for children in 3-8 years age group and 2,839 pregnant and lactating women. It costs Rs 5000 per family to support them for 2 months