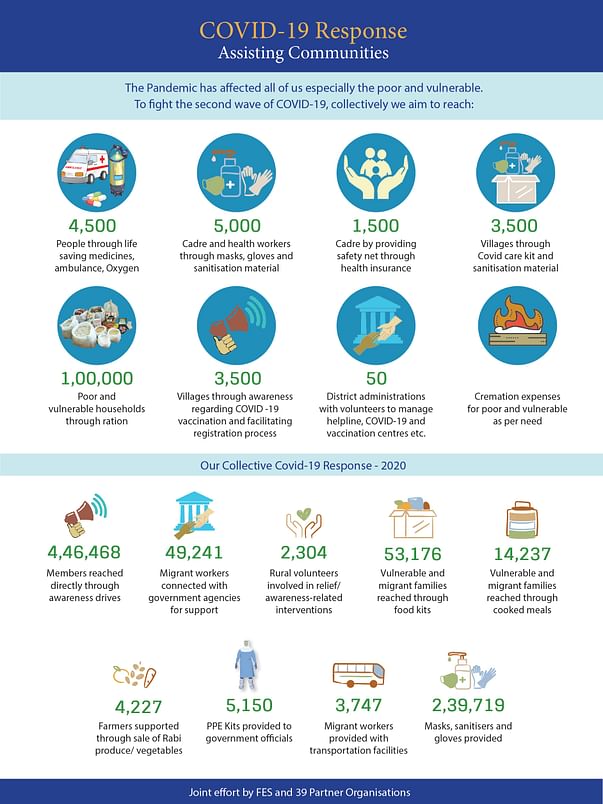 What?

As you might be aware, a large number of migrant labour in the country are on the walk - to reach back to their homes. We are working to ensure they can reach home safely and helping arrange transportation for them. CoAST is a collaboration of civil society organisations who are working to ensure that citizens (migrants and vulnerable populations) are able to receive help & relief during the COVID-19 lockdown and thereafter. Besides addressing immediate relief, the CoAST grew into a GIS enabled tech platform https://coastindia.org/to aid coordinated support across various civil society organisations as well as government bodies.

Who?

The founders of CoAST come from Azim Premji Philanthropic Initiatives, Azim Premji University (APU), Foundation for Ecological Security (FES), E-Health Research Centre IIIT Bangalore, Partnering Hope into Action (PHIA) Foundation, Foundation Libtech India, Stranded Workers Action Network (SWAN), WASSAN and Revitalising Rainfed Agriculture Network (RRAN). More than 200 civil society organisations across the country with a footprint in more than 150 rural districts are involved, including noted national level organizations, are deeply engaged in relief measures. We have been closely working with the Jharkhand government on supporting migrant related matters and are working with other state governments on assisting in relief measures in rural areas. The organisations are working on meeting immediate needs such as PPE, dry rations, community kitchens, awareness programmes, local quarantine facilities and shelters across the country. One of the immediate focus areas is on helping migrant labour workers walking on the road in getting them to home destinations in various states by coordinating with governments and civil society organisations by ensuring safe transportation. As a platform we are addressing immediate migrant needs but are also growing to address rehabilitation needs for the migrant workers such as NREGA, preparation for agriculture and other livelihood needs as things evolve over time. We aim to do it in a manner ensuring physical distancing and quarantine where necessary.

The immediate needs are in the range of Rs 2 crore,
with raised funds to be used on an ongoing basis.

Breakdown -
Estimated total cost = Rs 5000 (cost per booth) * 20 (no: of booths)* 10 (no: of routes) * 20 (no: of days) = Rs 2 crore.
Booth is the hosting point where civil society will be helping with lodging/boarding/ de-boarding.
This will be primarily used to help migrants to reach their homes, provide them with basic food/ration/water/ sanitation/lodging and support with medical access.
Why?
The migrant population, who were once the unsung heroes of the booming economic activity in urban India suddenly found themselves on the brink. With no source of income, restrictions on the public transportation compounded their problems. While some braved to walk hundreds of kilometres with families to reach their destinations, most of them were stranded in different parts of the country exposed to multiple hardships.
Unfortunately this comes in the midst of climate change and its impact on environmental and ecological systems which have been increasingly affecting human populations across the globe. Environmental degradation, low-income, depletion of natural resources and frequent natural disasters amongst other factors have forced the rural population to migrate towards urban pockets for alternate livelihoods. The urban environment post lockdown and the uncertain future has forced migrant populations to pack their belongings and return to their villages. This reverse migration is now expected to add tremendous pressure to already vulnerable and poorly equipped rural/tribal ecosystems of India, which if not handled with care, could potentially collapse, and have far reached consequences. Risk of these migrants carrying the COVID 19 infection to rural India, which so far has been isolated, poses a huge threat to the state administrations. If not controlled in time, could explode into a humanitarian disaster of worst kind.
As rural and tribal India stares at impeding economic distress and need for massive humanitarian relief, three key aspects viz. a) Economic security, b) Food security and c) Health security are immediate priority. To be able to address these aspects strategically and tactically, there is a compelling need to strengthen resilience at the last mile of rural ecosystems.
How?
Given the complexities, it is no secret that there is "no one size, that fits all" and hence, it is going to be impossible for the governments to address the emerging situations. It is best that local communities and Civil Society Organizations (CSO's) are enabled and empowered to be able to deal with the challenges more effectively and efficiently. This will help us to work with the communities after they reach their homes as well. The need of the hour is to harness the power of technology to ensure that all such efforts are holistic and yet optimized. CoAST India was conceived to serve as a single point decision support platform for the promotion of collective action by:
Identifying challenges
Strengthening response capabilities
Fostering speedy collaboration and coordination
Improving service delivery
Addressing emerging socio-economic livelihood challenges
As a geo-enabled platform, CoAST platform provides - enhanced situational awareness, actionable intelligence and rapid decision support to all the actors in the ecosystem. Designed to aggregate data from disparate systems, CoAST platform complements the capabilities of the existing systems by ingesting data from them with ease, processing and disseminating real-time or near real-time actionable intelligence for informed decisions. Built as an open data initiative, CoAST is a very versatile platform, which can be rapidly tailored for deployment in different scenarios.

Future Plans -
Medium-Term -

Once people have reached the destination, further followup support will be needed to ensure that livelihood activities which have been hit in numerous places can restart. This will include support with inputs for agriculture (aim being to move them towards sustainable agriculture) and other livelihoods.