Milaap has waived off fees for this campaign. 100% of your donation goes towards the cause. All donors will receive 80G tax exemption certificate
What: Ration Kits Donation for Covid relief
Whom: Over 4 lakh of the most impacted families living in remote villages
Where: 1,517 villages across MP, Rajasthan and UP
The impact of the COVID-19 outbreak in India has been highly disruptive, destroying both lives and livelihoods. As we adapt to these unprecedented circumstances, Educate Girls is continuing to serve the most marginalized and vulnerable communities who have been disproportionately affected with the loss of livelihoods, lack of food, poor access to health facilities, sub-optimal education and other basic needs.
Educate Girls' Response to COVID Crisis
Through a data-backed approach our team has identified 1,517 villages which are in dire need of our support for food and hygiene essentials. These villages are situated in remote areas where the supply of medicines and basic groceries has been massively hit. Due to lack of documentation such as Ration Card and Aadhar Card they are not able to avail of any government schemes. Educate Girls has stepped in to support the local administration (District Collector) with the relief work in these areas through the network of 14,000 Team Balika (village based community volunteers) 1400 field staff.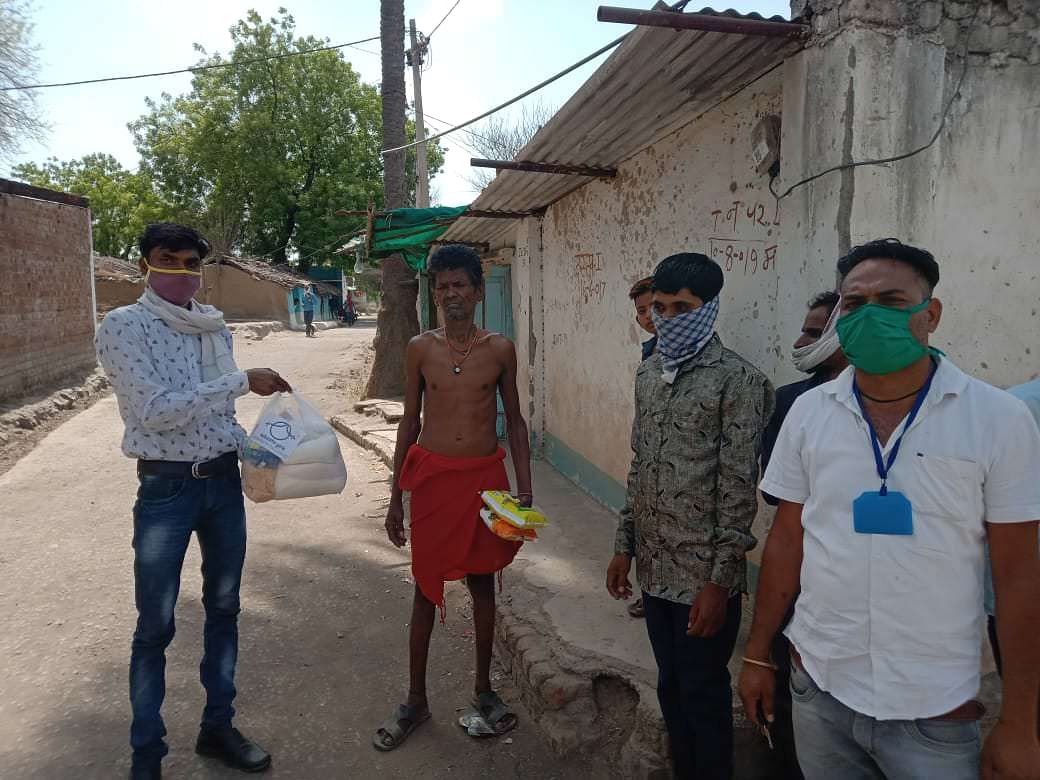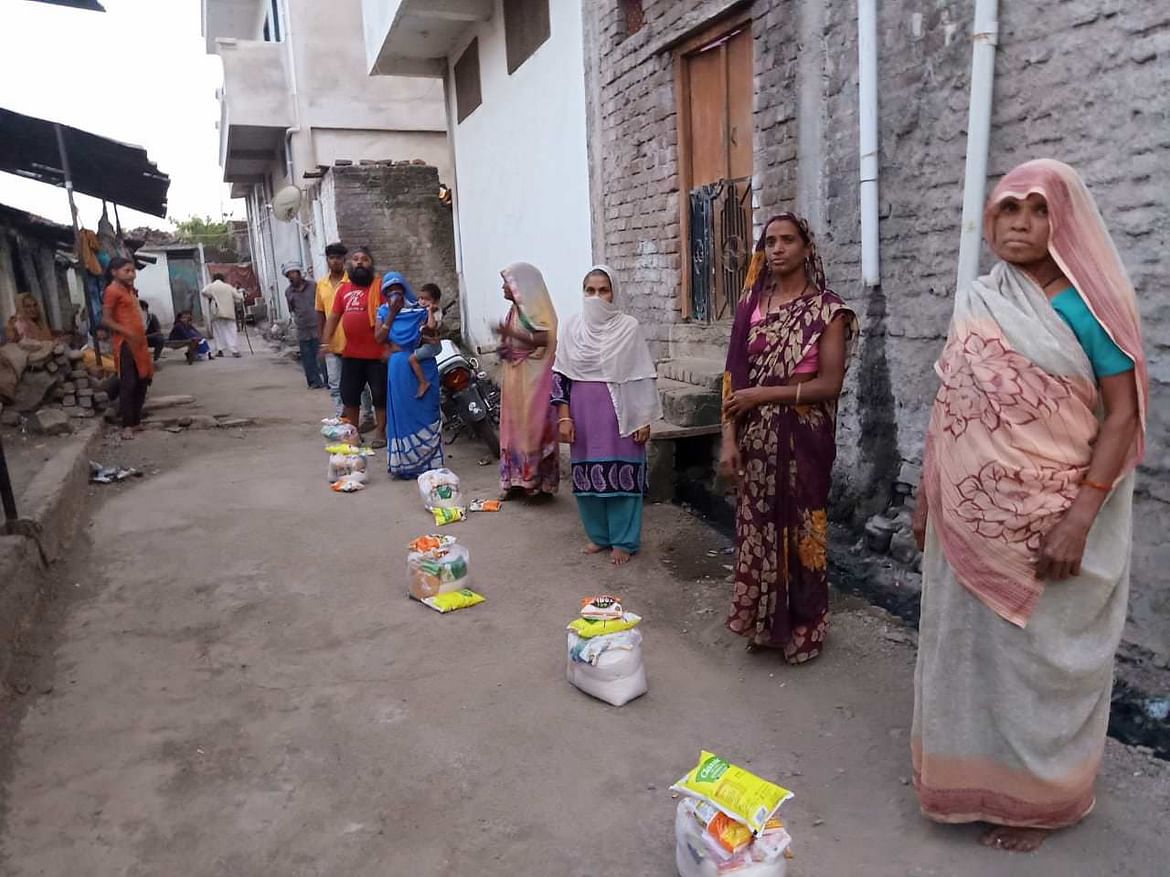 We have undertaken the daunting task of distribution of ration kits to over 4,06,053 of the most affected households in 1517 villages
We are working with the local District Collector, Additional District Collector and Sub-Divisional Magistrate to distribute the ration kits and ensuring food distribution in their villages
We are procuring the ration kits from government or local vendors.
We are also speaking to community leaders, village leaders, school teachers and families on how to keep children engaged through various learning activities and highlighting the needs of the girl child for proper sanitation and nutrition
We are keeping families updated on the various COVID relief measures announced by the government and the processes to avail them
How will your donation help?
Your donation will be used to procure ration kits containing essential groceries which will be distributed to the needy households. Each kit contains:

2 kg wheat flour
1 kg Salt
1 kg Sugar
1 kg Soybean/Dal
100-200gms basic Masala (spices)
4 Soaps

These ration kits cost INR 500 each and are sufficient for one household to last for one week.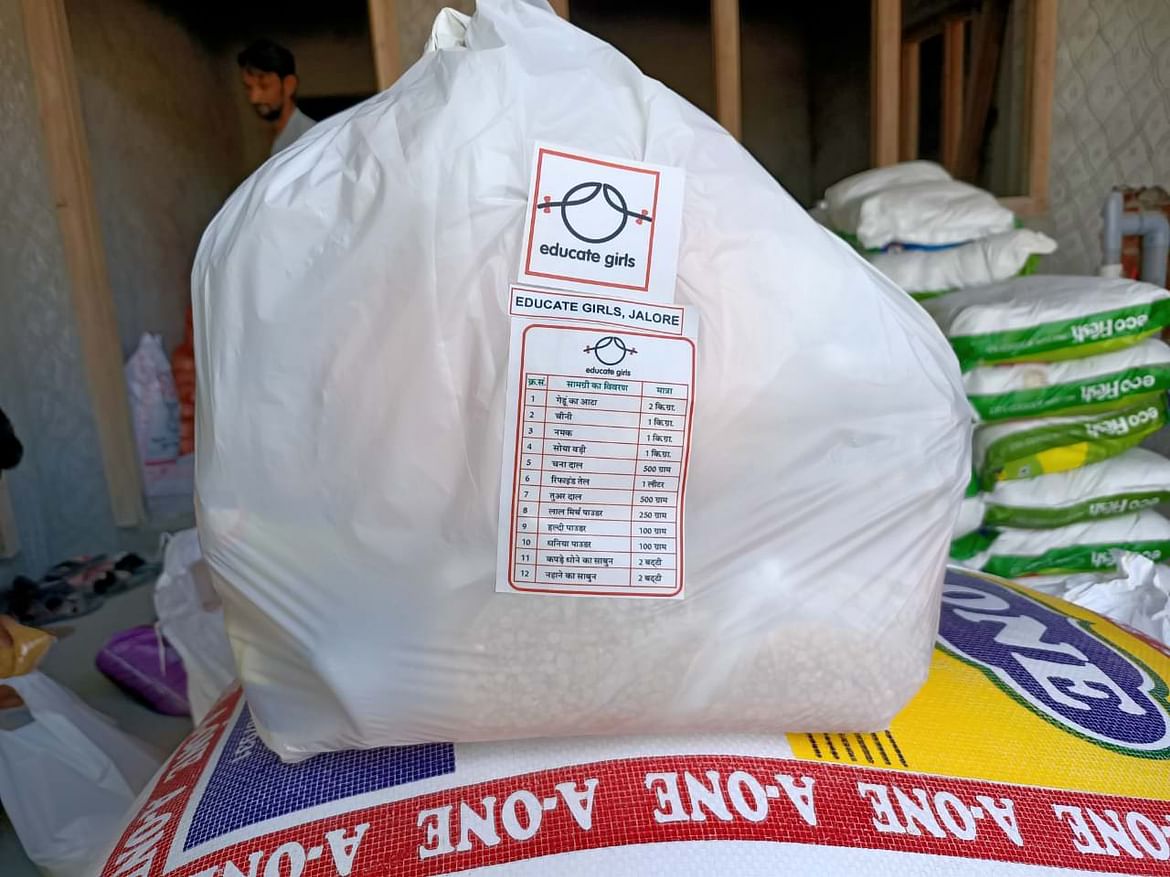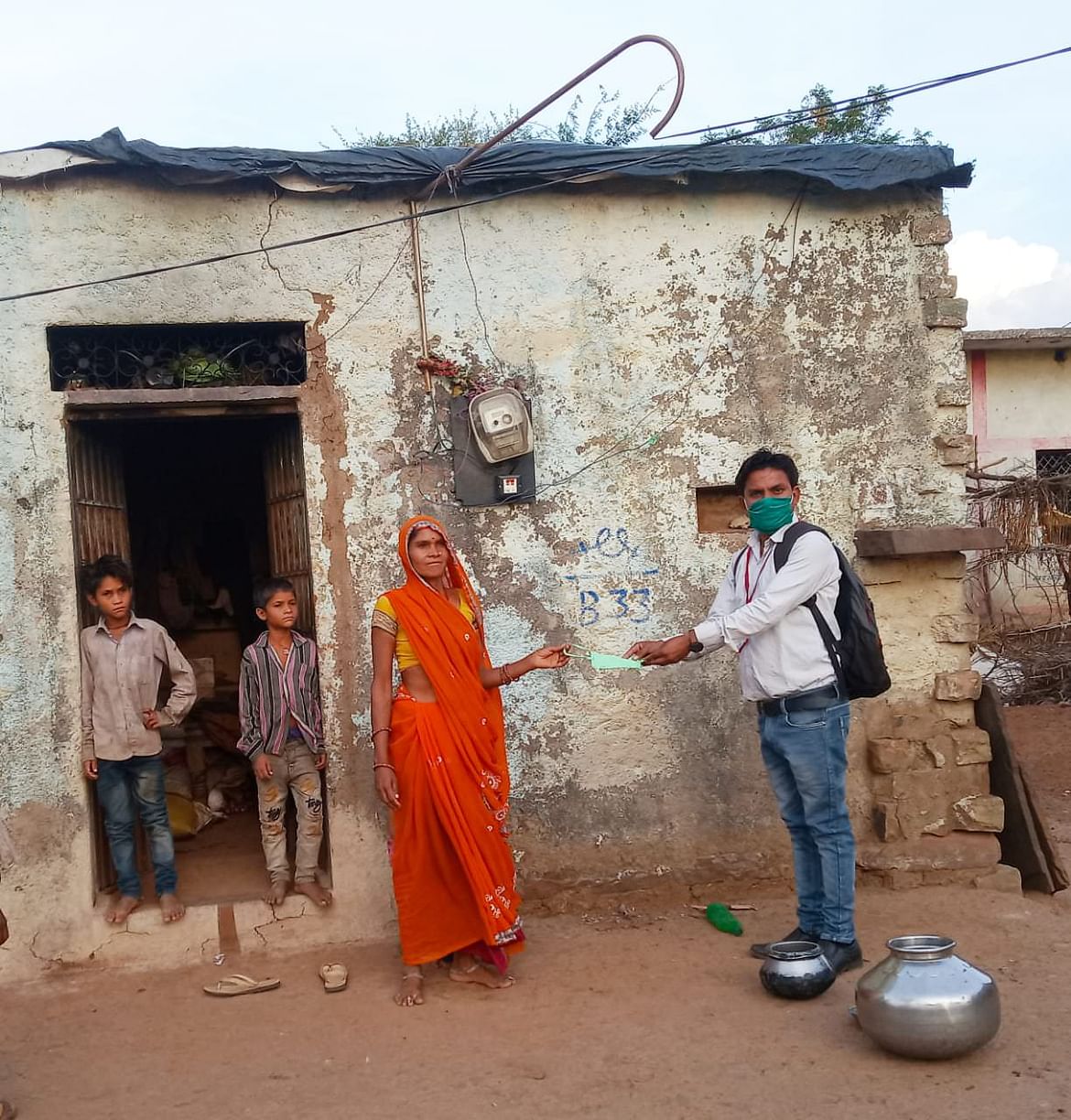 Our work has received recognition from the local government and community. We would now like to expand our reach to all the needy families. But we cannot do it without your support. We request you to please come forward and support those in need and who have nowhere else to turn to.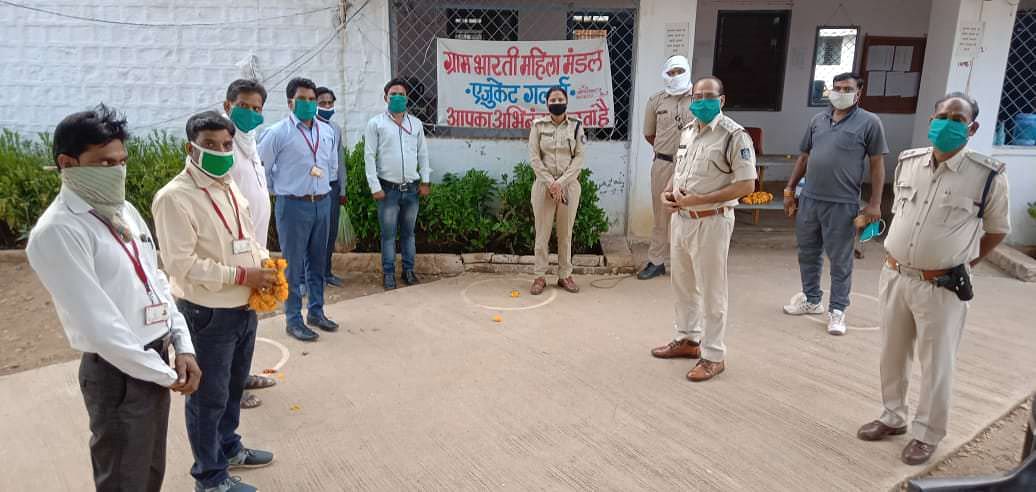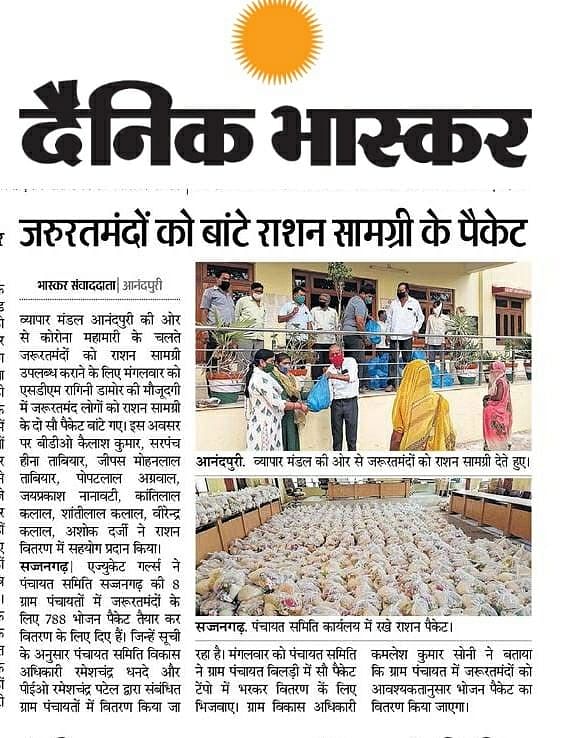 About Educate Girls:
Educate Girls mobilizes public, private, and community resources to ensure that all girls are in school and learning well. By leveraging the government's existing investment in schools, Educate Girls delivers measurable results to a large number of beneficiaries at an extremely low cost.
Educate Girls has scaled from a 500-school pilot in 2007, to over 26,000+ schools in over 14,000 villages across 17 educationally backward districts in Rajasthan and Madhya Pradesh states. Till date, we have enrolled over 5,50,000 out-of-school girls and improved learning outcomes for over 1.1 million children. Over 9 million children are the beneficiaries of improved school governance & infrastructure.
In 2019, Educate Girls was the first organization in Asia to be chosen as one of the Audacious Projects, a first-of-its-kind coalition of leading organizations and philanthropists that surfaces and funds critical projects with the potential to create global change. Our Audacious Idea is to solve almost half of India's out-of-school girl problem by bringing up to 1.5 million out-of-school girls back to school by 2024 and benefit 15 million children cumulatively.
List of supporters: UNICEF, NPCI, HDB Financial Services, HT Parekh Foundation, Oracle, Ray & Tye Noorda Foundation, LGT Venture Philanthropy, SKOLL Foundation, Azim Premji Philanthropic Initiatives (APPI), Children's Investment Fund Foundation (CIFF), Jasmine Foundation, Montpelier Foundation, Mulago Foundation, Cartier Philanthropy, Bohemian Foundation.
Awards and Recognition:
Audacious Project, 2019
ET Prime Women Leadership Awards 2019
NITI Aayog Award for Women Transforming India 2017
Skoll Award for Social Entrepreneurship 2015
British Asian Trust Special Recognition Award 2013
NASSCOM Social Innovation Forum Challenge 2016
NDTV L'Oreal Paris Women of Worth Award 2016
USAID Millenium Alliance Award 2014
EdelGive Social Innovation Honors 2011
The World Bank's Development Marketplace Award 2011
Asia 21 Young Leader 2011
Womanity Foundation's Women Change Makers Fellowship 2012
Website: www.educategirls.ngo
For further information please contact us here: info.in@educategirls.ngo