HELP TRIBALS (Aadivasi) FIGHT HUNGER
Dear Citizens,

Greetings from Earthangels Welfare Foundation!!
URBAN SLUMS (URBAN INDIA)

The Lockdown has had a devastating impact on society, including the poor and homeless.

Daily wage-earners like manual labourers, scrap collectors, rickshaw pullers and auto rickshaw drivers are in danger of starving to death due to the lockdown.

The densely populated areas, in particular, are more vulnerable. Physical distancing is an alien concept for slums and may not be effective. Tiny houses with walls barely a foot apart, forces them to stay outdoors to get a brief respite from the electricity-starved environment at home, especially in summers.

The coronavirus has sometimes been called an equalizer because it has sickened both rich and poor, but when it comes to food, the commonality ends. It is the poor who are immensely impacted. The nation has never faced a hunger emergency like this & with limited help the no of people facing acute hunger is increasing every day.

As a result, in Mumbai, Delhi & many other cities too, local governments and NGO's are trying their best to provide them with daily essentials and make sure they don't die of hunger.

Earthangels Welfare Foundation a Mumbai based NGO which focuses on providing education to the kids staying in these slums have now taken an initiative called "Fight Against Hunger", the idea is to connect the concerned privileged class who want to help, with those who need the help.
IMPACT:

Since the lock down period, NGO has been successful to provide 6989 Family Kits (Groceries for a month, for an average family of four).
NGO was also Instrumental in sending 890 Migrants to their loved ones by facilitating buses, immunity boost kits for their travel. 50K Immunity kits were distributed.
We also successfully created a community kitchen which served
3,92,028
meals to the needy.
TRIBAL COMMUNITIES ( RURAL INDIA)
Keeping aside the Urban woes of weaker segment staying in slums, the Immensely impacted are the local TRIBAL COMMUNITIES (villages) situated just 3 hours drive from Mumbai, end of Thane district & beginning of Nashik district.
The Tribals, many of them whom worked in brick kilns, are jobless and forced to fetch plants from the jungle to survive on. Most of the tribals worked in brick kilns in Bhiwandi, Vasai, Thane & Shahapur. Since they shut in the lockdown, many of them are on the brink of starvation
Amidst the severe crunch of food, the tribals have been fetching 'loti' and 'vela' plants from the jungle, which they dry and then eat. It takes them hours to walk into the jungle and get these leaves to eat. They cannot afford to buy mustard oil. Women could be seen collecting Mahua seeds which are left under the sun to dry and later extract oil from them for cooking.
Shortage of water is another concern, women have to get down 2 km from their village through the steep mountain to fetch water which takes hours.
With No Electricity, No Food, No Water, No Education (infrastructure issues), No proper roads (connectivity with the city during Medical emergency) the cloud of uncertainty still looms around Rural India.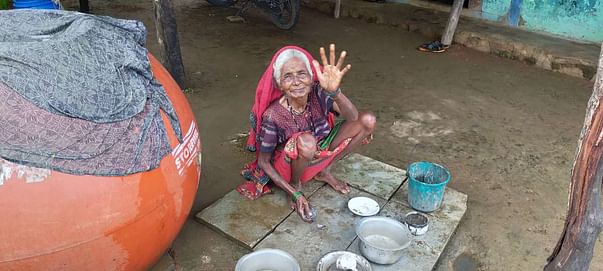 Children at risk
Their are malnourished kids who had nothing to eat at home. A three-year-old malnourished handicapped girl was so feeble that she could not even stand properly. The ribs of several children could be seen sticking out. "These children are underweight and malnourished. The conditions of their mothers are alike and there is urgent requirement of medical assistance
Each day that we are delayed due to lack of funds is another day that a family goes hungry.
IMPACT:
Served Dry Ration Food Kits to 103 Villages serving 6126 families. One Kit would severe a family of 4 for a month.

THE FIGHT WITH HUNGER IS STILL ON. LETS TAKE A PLEDGE TODAY THAT NO ONE GOES HUNGRY