4 Bangkok Students come together to help Earth Cafe, Mumbai (India) support society in Covid
Shreyaa, So Yoon, Cristine & Shreeya
We came to know of the good work that Earth Cafe is carrying out during Pandemic from the feature on it in a leading English News Channel.
https://www.youtube.com/watch?v=CsaLYW4cpiE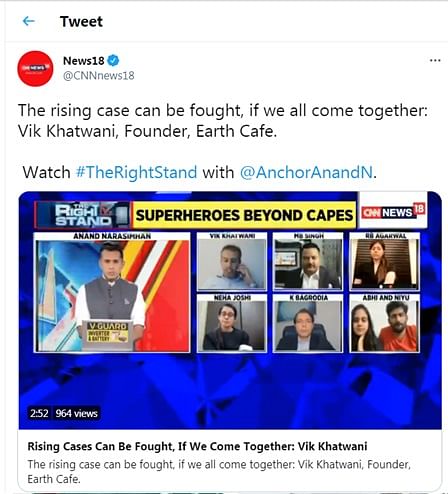 Bandra is a big area in Mumbai with many residents. Among them are many senior citizens who stay alone and are now left to fend for themselves during the pandemic. The loneliness could be either due to their children being in other cities or in an unfortunate situation, other member(s) being treated for Covid in a hospital or could be in isolation somewhere else in the city. In certain cases, the elderly people could be bed-ridden or incapacitated and are now held captive in their own homes. In the slums, it could be the monetary reasons that the senior citizens get further marginalized and thus, get neglected.
A leading Restaurant in the area comes forward to provide nutritious food twice-a-day to this section of the society
The food is free of charge and is delivered to their homes.
Food is delivered not just to the posh localities of the suburb but also to the people living in the slums.
The weekly menu is decided every Sunday and is prepared under the most hygienic conditions.