With a gradual increase in the number of the affected population, the state of Assam is currently battling with twin disasters – the global pandemic and recurrent floods. The onset of the pandemic has overarching impacts on overall flood management ranging from preparedness at the administrative level to household level thereby aggravating the vulnerabilities of flood-affected communities.
The floods have started since 22nd of May 2020 and around 24, 30,502 people from 2,254 villages in 24 districts were affected as on 20th July 2020. The death toll because of the floods has risen to 85 in the state, a number more than current COVID-19 related deaths which are 63 at present.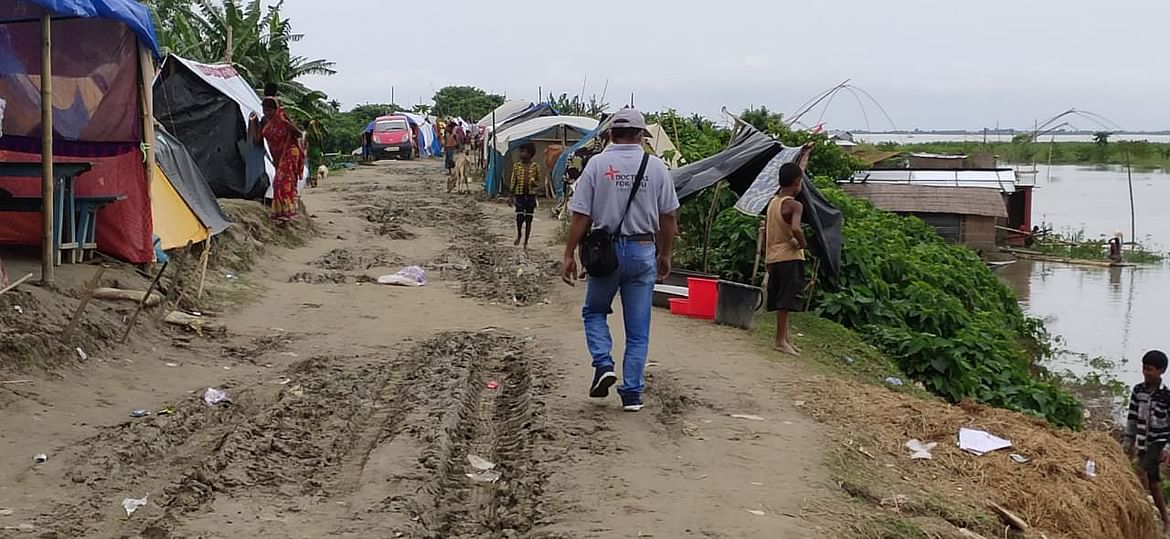 Doctors For You have been working in Assam for the last 8 years and currently, our team is on the ground and are conducting assessments in Barpeta, Kamrup, and Sonitpur districts. We are also providing some basic relief items to flood-affected population. Surrounding issues around the availability of food, NFI, contaminated water sources, hygiene and utility items, and medical attention needs to be addressed at the earliest.Our capacity is limited and to create a greater impact and reach a more vulnerable population we require your support and assistance. The aid provided and the people reached through your contribution will be shared through regular reports and in our social media pages.
Immediate needs:§ Dry Ration
§ Supplementary nutrition for Children, Pregnant women, lactating mothers.
§ Hygiene kit - Soap, masks, toothpaste, comb, mirror, sanitary napkin, nail cutter, safety pin, and hand towel, etc.
§ Shelter material –Tarpaulin, rope, bed sheet, floor mat, solar lamp, candle, torch, and matchboxes etc.
§ WASH kit – chlorine tablets, bleaching powder, buckets, mugs etc.
§ Fodder for livestock
§ Primary healthcare services
All donations made to Doctors For You shall be tax-deductible under Section 80G of the Income Tax Act of India.
About Us:
Over the past 13 years, Doctors For You has established itself as an organization with the technical capacity to respond to different types of humanitarian crises be it natural or man-made disasters. The organization has responded to almost all major disasters in India starting from Koshi floods in Bihar 2008 to recent Corona Pandemic. The organization is also working in the SAARC region and was one of the leading organization who responded to Nepal Earthquake in 2015.
Currently, DFY is working across 18 states in India on Public Health System Strengthening, Training and Capacity Building Programmes, Disaster Risk Reduction activities, etc. The organization has recently started a National Level warehouse exclusively for Disaster Relief and Response across India situated at Patna, Bihar. During disasters, our major focus is to address the Medical and Public health needs of the affected population which includes the provision of medical services; working on Sexual and Reproductive Health; Maternal, Infant and Child Health; IYCF in Emergency; WATSAN Services; Nutritional Health; and Training Capacity Building.
For its contribution of humanitarian work, the organization has received several awards which include The SAARC Countries Award (2009), The British Medical Journal Group Award for Best Medical Team in Crisis Zone Category (2011), Golden Ruby Award (2015) and recognition from governments in India and abroad.
For more information please visit –
www.doctorsforyou.org
https://www.facebook.com/DFYIndia/