Krishna Limb was created by Dr Tapesh Mathur, a veterinarian based in Jaipur, in a bid to bring relief to disabled animals and help them walk again. With vast experience of working at rural and urban polyclinics in department of Animal Husbandry, Govt of Rajasthan, Dr Tapesh has served animals for 22 years.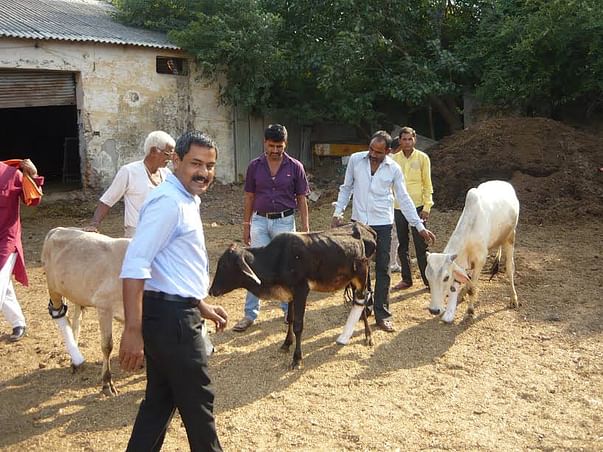 During his service he saw injured animals struggle each day and most of them would be brought after being hit by a rash vehicle. He would see animals who had lost limbs to accidents and those who were amputees. He used to perform surgeries on them and send them home. He saw their pain and realized that rehabilitation was necessary for these animals. Rather than just helping them recuperate from their injuries, he felt that prosthetic limbs would help them lead more normal, independent lives. Dr Tapesh says, "People would bring accidentally wounded cattle and other animals to me. In most cases, an amputation is necessary in case of a major fracture or infected limb. But I used to wonder what happens to the amputated animals. Once, during my visit to a nearby Goshala, I spotted these helpless animals lying uncared in a corner. Owners start overlooking them since they no more remain productive. I could not bear to see their (the cattle's) pain in gaushalas. These animals could not voice their angst as humans can, but they feel the pain all the same. They waited helplessly for food or for someone to clean them. And I kept thinking if prosthetics can help humans walk again, why can't something similar be done for these animals?"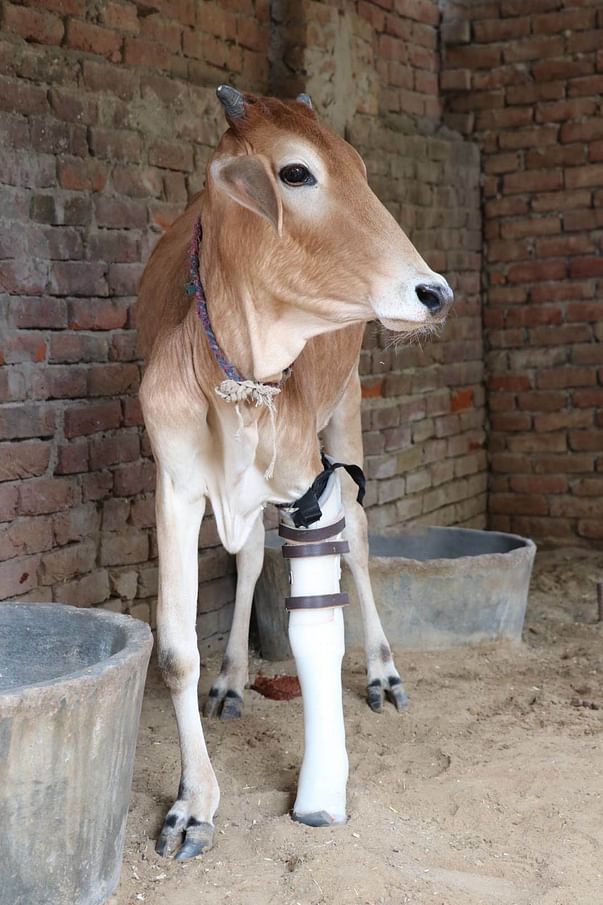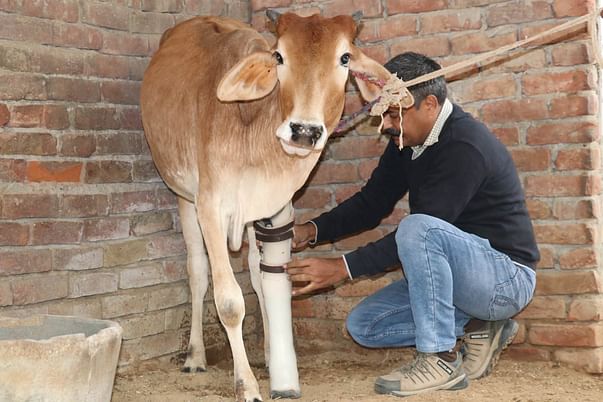 Around this time, a calf named Krishna was brought to Dr Mathur, who had to be amputated. Determined to help the timid animal stand on his feet again, he came up with the very first prototype of a prosthetic limb and fitted it to Krishna. It took the little calf a few weeks to get adjusted to the device, but once he did, he was bouncing around in happiness. Little Krishna's delight touched Dr Mathur deeply and prompted him to start making prosthetic limbs for animals, investing his personal savings. He coined the term 'Krishna Limb' for these prosthetic limbs, after his first successful effort with Krishna the calf in 2015. He has been designing prosthetic limbs for animals since then and to date, has helped more than 100 animals from various states adapt to using a prosthetic and minimized their misery.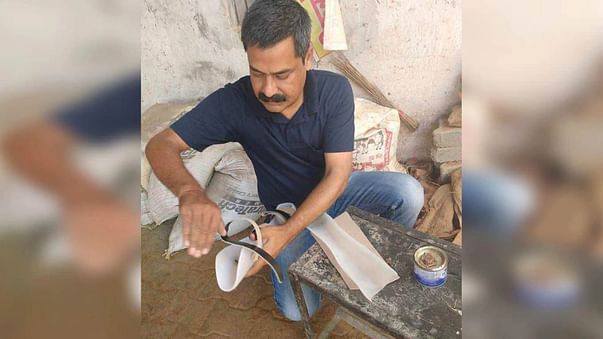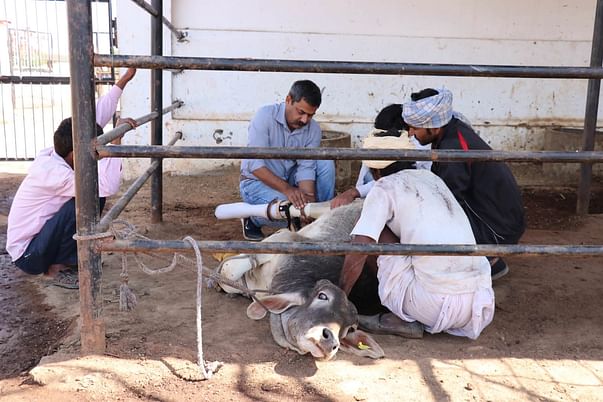 From design to production, Dr Tapesh does all the work by himself at his home-workshop in Mansarovar, Jaipur. Dr Tapesh, who is perhaps the only doctor fitting prosthetic limbs on animals in India, says, "It is tedious work as taking the right measurements of the injured limb is both important and difficult. Once the measurements are in, making it acceptable to the animal is the next big thing. It is challenging as animals have never experienced anything like this before. But once they get used to it, they can walk and even run." The designs of the prosthetic limbs are customized according to the animals – be it a cow, horse, dog, cat or others. Each limb costs up to Rs 8000-Rs 10,000, but Tapesh does not charge for them. The cost is taken care of by Pen Media Foundation, co-founded and funded by Dr Tapesh Mathur and his wife, Dr Shipra Mathur. The foundation accepts financial contributions from people for animal welfare. "But we never demand a penny from the owners whose cattle and pets we help out," Dr Tapesh clarifies. Tapesh has been recognised for his work by the Indian Society for Veterinary Surgery, which awarded him the 'best field veterinarian award' in December 2016.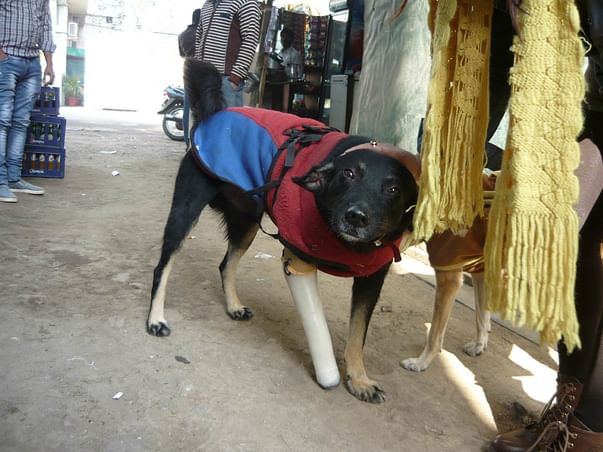 The present design of the Krishna Limb is a result of a series of upgrades from the very first one. Now the team is adept in customizing prosthetic limbs for different animals upon request. "We generally work with cows, horses and dogs but have started receiving applications for other animals as well." Their working procedure is quite straining since it is impossible to transport an amputee animal to Jaipur from some remote part of the country. So, Dr Mathur personally visits the amputee animal with his team, records all necessary details of measurements and mould the Krishna Limb accordingly. Later, during a second visit, the limb is attached to the animal. He is also working on a model where the measurements can be taken by the owner of the animal and sent across and he can send across the Krishna Limb without him personally visiting the animal.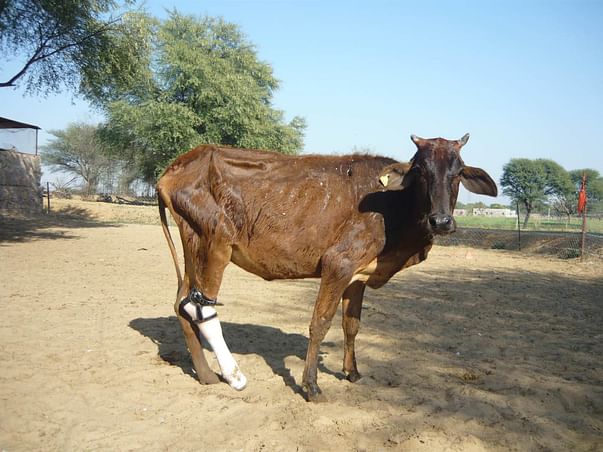 Dr Tapesh shares that so far people and well-wishers have helped him sustain this work. He has created his own small lab. People reach out, refer cases, take care of travel too but for further improvement in the design and functionality of the prosthesis and to keep it low cost, he hopes to have more support to do more research and innovation. His passion, persistence and encouraging response from some owners and caretakers of the amputee animals has kept him going without large scale support so far. Dr Tapesh says it is hard for him as raw material for the limb is expensive. Made from polypropylene, suppliers want orders in bulk. "But somehow I sourced my first raw material sheets from Mumbai, arranging about Rs 80,000 from my savings." His vision is that no animal should be denied the chance of getting a prosthetic limb due to the costs involved and want to continue to provide his service and the Krishna Limbs for free to the owners of the disabled animals. The support from people will ensure that Dr. Tapesh can continue to provide relief to disabled animals and help them walk again.