Dear Supportive Friends,
You have always shown great interest in our crafts people and their excellent work whenever we have presented them on our platforms, whether at bazaars or at special exhibitions.
This year, because of Covid related difficulties, our craft people have had major financial problems. They cannot afford to pay the rent for Dilli Haat charged by Delhi Tourism to exhibit their art for 15 days at our craft bazaar nor for the minimal overhead costs for festive decorations and publicity.
Each crafts person needs financial support of Rs 20,000/- This is required for around 30 crafts people. This comes to Rs 6 Lakhs in total.
I humbly request you to extend your generosity to help us cover this amount through whatever amount you can spare. We do not take any amount from the crafts people for ourselves at the Dilli Haat annual bazaar.
With warm regards
Jaya Jaitly
President
Dastkari Haat Samiti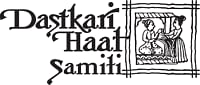 Dastkari Haat Samiti
Non-Profit Organization
00-91-11-26568373 // 00-91-11-46084883
Mobile: 9910089134
E-Mail: dastkaarihaat@gmail.com
www.dastkarihaat.org
6/105, Kaushalya Park, Hauz Khas,
New Delhi -110016.
Facebook
|
Instagram
|
Google Arts & Culture