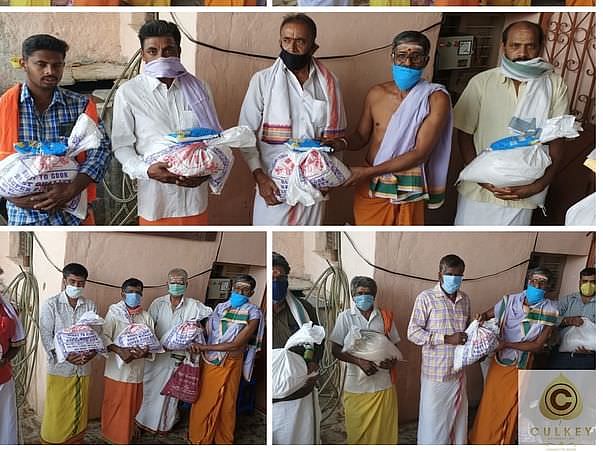 The coronavirus outbreak is first and foremost a human
tragedy, affecting hundreds of thousands of people. The
nationwide lockdown imposed on March 25, 2020, to
contain the COVID19 pandemic had left Hindu Priests
in Karnataka in distress, as their earnings were affected.
At Culkey Foundation we realized that Archakas &
Purohits do not have a fixed income. Temples are shut and
rituals that would happen at home have also stopped.
Weddings and other Functions scheduled starting April,
had been indefinitely postponed.
We also researched that there are totally 34,599
temples under the Muzrai Department, Government of
Karnataka of which 175 temples are Class 'A' (annual
revenue above INR 25 Lakh), 163 Class 'B' temples
(annual revenue between INR 5L – 25L) and the remaining
34,261 temples are Class 'C' (annual revenue is less than INR
5 Lakh). To serve these temples there are 120,000
registered Archakas. Majority of Class 'C' temple
Archakas are wholly dependent on this profession for
their earnings are facing more problems. It is also learned
that there are private temples and Archakas who in all
probability would be taken care of by the trustees of such
private temples.
To add to the problems, some Hindu rituals require the
presence of two to three priests, along with the devotees,
even if lockdown is lifted and mass gathering is not
allowed how would they survive indefinitely? Therefore
we at Culkey Foundation have decided to help this segment
of society during the COVID-19 pandemic.