100% of your contribution goes towards the cause.
Not all superheroes wear capes. Some wear masks, hold brooms, carry barrels of piling garbage. They go about working and cleaning tirelessly for the sake of their own city, which they call their home.

With COVID-19 pushing half of the world to cocoon themselves in the comforts of their home, there are those who in spite of the risk of exposure get down to the streets every day to make sure basic hygiene is intact.
Here's a glimpse at a couple of such lovely ladies among the Annas (Brothers) and Akkas (Sisters) who do the work.

Kanaga akka's day starts at 6 am in the morning. Wearing a blue saree, an orange jacket and the mask and gloves, she starts sweeping roads in Zone 13 (Adyar and nearby areas Chennai). She keeps at it but as the heat goes up, she tends to remove the gloves to avoid the sweat making her hand slippery. Little does she realise the risk she faces by doing that. She has heard the warnings about some virus from her Sir but she cannot stop working a single day if the city needs to stay clean and hygienic.

Apoorva Akka, with a mask on her face and gloved hands, goes about cleaning the walls and pavements in the streets assigned to her. "People spit pan and so many urinate on these walls. It stinks and reeks bad odour but I have to clean them so that pavements can actually be used by pedestrians." Her hands take a darker shade every day cleaning the filth on the pavement – these are the same hands that she uses to cook and eat food too!

Wiping it clean and sprinkling a generous amount of bleaching powder she jokingly says, "I think I'm battling more viruses and germs daily than anyone in this city."
Thousands of these conservancy workers are convinced that it is their duty to help the people in the city. Be it the floods or crisis like Corona, these foot soldiers of Chennai are determined to clean up every mess, putting aside all the dangers and risks.
In an attempt to support these labourers and to help them tackle the ongoing pandemic, the civic body of Chennai is taking extraordinary measures to safeguard them. They are working closely with the service provider, to provide workers with sanitizers, gloves and disposable masks. They are also briefed every day on practising basic hygiene and sanitation.
Adding a little bit of love and respect to it,
the residents of Zone 13 Chennai have come forward to start a fundraiser to help these people in the time of crisis.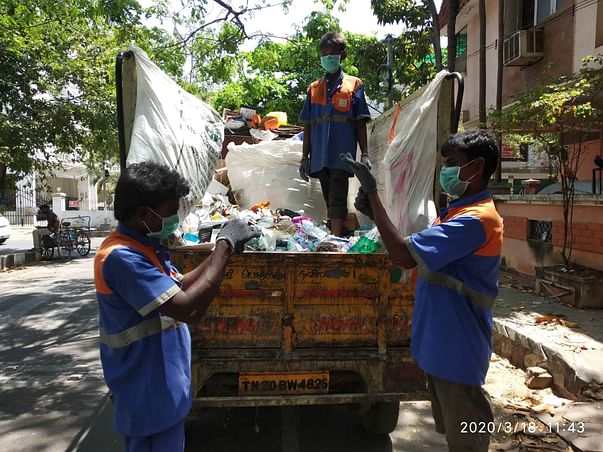 Archana Hari, one of the residents says,
"They clear our garbage, sweep our roads and even manage segregated waste. While we have the choice of working from home, these people have to come out and work. They do it without even complaining. It is because of people like them our area stays clean and our kids can live in a safe environment in such a hazardous situation. They are my unsung heroes and I wish I could help them more."
The amount raised will be sent directly to the bank accounts of these conservancy workers who do endless work to protect the city and its people.
Yes, they do get salaries and are given immediate care by their employers. As contract employees in this menial nature of work, their salaries only lend a hand-to-mouth existence with no pension or additional savings every month. Your contribution will help them build a supporting fund if (hopefully not) they fall ill.
Every little amount you contribute will put a smile on the face of conservancy workers who keep your city clean. Please show some love, dignity and appreciation to them in the form of donations.