What is the project?

This project will help the public understand what it takes to create an evidence-based, accountable, transparent, equitable, well-funded, and widely accessible public health system. We seek to bring insights on:
The ground reality: How are the city's public health systems run: How many PHCs are there in the city, where are they, do they have resources and personnel? What is the city's public hospital capacity and what should it be for a city of this size? What are different citizens' experiences of using government health facilities like?
Accountability: Who is in charge of public health and what are their duties in a pandemic? What are the regulatory bodies of this system and what do they ensure?
Transparency: How is the health system financed and how can patient expenses be covered? What is the budget for ensuring public health and what happens to that money?
Solutions: What needs to be fixed at various tiers, from primary health centres to private hospitals? What is the government's responsibility and what is our role?
The larger context: What action is required in other aspects of public health like nutrition and sanitation?
Why does this matter?
The second wave of COVID in India has exposed the weaknesses of our healthcare system. Neither money nor influence saved anyone from the devastation caused by the virus. This lack of preparation was clearly reflected in cities where the absence of hospital beds, oxygen supply, and many vital drugs left COVID patients fighting to receive the scarce supplies on a first-come-first-serve basis.
You, and I, and others we know stepped up, took desperate measures for our family, friends, and strangers. The need of the hour is an
evidence-based, accountable, transparent, equitable, well-funded, and widely accessible public health system
.
For this to happen
, we need a public understanding of systemic issues. And we need to focus on citizen demands.
Why Citizen Matters?
In a time when Indian media faces a growing crisis of credibility, Citizen Matters remains true to the goal of facilitating civic engagement and empowering citizens to find solutions.
It is an
award-winning
independent, collaborative media platform, featuring
articles
by professional journalists, experts, and
citizen reporters
, supported by
Oorvani Foundation
, a non-profit trust.
Of the 8000+ articles they have published, across 47 cities, over 400 articles specifically address the COVID and current healthcare crisis: ranging from articles
debunking covid myths
to guides on
getting the vaccine
or from
analyzing the second wave
to explaining
COVID insurance policies
.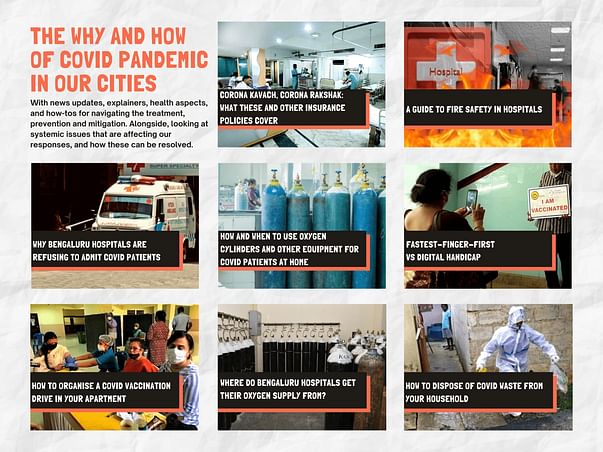 Consistent, persistent, investigative reporting on public health will allow a new approach to a better healthcare system in India. And your support, through donation, can benefit many.
How will the money be used?
Donor funds are used to cover reporting costs of (staff and freelance) writing, editing, and publishing. Remember that no amount is too little and donations do not influence or direct editorial decisions and are
eligible for exemption under Section 80G of the Income Tax act
. For full disclosure and statutory reports, see:
oorvani.org/reports
What else can I do?
You can also support the other work of Citizen Matters — research, reporting and data analysis (for more see
oorvani.org/support-us
). You can even opt to be a recurring donor or join a donor circle. You can also get involved by being a citizen journalist, or volunteering for community outreach programs.