"A child is a beam of sunlight from the Infinite and Eternal, with possibilities of virtue and vice, but as yet unstained." – Lyman Abbott

The memories and experiences of our childhood define us as we continue on our journey. To some of us, it is nostalgic while for others it surfaces the traumas suppressed over the years.
One of the biggest nerve-wracking trauma being Child sexual abuse which even today is shadowed by the culture of denial. Disclosures of childhood sexual abuse have frequently been discredited through the diagnosis of hysteria.

According to the annual crime report released by the Ministry of Home Affairs, between
30%

and

40%

of people who are abused as children go on to become abusers themselves. This necessitates the need to put an end to CSA, more commonly referred to as Child Sexual Abuse.

Amoli, meaning 'precious' is an NGO started by 8 college students, which educates children about the abnormality of Child Sexual Abuse prevailing in society and helps in the protection of their innocence. We ensure that the children do not engage in self-shame, self-blame, and self-harm and eradicate within them these detrimental senses so that they are filled with courage and spirit to talk about the same.
Our Mission is "When they are aware, they will dare"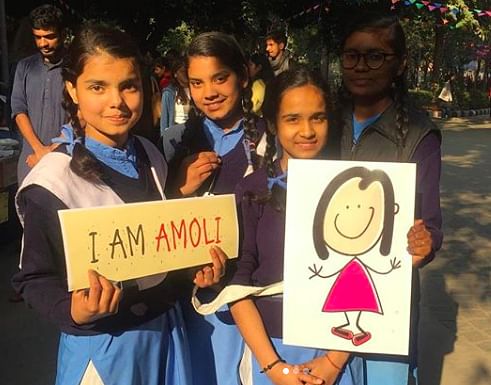 It's never too late to enjoy a happy childhood!
-Tom Robbins

Child Sexual Abuse or CSA is the erotic use of a child whether physically or emotionally, and their sexual exploitation in the fullest meaning of the term, even if no bodily contact is ever made. According to a survey, the ratio of child victims to adult victims is

3:1

. CSA not only demolishes the innocence of childhood but also scars adulthood.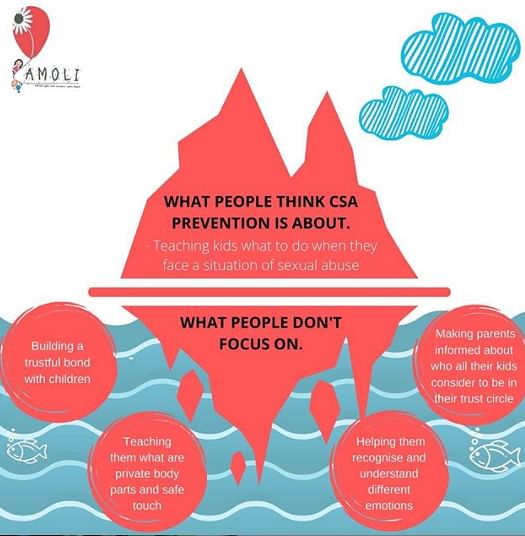 The trauma associated with sexual abuse can contribute to arrested development, as well as a host of psychological and emotional disorders, that some children and adolescents may never overcome. When sexual abuse goes unreported and children are not given the protective and therapeutic assistance they need, they are left to suffer in silence. For a child who is from a relatively underprivileged background, in many cases, the situation is life-threatening.
Our Work
At Amoli
,
we organize
two interactive sessions per school
- The first session emphasizes emotions, introduction to the concept of safe and unsafe touch, and various prevention methods; we dwell into more details in the second session.
Every session consists of trained volunteers talking about prevention and teaching the little kids that they are masters of their own wonderful bodies and talking, touching, or looking at their genitals by anyone but them is wrong. We ensure that the children are understanding effectively, by including various activities that make the entire session seem like a fun exercise -
games
,
story narration
,
candid conversations
, and
slogan-shouting
are the
highlights of our sessions
.
Since its inception, Amoli has impacted the lives of over
10,000 children
, over
350 classrooms
belonging to
48 schools
before the pandemic.
Epidemic in Pandemic - Coping with Covid-19
This unimaginable pandemic has brought the entire world to a standstill, where we faced the world's biggest lockdown. In this unusual time, we need to acknowledge a darker part of the crisis, which is the unnoticed story of children, who have become the worst victims.
A report released by the
India Child Protection Fund
in April 2020 reveals the severity of the problem at hand. A few days after the lockdown began, there was a
95% rise
in the
demand for child pornographic content
in India on adult websites.
A recent report released by the
Child-line India Helpline
further exemplifies the
increased vulnerability of children
to sexual abuse in the last two months. The helpline received
more than 92,000
SOS calls
asking for protection from abuse, just
11 days into the lockdown

.
Since the stay-at-home orders due to the coronavirus outbreak, the children who are sexually assaulted by someone in their own house are more in danger.
It is all the more important for us to work at our maximum capacity and ensure that
we reach every child in need

.
We at Amoli believe that if children are taught and reminded about safe touch and unsafe touch and empowered to reach out to the right people for help, they would not be victimized over and over by the abuser, family, or society.
To increase our impact and ensure that we are still able to reach out to as many children as possible, amidst this pandemic we have increased and penetrated various channels to reach the children.
Online Community Sessions

- These sessions are organized for every child 5-10 years of age on weekends at 6 pm, this helps us to penetrate various communities amidst this pandemic through online platforms to spread awareness and empower parents, children, and leaders

Online Sessions for Public & Private Schools

- We have collaborated and partnered with schools to provide free sessions to classes 3,4 and 5

Volunteer Training and Recruitment

- Getting accustomed to this drastic change and adapting to take virtual sessions is still quite challenging for us, it took us 3+ months to train our volunteer team so as to facilitate impactful sessions and ensure that we deliver our message to the children.
Making online content for MCD Schools - Children belonging to the underprivileged sector of our community have faced the grim side of this pandemic and dealt with adverse situations this year, we are trying to deliver our content and help these children through the teacher's network we have been able to build over the last 2 years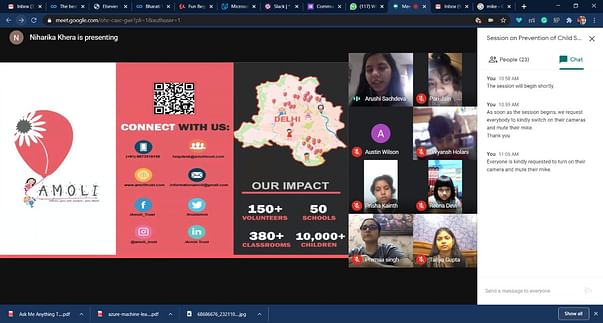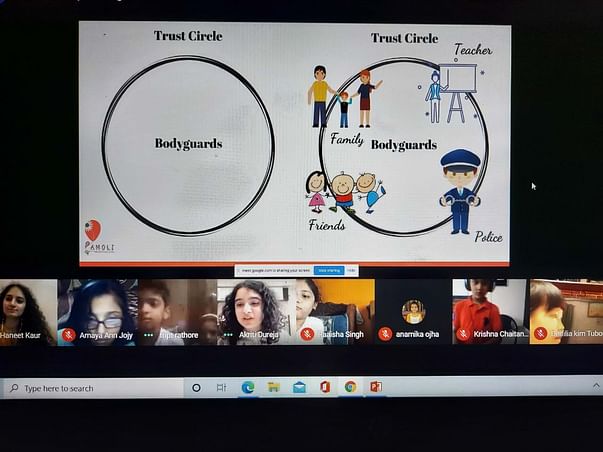 What does it cost to conduct a session?

The
major cost components
of a session conducted by us are the costs of printing '
emotion slips
' (to be used by the children),
the script
for the session (to be used by the volunteers and given to the school authorities),
printing worksheets
we provide to the schools for later practice and
Online resources
.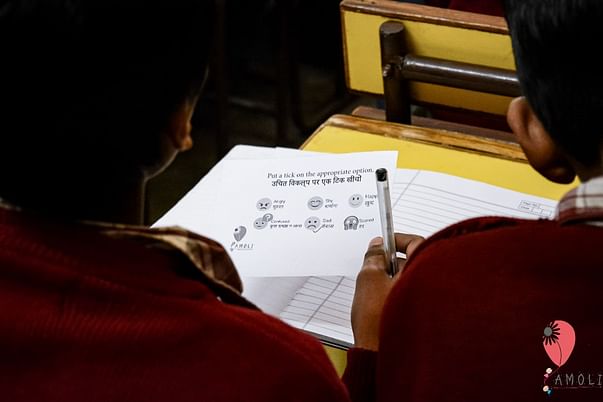 Emotion slips
are a tool used by us which makes it easier for the children to convey their reactions/feelings towards a hypothetical situation that they might or might not encounter. At every session, a piece of paper containing six emotions which are: Happy, Sad, Angry, Shy, Confused, & Scared is given to each child for him/her to mark the emotion he/she resonates with the most.
In addition to costs incurred on emotion slips and scripts, we also incur costs on travel and stationery, as a part of various miscellaneous costs. The cost breakup of a session is as follows:
| | |
| --- | --- |
| Emotion Slips (100 slips/session @ ₹1.25/slip) | ₹125 |
| Scripts (3-4 per session) | ₹30 |
| Certificate | ₹20 |
| Stationery (Posters, Envelopes, etc) | ₹95 |
| Miscellaneous Expenses | ₹80 |
| The total cost to conduct a session | ₹350 |
Total number of schools/communities to be covered: 55+
Since the pandemic, our costs of emotion slips have shifted to online resources, marketing online content, and printing worksheets. Our current weekly costs are
| | |
| --- | --- |
| Printing Worksheets (30 sheets, @ 20 per document) | ₹600 |
| Scripts (3-4 per session) | ₹30 |
| Online Resources | ₹500 |
| Stationery (Posters, Envelopes, etc) | ₹40 |
| Miscellaneous Expenses | ₹80 |
| The total cost | ₹1250 |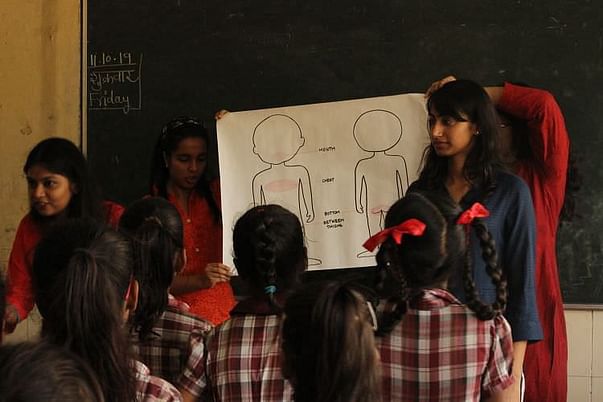 This amount does not include the costs incurred by our volunteers or the costs that are incurred when we conduct departmental meetings, training sessions, and other events like setting up stalls.
In addition to this, we also incur huge costs for renting co-working spaces, which are used for team meetings, orientations, brainstorming sessions, etc.
Why do we need your help?
Amoli Trust was founded by 8 college students in 2018. Over the years we as an organization have worked towards the prevention of child sexual abuse and have been a 100% student-run organization.
Our volunteers are undergraduate and postgraduate students from universities in Delhi NCR, some of them being - University of Delhi, IP University, Delhi Technological University amongst many others.

The students working at Amoli wish to create an impact that influences the current youth of the society to take up the responsibility of empowering the adults of tomorrow. Amoli aspires to create a better tomorrow and sculpt future changemakers of society.

We seek your contributions for the same as we continue to fight CSA and make society a safe one for our children.

Help us transform the lives of our Amols, because every child is Amoli.