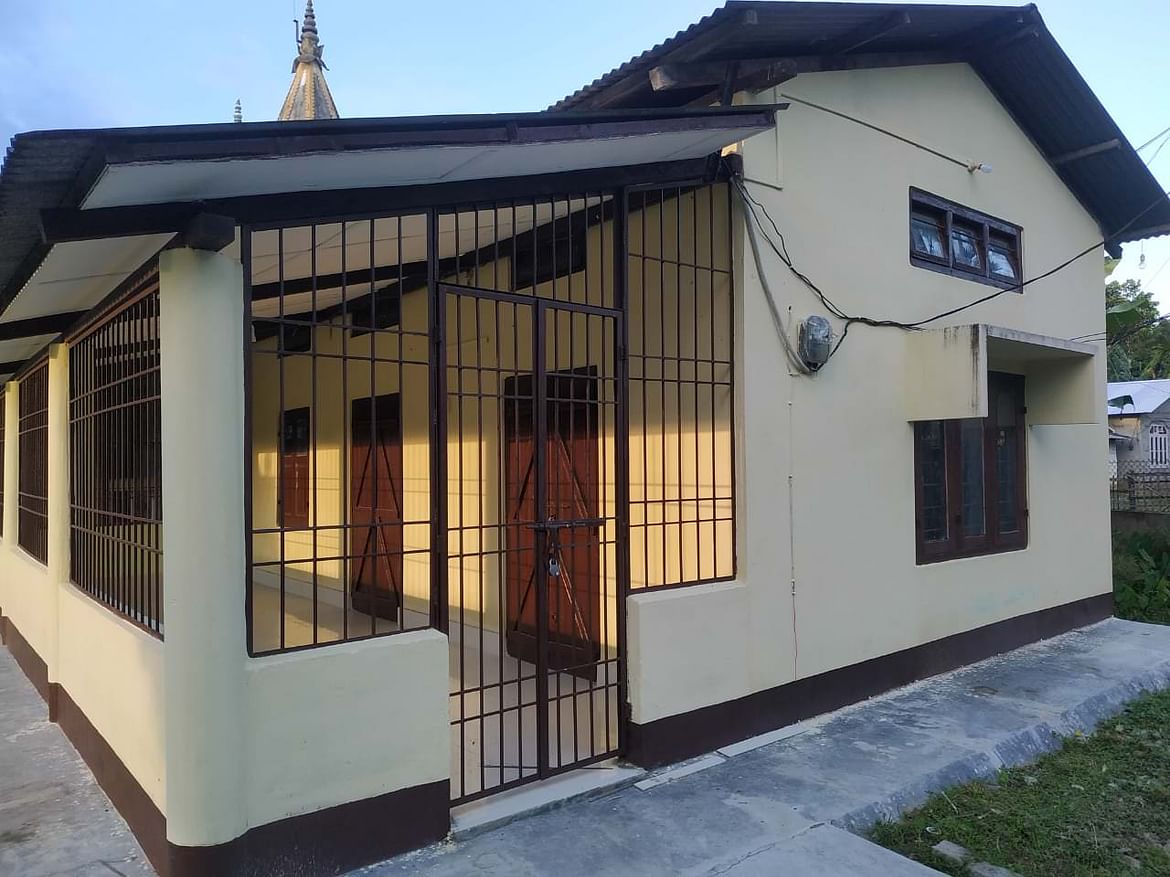 This community library in Da' Parbatia, Tezpur is in need of books and equipment for its little readers.
'Let's Gift our Future a Book'
People may leave but the memories should stay...
Ever wondered what do you want to leave behind once you are gone? Maybe some of you did maybe some didn't but this thought provoked the 4 of us and we started brainstorming in ways our present generation could leave behind imprints for the future. The future generation that we are nurturing at present , need bits and pieces of our past, to remind them of the people who lived before them. And then it occurred to us!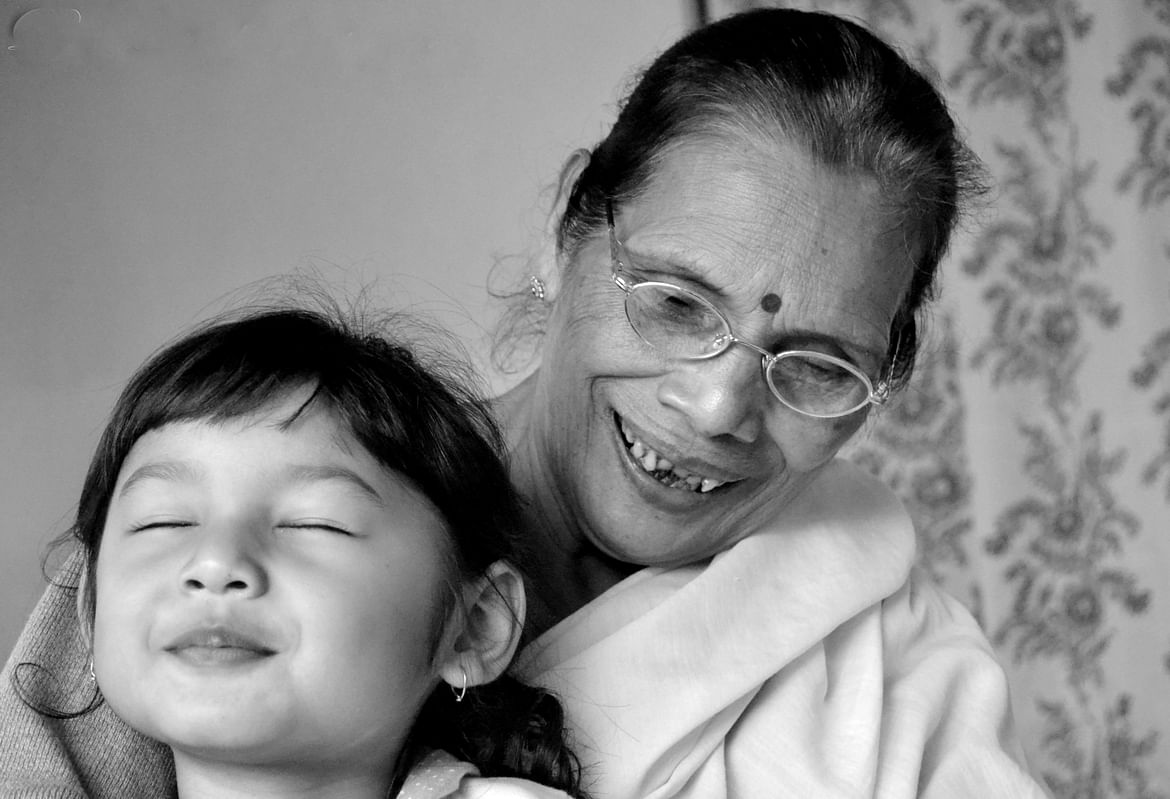 What could be better than gifting a book for our future generation?
'Let's Gift our Future a Book' is a campaign to gift books to our future generation by you or on behalf of anyone near and dear to you. The funds that will be raised by us will then be used to buy books and other essential equipment for the library. The donor should also write a brief note in any language to their future readers. The notes either typed or handwritten would be attached inside the book, where the reader could know the person who gifted it and the purpose behind it . This would then be housed in the newly constructed library in Da' Parbatia, Tezpur which then would be made accessible to its communitarians or anyone willing to read.
People willing to donate for this wonderful cause may use our Milaap link to send us any they amount they feel is enough to buy books or any resources useful to the library.
The resources needed are-
1.Books - 8000 INR.
2. 2 bookshelves - 10000 INR. (5000 per unit)
3. Inverter with battery (Luminous Zello) - 18000 INR. (includes all other technical cost of set up)
4. Stationery - 4000 INR.
Total- 40,000 INR.
Or
Any non academic books in kind could directly send be to the address of Care U 365 in Head office: Ghahigaon, Sootea, District: Biswanath, Assam. PIN: 784175.
Phone number :8638608287.
The Donor's information, picture and note should be mailed at careu365@gmail.com
Or through WhatsApp number: +91 86386 08287, +91 69002 54799 as we would like to acknowledge the concerned with a certificate of appreciation for their genuine act of kindness.
Fundraiser's note - Some day if you feel like dropping by this library at Da' Parbatia, Tezpur, what you will see is not just a hoard of books but a organic whole of knowledge with a special touch of each one of our contributors. The readers may not know who or what we were but would know one thing for sure
We existed and we cared.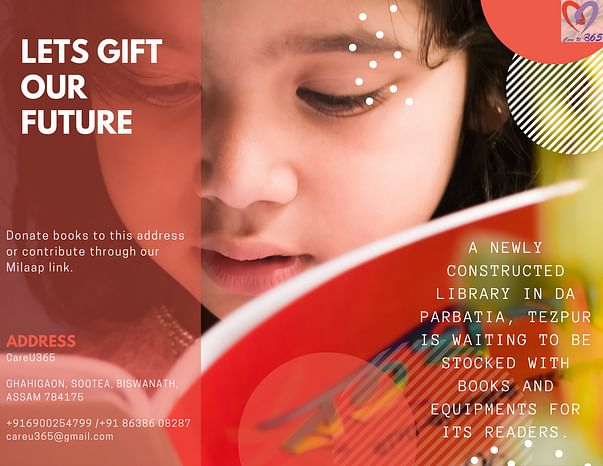 CareU365 shall share all bills and receipts with all donors, you can personally reach out to Bhrigu Borthakur, who runs the NGO/Charity in the below mentioned details:

bhriguborthakur@gmail.com

Here is the link to their website: https://careu365.org/
Facebook: https://www.facebook.com/careu.365

Please note that all images used here has been taken with informed consents.
About some insightful missions of the organization:
The organization
"Care u 365"
is relentlessly working for the betterment of our society from past seven years. Apart from the projects in Health Care, Education and Women Empowerment, they are also actively working for the upliftment of
Divyangs
. They have started their work on producing Braille materials since June 2015 and the journey so started has been continuing still today. Some of their Braille creations are
"Connecting the Dots","Bindur pora Xindhuloi"
,etc. In the year 2017 on the occasion of the Children's Day under the guidance of Lakhya Konwar, Hon'ble Member Secretary of SLAC, launched a Braille Competitive Book named
"An Approach to Competitive Examination in Braille"
, which was inaugurated by Hon'ble Chief Minister of Assam Srijut Sarbananda Sonowal sir. Though the organization have installed many mini libraries under the project "Mission 50" but now they are planning for a complete structure. The attractive feature of this library is that it will be having Braille Books too. And that's the most amazing part of this campaign is that it will be the first of its kind in Assam to have Braille books and audio books for the visually impaired persons.