Greetings from CADD
We hope you, your families and friends are staying safe !
In today's difficult times as yet another doctor and her family tests positive for COVID-19 in Kolkata, the dangers faced by healthcare workers in India is far bigger than what meets the eye.
Our front line Corona Warriors including doctors, nurses , and Healthcare workers of ICU and emergency wards who are fighting the deadly pandemic are a vulnerable group and nearly 200 of them have tested positive for COVID-19.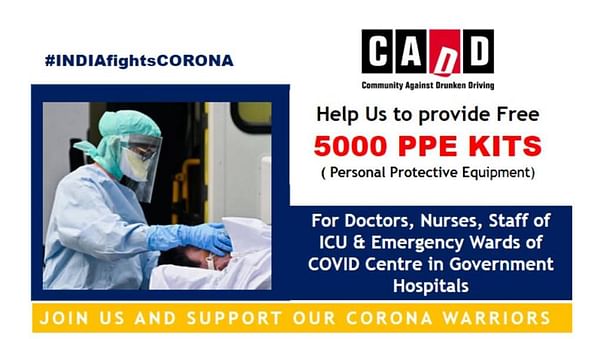 Most doctors and nurses are treating patients without wearing PPE or Personal Protective Equipment that shields them from the virus. The PPEs are in such short supply that even in hospitals where the healthcare staff are equipped with them, they are forced to not take off the suits(even to use restrooms) for at least 6 hours as they cannot be reused.

India has 0.69 allopathic doctors for every 1000 people and these doctors are risking their lives every single time they treat a patient without adequate protective gear.

In an effort to make it safer for our health care workers , Prince Singhal, National award winning social activist, and founder of CADD, Community against drunken driving has launched this campaign to source 5000 PPEs or Personal Protective Equipment for healthcare workers under the initiative FIGHT AGAINST COVID-19 Pandemic . These kits would be provided at COVID Centre in Government hospitals free of cost

.All these kits are as per Government compliance / SITRA approved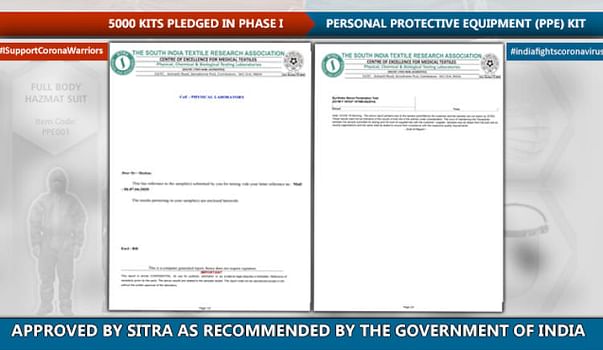 It is a pandemic - an unprecedented situation - and our healthcare workers are in danger. It is also a time when we need to stand united and do our bit in protecting our healthcare workers .Thus we are earnestly appealing for your generosity and support in this campaign.

A Small contribution from you will go a long way in protecting our healthcare
Know more about CADD - Community against drunken driving life saving work since 2001
www.caddindia.org