OUR PRIORITY IS ACADEMIC DURING PANDEMIC – BMEP
Bihari More Education Project (BMEP) - A social and independent initiative run by the students and alumni of NIT DURGAPUR - works for the upliftment of underprivileged kids in and around the campus. It has been actively engaged in catering to the opportunities and support they deserve. Regular teaching and continuous mentoring is the primary goal of BMEP. We are expanding our initiative and reaching out to areas like Ranchi Colony where more than 220 students along with 100 parents are now part of our project. We have also registered ourselves as an NGO "Bihari More Education and Welfare Society" under the West Bengal Societies Registration Act, Reg. No. : S/2L/34434.

What we do
Every Saturday and Sunday, we conduct classes inside the premises of college and routinely visit them during the weekdays to assess their performance – both academic and non-academic. Apart from this we also arrange weekdays classes for those students who need some extra mentoring. Since kids are more attracted to visuals learning and the speed of learning is faster here than conventional means, our sessions include both normal classroom teachings and animated video sessions.
Sports activities are regularly arranged to promote strong physical and mental health of kids. We conduct regular medical camps and sanitation programs to keep check on the health, and to create awareness about the cleanliness and necessary hygiene. For holistic growth of kids, we organise debate, speech, quiz, painting competitions and many more similar activities which boost their confidence, which in long run will certainly add star to their personality. We urge our kids to participate in science exhibitions and cultural events held during several fests organised in NIT Durgapur. This way we give them exposure to various platforms and nurture their talent.
The fate of Migrant workers Children
Most of the children belong to low-income families whose parents are mostly daily wage workers and migrant labourers. Many of them are fuchka sellers, washerman, watchman, rickshaw pullers, etc.
According to a report published by IIT Bombay, there is an approximate outflux of 2.4 million workers from West Bengal due to unemployment. When parents migrate from one place to another in search of employment, children accompanying them get deprived of education and mental stability. Besides having free and compulsory elementary education, their economic condition forces them to make a call between education and their livelihood and thus get trapped in low-skill, low-wage work. But we are trying our best in these uncertain times to provide them with some online class materials so that their education is not compromised.

Are we moving ahead?
Fortunately yes!
With your grace and our volunteer's hard work, we are moving forward towards our aim. Though our pace has been hindered by this pandemic.
During this global crisis, schools are closed in more than 190 countries. The education of 1.27 billion children and youth are disrupted. 63 million primary and secondary teachers are affected in +165 countries and this has added a big hindrance in our motto.
Still, we have kept our purpose alive with the best possible solution of adopting distant learning methods through online portal. We have started online classes for our kids and our volunteers are working to make it best. We are trying and will keep on trying to get all the possible ways to dampen the effect of this pandemic on their studies.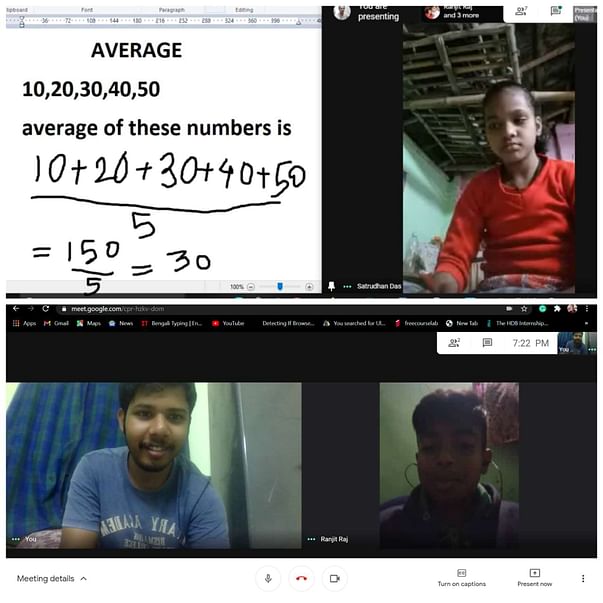 Our achievements this lockdown
Amidst lockdown, amidst this darkness, two of our stars are dazzling and giving a ray of hope to others as well. Team BMEP proudly and pompously wanted to share the selection of two students Sujata and Prem into the prestigious Jawahar Navodaya Vidyalaya. Also, a student, Ritik, qualified his 12th CBSE boards with flying colours. Noticing his dedication and hard work, we assigned three of our volunteers for his JEE preparations and he passed that too with good rank.

Key recognitions for BMEP
Bihari More Education Project (BMEP) is listed on "Startups by NIT Durgapur Students" on Udaan Vol-II Magazine published by Entrepreneurship Cell, NIT Durgapur and also featured on IdeasMakeMarket.com and Campus Diaries. Proudly stating that BMEP was nominated for iVolunteer Awards in "Leader in Volunteer Engagement Category" in 2015. BMEP Mission was represented as part of UNICEF's State of the World's Children 2015: Reimagine the Future Campaign. BMEP became the PROGRESS CHAMPION / Winner #myIdeaofprogress at Axis Bank's #MyIdeaOfProgress Contest.

Why your donation is important?
During lockdown, many of us are working from home and getting our salaries but our kids families do not have this facility and they are having problems in meeting their day to day needs, thus cannot afford study expenses. Your good chunk of money is being used to pay school fees. Besides, we also need support in organizing Medical Camp, Sports Day Event, Sanitation Program, Sessional Events, Children's Day Celebration, Teacher's Day Celebration, Educational Trips, etc.
In the era of digital India, everybody needs to learn things smartly. And to accomplish it, we thought to establish a smart classroom consisting of projector and teaching materials for activity-based learning to improve understanding of the Kids. At the same time, we will establish a library for our kids which will have all the necessary books and learning materials. Also, successfully we have started conducting online classes by whatever means available.
We are continuously working to fight for the betterment of our society and it would be a great help if you join us and provide even a small contribution.
Addition This year
We have started mentoring 12 students from orphanage Purbachal Ananda Foundation located in Purbachal area of Durgapur. We will be helping them to crack entrance exam of Jawahar Navodaya Vidyalaya.
For Kids connected with BMEP, we have started a program "Read for Kids" for kids to increase their reading fluency.
Here is the table containing expenses:
| | |
| --- | --- |
| Head | Amount |
| School Fees and books | 207375 |
| Medical camp | 10000 |
| Stationary | 3000 |
| Events | 8000 |
| Library Books | 10000 |
| Projector | 25000 |
| Miscellaneous | 10000 |
| Total | 273375/- |
Want to help us? Please do!
We are organizing this online fundraising campaign to sustain our outreach to underprivileged kids in this new session. Your little help has the priceless value of ensuring education to poor kids.
For more information, you can visit our Facebook page and website which has been given below:
https://www.facebook.com/BMEP.NITD/
http://www.projectbmep.com/

Thank You.