"She's getting weaker and paler, day by day. The disease is killing her. Her Kidneys, heart, liver and brain are giving up on her. There is a treatment but it is at too high a price, and we don't have much time left. I lost my son and my wife last year and I don't know what will happen to my family if I lose Bhoomi too"
-
Beere, the distraught father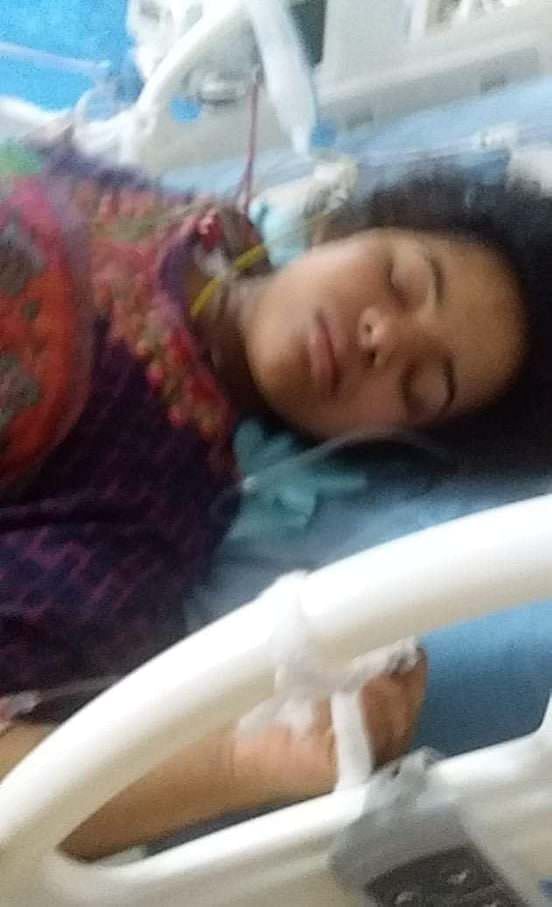 Bhoomi is a lively healthy 17 year old child who lives with her father and younger siblings in a small hut on mountains of Khadi, Uttarakhand. She is a compassionate child who loves everyone, has a rescued dog and a cat in her littlest of home. Her poor father works as a daily wages laborer to support the family who has been out of work ever since Corona hit.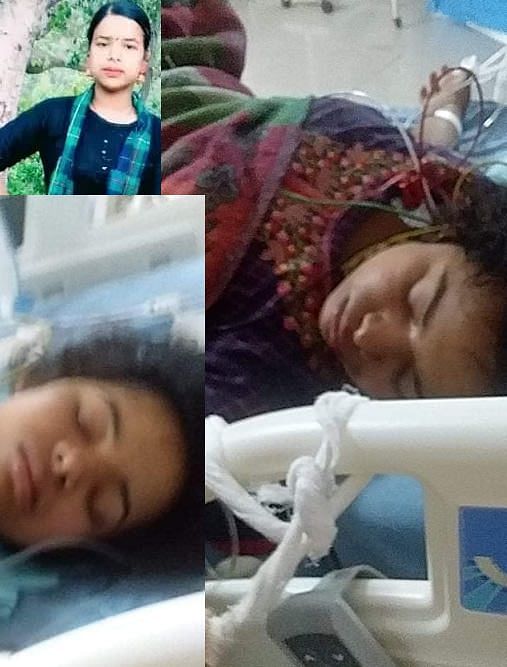 Life is very tough but was going peacefully when tragedy struck the family! Bhoomi suddenly collapsed after a few days of fever! She couldn't move or stand or speak! The nearest District Hospital is 40 Kms uphill, the only way to get a poor patient down the hill is on someone's back! There was no way for Beere to get her daughter the much required medical help unless someone intervened!
Our Trustees who are building a Sanctuary in the same area received a desperate call from the younger child of the family who was howling that her sister is dying! Kaveri, who was on her way back to Noida came back to Khadi to take the child to the hospital.
She was aghast and horrified when she climbed up the mountain where Bhoomi lives! Jhaad-Foonk, (Tantras Rituals) were being performed by a baba who claimed she had Jinnah! It took Kaveri over an hour of counseling to let the father take Bhoomi to the hospital!
Bhoomi's Aunt carried her down from the mountain on her back, they loaded her onto Kaveri's car and rushed to Nirmal Ashram, Rishikesh.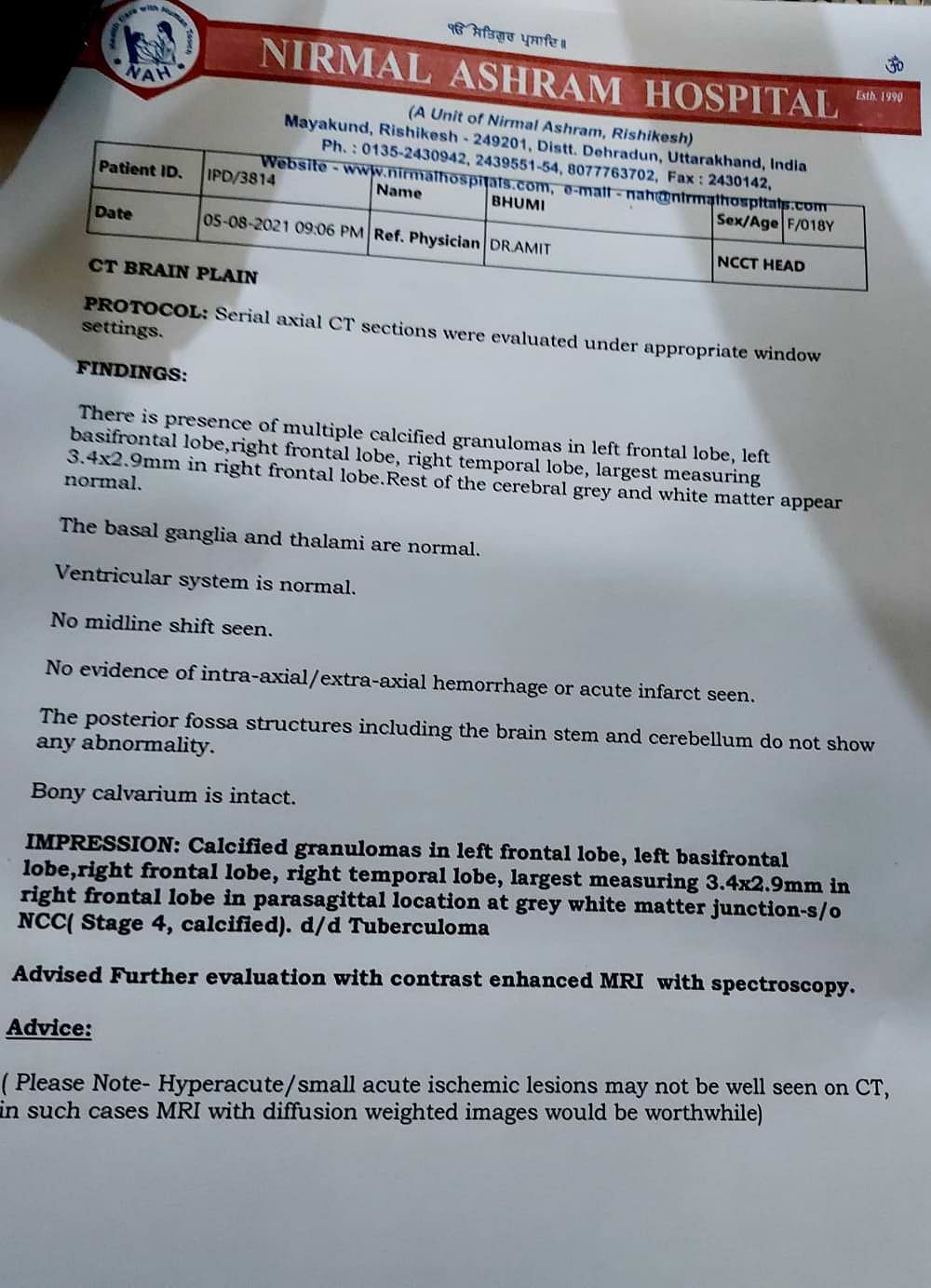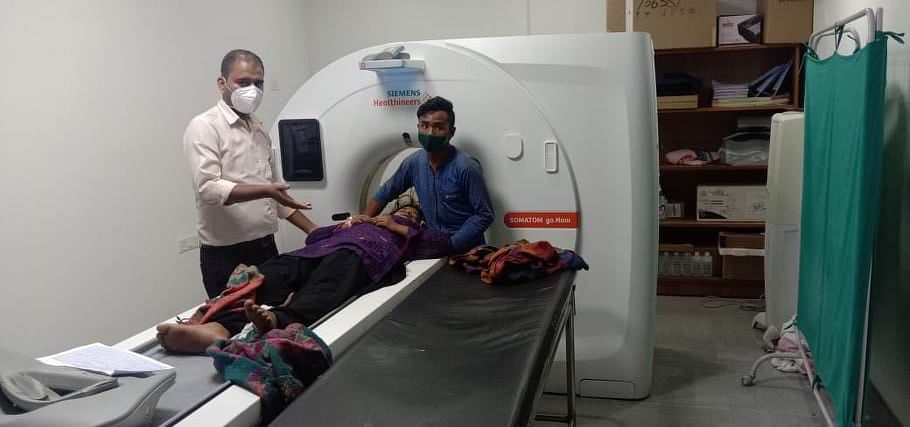 The doctors immediately rushed to her aid and diagnostics were done. Father had no money, so Kaveri requested other Trustees to allow Sophie Memorial Animal Relief Trust to pay for the treatment so that the child could be saved! Being the compassionate beings they all are, approval was given immediately and payments for the hospital processed.
CT Scan revealed multiple granulomas in Bhoomi's brain and blood work revealed failing kidneys and liver. They started her treatment but wasn't responding, so after a few hours they declared her critical and referred her to AIIMS, Rishikesh.
AIIMS put her in Trauma RED, diagnosed her as very critical with little chances of survival, started life saving treatment and moved her to Paedriatrics ICU. 24 hours later Bhoomi's condition further declined and she got transferred to Critical Care and was put on Ventilator and Dialysis.
Her condition remains critical.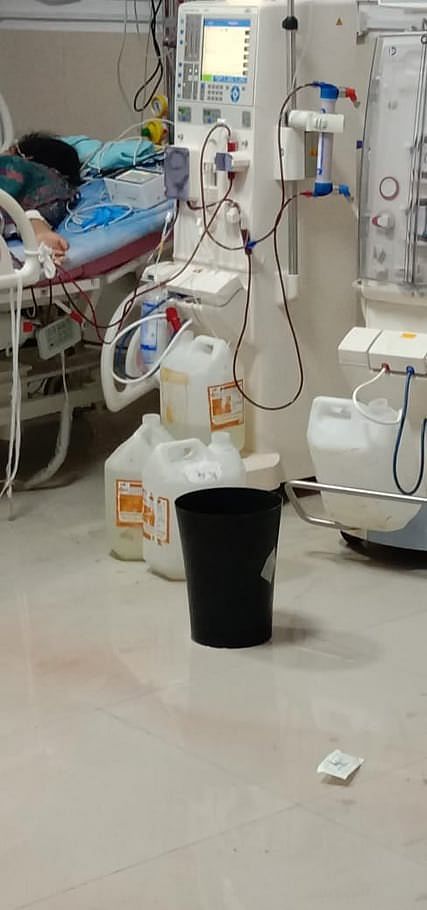 More diagnostics are being done to determine further treatment. Doctor today told us it's a severe case of Encephalitis and Meningitis with rapidly declining body functions. She is still in coma, cannot swallow any food, can not breathe properly, stand, sit or even lift anything.
The treatment, care and diagnostics are expensive and the bread earner is unable to do anything about it. There isn't even enough money to feed the family.
Kaveri and us are here to support as much as we can, we have taken in the other two children and their animals in with us, but we are going to need you all if there is any hope left for Bhoomi and her family.
So please donate for Bhoomi and help her father keep her alive. The poor man doesn't have much left if we can't save his young child.