"Sir, I combed today just the same way you taught us!"

"Tai, when will we be playing blocks? I love arranging them so much..."

"Dada, I want to sign in front of my name."

Countless topics and endless discussions... It was just 6 months that we started our intervention in Early Childhood Education (ECE); children in Anganwadis were having blast. They were playing, dancing, singing, and learning. Parents were also happy to see their child learning in meaningful ways.

… But, the COVID-19 pandemic hit us. More than any other person, it impacted the poorest and weakest of the individuals worst.

Bheem Nagar, an urban slum, in Hadapsar became one of the hotspots of COVID-19. People did not have money to buy ration and daily needs. Emotions, anger, depression, anxiety, insecurity were experienced like never before.

Better Education Lifestyle and Environment Foundation (BELIEF) supported several families during this pandemic by providing some basic daily needs. Though we were already working with the Anganwadis, when we ran the relief operation, we could establish a deep connection with the community. We maintained continuous communication with the residents of Bheem Nagar to reduce the panic in the community emerging because of the Covid-19 spread.
Widows, single mothers, abandoned women, transgenders, beggars,
gosavis
, social workers, laborers, contractors… all were living here. There were no taboos at all. With all this diversity there were some commonalities like –
Poverty
Minor/major health problems in almost every family
The belief that education can bring change in their life
A strong aspiration to lead a good life
Big cities give birth to such slum settlements. In Pune, around
32%
of the population lives in slums on the
2.34%
of the entire land area of Pune(MASHAL, 2011). We at BELIEF are trying to strengthen the life of individuals from such settlements.
Who we are?
Better Education Lifestyle and Environment Foundation (BELIEF)
is a not-for-profit organization that believes in strengthening the established system. We are currently working in the education and health domains.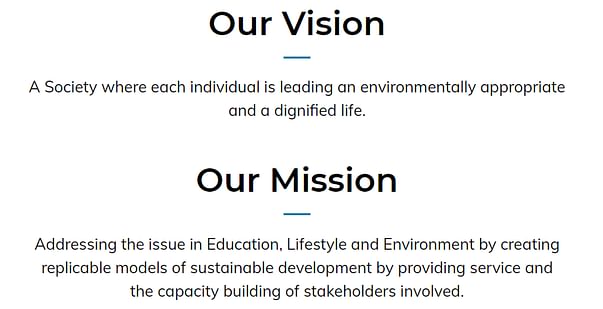 What do we do?
EDUCATION
Better Education Lifestyle and Environment Foundation (BELIEF) is trying to establish a model through which issues of urban slums can be addressed effectively. We have been running an Early Childhood Education (ECE) program for children from 4 Anganwadis in Bheem Nagar area. The experience of running vibrant ECE centers within the operational limitations of slum Anganwadis, was both challenging and enriching. After the outbreak of COVID – 19 government have closed all schools and pre-schools. Thus, Anganwadis also stopped its ECE service.
BELIEF has been working with parents to not only aware them of child development but also enable them to provide the opportunities of ECE at home with all available resources.
HEALTH
India has among the world's largest urban population with below poverty line incomes and the world's largest population living in slums. Between 1991 and 2001, 14.3 million people were added to the urban population due to migration. 2011, Pune Slum Atlas Study revealed that more than 32.5% population live in slums in Pune(MASHAL, 2011). Hadapsar area has one of the major undeclared slums, becoming it more difficult to avail of important services. Slums generally give rise to conditions of ill health due to overcrowding, poor housing, unsanitary environment, and poverty.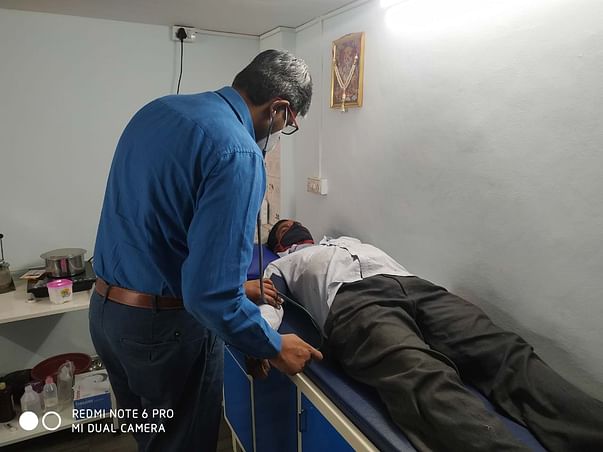 BELIEF is aiming at providing quality healthcare facilities at affordable rates and promoting a healthy lifestyle which can minimize the economic burden on the healthcare of people from such slums. BELIEF has already begun taking steps towards this promising goal and started a health clinic providing quality health services to all groups of people at affordable rates. The clinic is situated in the vicinity of 3 to 4 slums, namely Bheem nagar, Milind Nagar, Dhawale wasti. The population of these slums is around 3000-4000. Moreover, to date belief has witnessed patients from around 5 km radius coming to the clinic.
Need and the plan
We are looking at Bheem Nagar as a location where we can focus on various interventions and address the issues of the community. An environmentally appropriate and dignified life requires good health and education. Thus, we are planning to go deep into these two areas.
Parents continuously ask us to conduct ECE programs with students in a controlled environment. On this background, we recently conducted a survey and we are now planning to start our centers. Apart from that, we want to strengthen parents and communities on various aspects of child development at home and in society. Government officials have shown interest in extending the 'Parents as Teachers' program for other nearby low-income communities.
Many people don't visit any health facility as they don't have enough money. Most are not aware of basic practices to maintain good health. We have seen a lot of patients who were not satisfied with other practitioners and are looking towards the BELIEF health clinic as a new hope. Running this health clinic relentlessly thus becomes very important. In addition to that, we are planning to conduct regular community awareness and outreach activities.

All this requires a trained human resource and funding. Though we are blessed with sufficient human resource, we are in dire need of sufficient funds to continue our on-field operations. The cost of on-field human resources, training and other operational activities are mentioned below.
Budget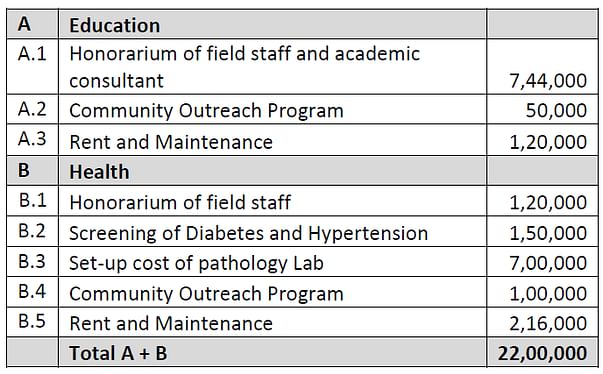 Appeal
We are in need of abovementioned amount to continue our on-field activities and programs. We request you to contribute to the cause and share the word with as much people as you can.
Help us nurture a healthy growing society.