Acid attack survivor Bala, 25, is currently battling between life and death as both her kidneys have failed. Not only is she on dialysis, but also it would be difficult for her to survive without a kidney transplant. Hence, she is in urgent and dire need of ₹16,00,000 for dialysis and kidney transplant operation as the financial condition of her family is not enough to save Bala's life. Your support can help give Bala another chance at life and rekindle the hope of her loved ones.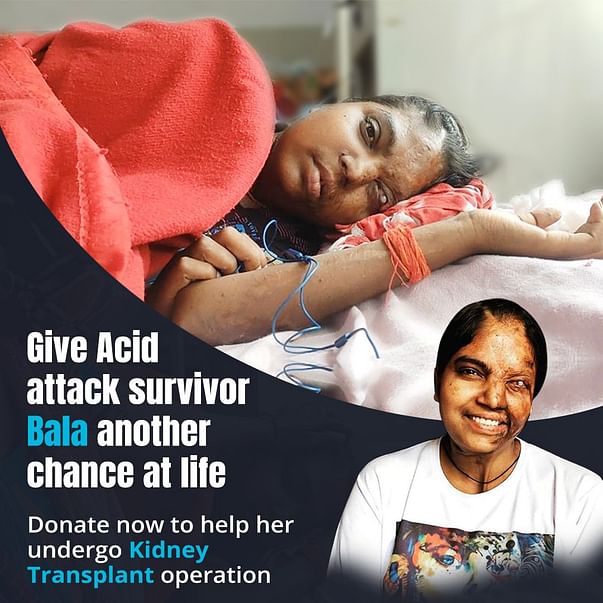 "My sister was once a cheerful girl, always smiling and full of hope", says her brother with pain which sinks deep into his heart, as he remembers her life before the acid attack.
Bala's story- Acid attack and its impact
Bala Prajapati became a victim of the heinous crime of acid attack in May 2012, due to family rivalry. Her landlord threw acid on Bala and her grandfather, which initiated the tragic outcomes that she would have to suffer for the rest of her life. Unfortunately, her grandfather couldn't survive the attack. Bala suffered severe burns on the neck, face and hands. Later, she was admitted to Safdarjung hospital where she underwent 12 operations. With the support of her father, mother and three brothers she overcame that tragedy but Bala and her family have yet again found themselves shattered as she fights for life due to life-threatening kidney disease. To which her brother says, "My mom is even ready to donate her kidney for my sister".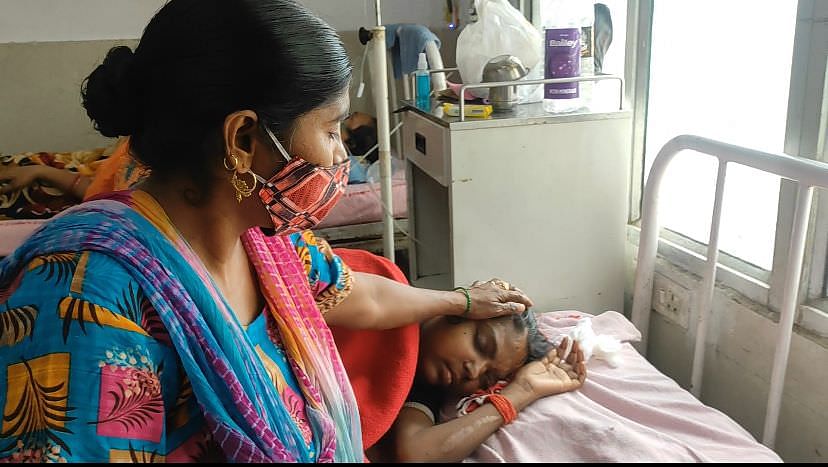 After the acid attack, it was during her treatment that she met Anshu, another acid attack survivor who supported her and informed her about the Chhanv Foundation. Bala has been part of Sheroes- a cafe run by acid attack survivors and the empowerment model of Chhanv, since 2017 where she became an independent, brave woman. Becoming the sole earner of her family of six, she had shown great courage even in times of misery. We don't want to lose her or make her surrender in this battle that life has again put on this innocent soul and hence this campaign is our only hope. How will your contribution help
Chhanv foundation has organised this campaign to gain as much support as possible. If each of us sensitive individuals contributes even little to this noble cause; we can help Bala live a healthy life and become a ray of hope for her in this tragic time.
Statement of Need
Since the acid attack had left Bala in a sensitive state and with a weakened immunity system, providing her with the utmost care becomes our priority. Therefore, we need your help in ensuring that she gets good quality treatment and proper medications.
Also, Bala is the sole earner of her family of six since she started working in Sheroes- a cafe run by acid attack survivors. But her deteriorated physical health will make her unable to get back to work and we don't want her or her family to suffer during these dire times. Hence through this campaign, with your support, we will also ensure the survival cost of her and her family by financially supporting them for at least one year.
| | | |
| --- | --- | --- |
| Particulars | Unit Cost | Total Cost |
| | | |
| Kidney Transplant Cost | | Rs 10,00,000-12,00,000 |
| Dialysis | Rs 10,000 x 10 months | Rs 1,00,000 |
| Medication | Rs 5000 x 10 months | Rs 50,000 |
| Logistics | Rs 5000 x 10 months | Rs 50,000 |
| Monthly Allowances | Rs 10,000 x 10 months | Rs 1,00,000 |
| Treatment Cost Till now | | Rs 1,00,000 |
| | | |
| Overall Cost | | 16,00,000 |